The calls rolled in:
"I hope you sink."
"You're racist."
"We're going to boycott you."
So it went for Mayor James "Ooker" Eskridge and the Chesapeake Bay island of 400 fishermen that he calls home: messages from people who knew nothing about Tangier Island or the long, frustrating and exhausting fight to save it.
The backlash began in June, when CNN aired a story on the Tangiermen's struggles to secure a seawall that would shore up the island. The place is losing land at a rate of about 15 feet a year, and it doesn't have much more to give. CNN's report wouldn't have been so different from other tales of towns losing their battles with climate change — except that Eskridge mentioned two things: He doesn't believe the sea is rising, and he loves Donald Trump like a family member.
Trump, devoted CNN viewer that he is, called Eskridge and told him not to worry about his future.
"Your island has been there for hundreds of years," he told Eskridge, "and I believe your island will be there for hundreds more."
That phone call, recounted in The Washington Post, was apparently enough for strangers to reach out to the picturesque island and wish death upon it. The reaction surprised the mayor, who, like many on the island, works long days catching crabs and then overseeing the activities at his shedding shanty.
"People make comments about us. They don't know us. They don't understand us," Eskridge told me. "If we disagree or we have a different way of thinking, that's no reason to hate somebody or wish him dead."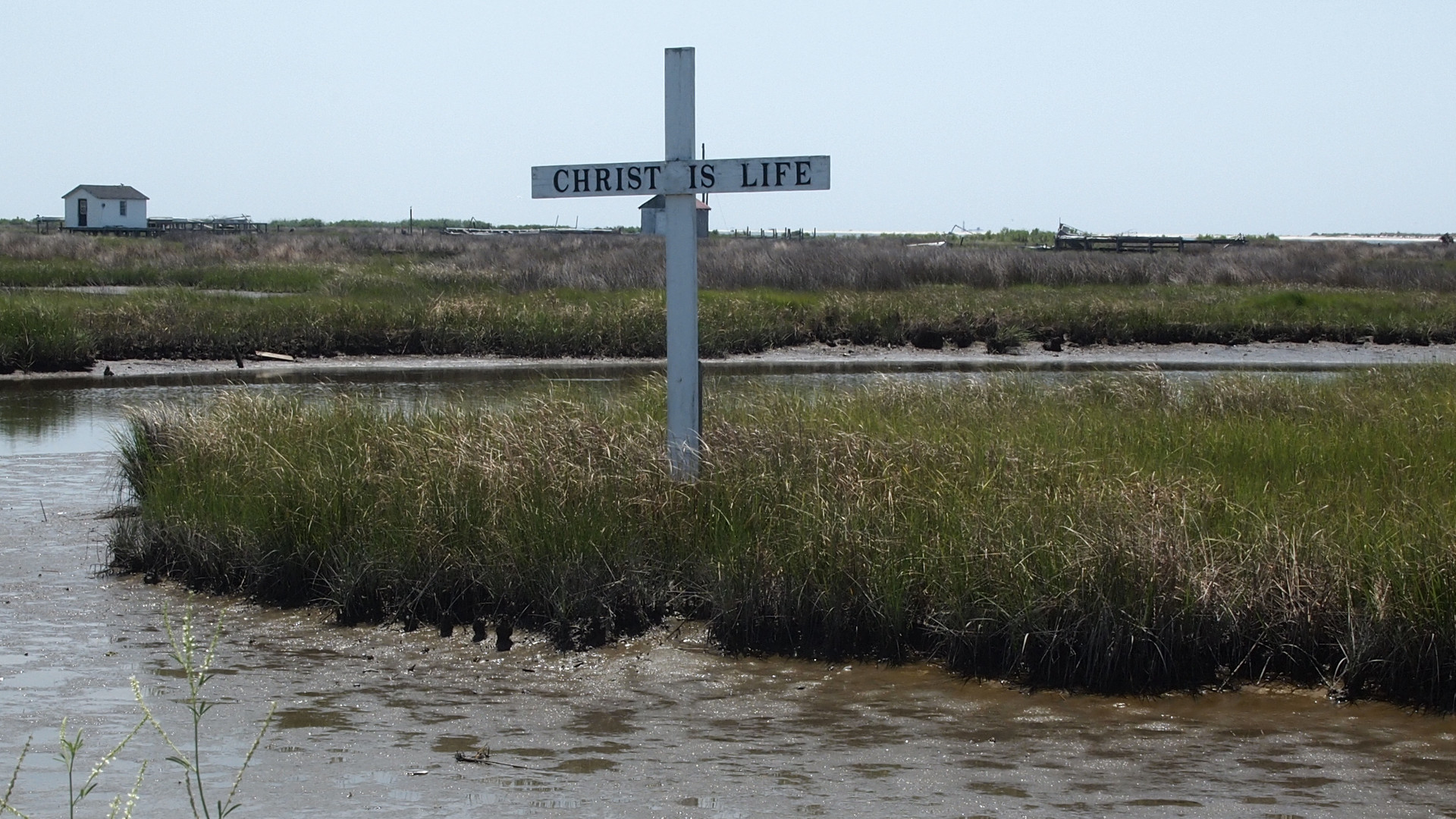 I do know Ooker Eskridge. I've been interviewing him for years. Along with my then-8-year-old daughter, I spent the better part of three days with him in 2014 to gather information for a couple of stories, and I've been back since, too. I know he can tell you as much about birds as any ornithologist. I know he has a pet osprey that returns every year to a platform he built near his shanty. I know he's a devout Christian with a Star of David tattooed on his arm. I know he and his wife adopted a girl from India, Sreedevi, then adopted three more and helped others on the island do the same. He named his boat Sreedevi, in keeping with the tradition of a Chesapeake waterman naming his first boat after his daughter. She's probably the only Sreedevi in a bay full of boats named Barbara and Anne. (And one Wicked Witch, and one Crazy Bitch, but that's another story, and more likely to be about ex-wives than daughters.)
Some journalists would call Eskridge a climate denier, shoving him into a familiar place in a familiar debate between scientists and industry-backed "climate skeptics." Maybe it's easy to dismiss Eskridge as a man who ignores what's plain to see. And maybe, for people who've gotten to be deeply intolerant of other points of view, it's not much of a leap to say that he and his island deserve what they get.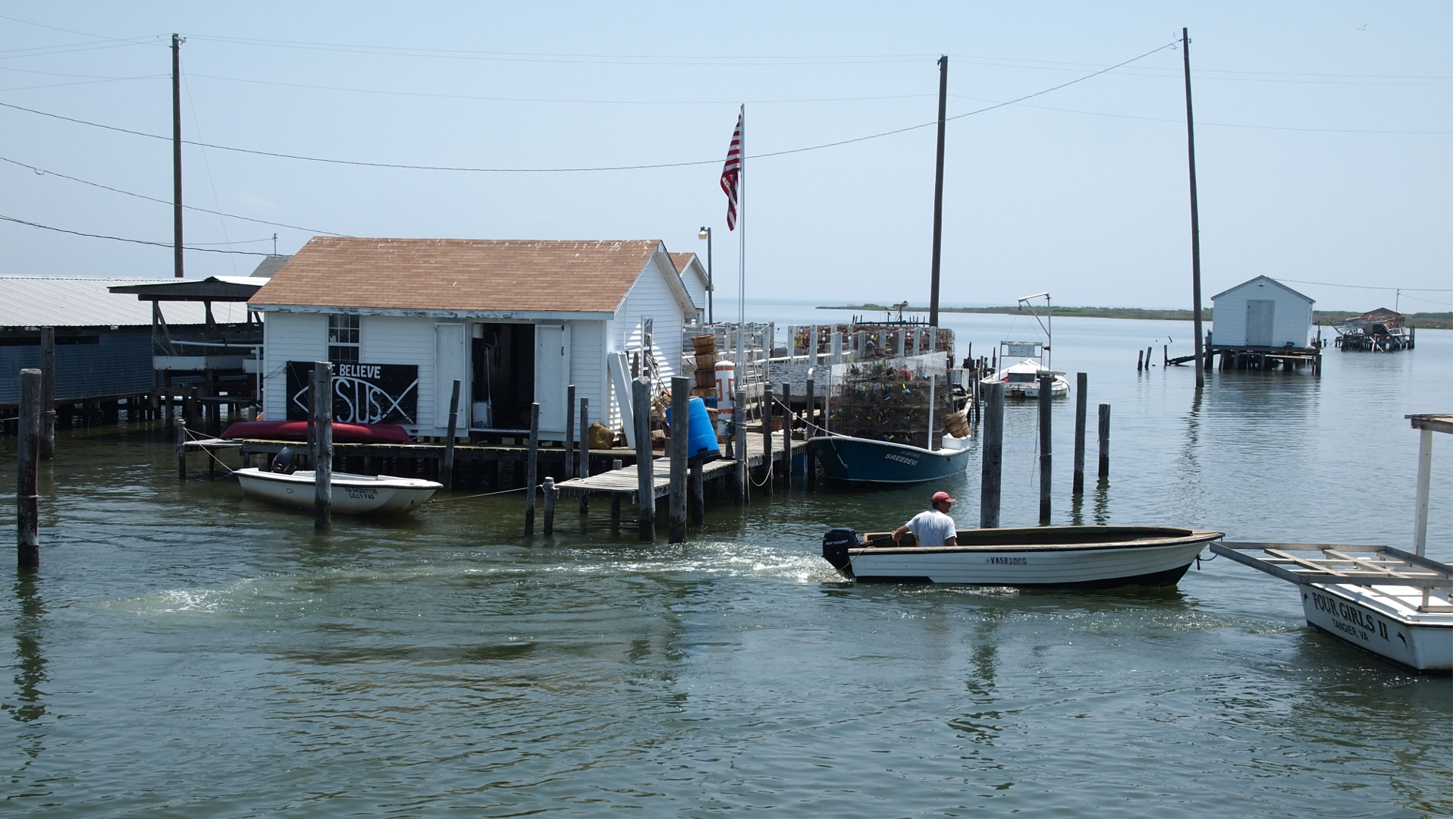 But Eskridge doesn't actually deny that the waters around his island are rising. He's just convinced that the bigger problem is erosion. For decades he has pleaded with the U.S. Army Corps of Engineers to build him a seawall, like the one that already protects the island's airport and does a great job at it. He even found a guy willing to sink barges off the coast to shore up the island. The federal government nixed the idea.
He's not the only one in a slowly sinking boat. Denise Drewer, the mayor of tiny Saxis, Va. — another Eastern Shore island, this one connected to the mainland by road — has been begging the Corps for help. On Taylor's Island, Bruce Colson is hoping the Corps will add dredge material to nearby James Island to protect his campground from encroaching water. In southern Dorchester County, council members want to protect schoolchildren who can't get to the bus because of high water.
In all those places I've have reported on, people blame the problem on "erosion" and "tides." No one's talking about Arctic ice melt. On the Eastern Shore, the oceanographer Bill Boicourt once told me, opinions on climate change range from an "open skepticism to a closed skepticism." But whatever they believe is causing the problem, the solutions are the same: Fortify with breakwaters and seawalls or plan an orderly retreat and settle elsewhere.
Eskridge — and Colson and Drewer and their neighbors — are not the political opportunists who deny climate change and then quietly ask oceanographers how much time their North Carolina beach house has. They're farmers, fishermen, real estate agents, businesspeople and ministers. They are real people with real doubts and concerns. They are perspectives we can't afford to ignore.
I can see why environmentalists would be dismissive of the idea that Donald Trump is going to solve such places' problems. He wants to cut the Corps' budget, which means that Tangier's seawall is far less likely. He wants to cut NOAA, which will mean less planning for adaptation in coastal communities. The U.S. Geological Survey conducts key monitoring at tide gauges, and the U.S. Fish and Wildlife Service rebuilds habitat for birds, which can also protect populated islands; he wants to cut their budgets too. And of course, he wants big cuts at the Environmental Protection Agency, which is supposed to ensure the waters are clean enough for Tangiermen to keep crabbing for as long as they are able to stay.
Yet 87 percent of the Tangiermen voted for Trump. They backed him because, like millions of other Americans, they felt they had nothing left to lose. Maybe a billionaire, outside of the political system, would shake up Washington, pay attention to the rural areas, and give them the thing that could save them, whether it's a bowling alley in South Carolina or a new factory in Ohio or some rock for a wall on Tangier.  After years of false promises, Eskridge was elated that someone seemed to be listening. Whatever comes of Trump's call, that's something not to ignore, either.
© 2017 Rona Kobell. All rights reserved.
The opinions expressed above at those of the author and do not necessarily reflect those of The Revelator, the Center for Biological Diversity, or their employees.
Previously in The Revelator: