The ubiquity of plastic in our lives is leaving a mark — on the geologic record, in remote regions of the Earth, in the bodies of 90 percent of seabirds. Our oceans are a toxic soup, swirling with an estimated 50 million tons of plastic waste. But the tide is changing.
Mounting global pressure to curb plastic pollution is gaining steam. A significant leap came last year with the European Union's vote to ban single-use plastic items by 2021 and boost bottle recycling 90 percent by 2025. On June 10 Canada announced it would follow Europe's lead.
In the United States, efforts to reduce plastic waste have so far been piecemeal — bans on specific items, like plastic bags, and only in certain municipalities. But California could help the country take a massive leap forward.
At the end of May, the California Senate passed S.B. 54, the California Circular Economy and Plastic Pollution Reduction Act, introduced by Senator Ben Allen and modeled after the European effort. A day later, the state's assembly passed identical legislation, A.B. 1080, introduced by Assemblywoman Lorena Gonzalez. If the bills clear opposite houses and earn the governor's signature, it will be groundbreaking.
"We haven't seen anything like this elsewhere in the U.S.," says Angela Howe, legal director of Surfrider, a nonprofit devoted to clean oceans and beaches, which is part of a coalition of organizations working in support of the legislation and reducing plastic pollution.
The focus of the legislation is on producer responsibility — both reducing the amount of waste generated and making sure what is absolutely necessary is either compostable or recyclable. On average only 9 percent of plastics are recycled in the United States, and that already-modest number is expected to decrease even further as more countries follow China's lead in closing their doors to waste exports from the United States and elsewhere.
Plastic isn't just washing up on beaches, it's piling up at landfills, making the crisis in the country even more urgent and expensive.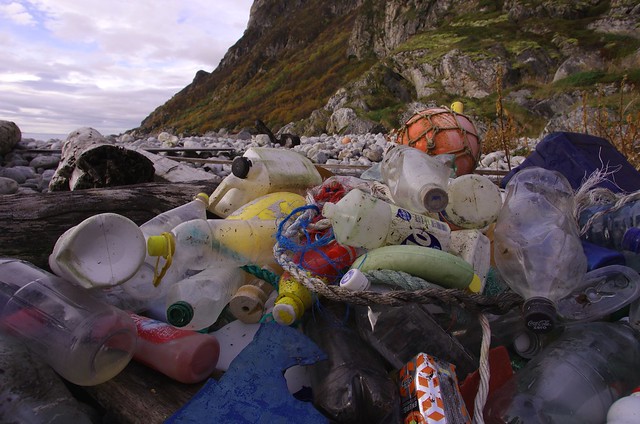 As written now the legislation would require manufacturers and retailers in California to reduce the waste generated by single-use packaging and products by 75 percent by 2030 through producing less plastic, recycling more of it, making reusable packaging, or using compostable materials. It would also set guidelines for manufacturers of single-use plastic packaging and products that would ensure that 20 percent of their products are recycled by 2024, 40 percent by 2028, and 75 percent by 2030.
"The single-use plastic crisis is so pervasive that we're seeing microplastics in the tiniest plankton to the largest whales," says Ashley Blacow-Draeger, Pacific policy and communications manager at Oceana, which is helping to support the legislation. "It just drives home the message that we can't recycle our way out of this crisis. We need really strong, bold and timely action now and we don't have any more time to wait to address the issue."
Previous efforts to tackle banning or restricting items like foam food containers, plastic bags and plastic straws has been tantamount to winning battles but not winning the war, says Stiv Wilson, director of campaigns for the Story of Stuff, which is producing a film about the global fight against plastic pollution and is a leading coalition partner supporting the legislation.
"If we're going to fix the system, we have to actually take a systemic approach," he says.
He admits that regulating the materials economy isn't as easy as a simple message like banning bags, but it's the only effective way to tackle the problem.
One of the biggest issues is that there's simply too much plastic, which is why the bill has an emphasis on source reduction, he says.
"We have to get to a manageable supply to be able to create a reasonable demand," says Wilson. "Once that lever gets pulled where there is a statutory obligation on a supply chain, all of a sudden you will see investment in that supply chain to meet that demand."
And that, advocates of the legislation say, should spur investment domestic recycling, build green jobs, and enable companies to develop alternative delivery systems for products meant to create reusability instead of disposability.
The potential benefits would be far-reaching — aiding not just oceans, but wildlife and human health, as well as economies, says Blacow-Draeger.
"It's shocking how expensive it is for cities and counties to remediate all the single-use plastics waste that is being produced," she says. "The hope with these pieces of legislation is that they will actually lessen the burden on municipalities and on ratepayers by not producing as much waste to have to process in the future."
For many industries it would also be a big change.
"It wouldn't just be the one major plastic bag manufacturer that's affected," says Howe. "It's everything from grocery stores to the natural gas plants that make plastics to retailers and manufacturers."
Proponents of the legislation say they anticipate pushback from these industries as the bills go through committee in the opposite houses over the next few months. The Plastics Industry Association (PLASTICS) didn't return a request for comment, but an industry publication, Plastics Today, reported that the association was urging legislators to vote against the bills: "PLASTICS notes that it has attempted to work with the bills' sponsors 'to try and redirect the bills toward policies that are proven to reduce litter and increase diversion rates. Unfortunately, we've been unable to have the bills amended to a point where we can support them,'" according to the publication.
Wilson says that the comprehensive nature of the legislation is the only way to effectively reduce plastic pollution, and with California being the fifth biggest economy in the world, the impact of this legislation is likely to be felt in other states.
"I think it's fair to say that we have a history of seeing manufacturers conform to California laws," he says. "We saw it with auto emissions — it's a big enough market that it should spur change across the industry."
For that ripple effect to happen, California first needs to pass its landmark legislation.
The bills will now need to clear the natural resources and appropriations committees in the opposite houses of their origin before having a chance at a floor vote by Sept. 13. If they pass those hurdles and earn the governor's signature, the legislation would set a high bar for other states.
"I think it is a line in the sand that essentially says if we don't take this approach, we don't solve the problem," says Wilson. "It's not only trying to solve a problem, it's trying to shift the narrative on how you solve the problem. This is actually an expression of the world we want and one we think that can work, and absent that, we're a dog chasing its tail."