Floridians are bracing for an unwanted visitor this summer: sargassum. A 5,000-mile-long island of this rootless seaweed is floating around the Atlantic, and large swathes of it are expected to wash ashore in Florida and other states in the coming months. Smaller amounts have already arrived, and the rotting clumps of algae on the beach release hydrogen sulfide, giving off the smell of rotten eggs.
A large landfall will be a health hazard — and a deterrent for tourists and nesting sea turtles alike. It's also expected to cost communities millions in lost revenue and cleanup.
Out at sea, sargassum isn't bad: It's a life raft and food pantry for a variety of ocean organisms. It's also a reminder of the myriad benefits that algae can provide.
Kelp, in particular, is having a moment.
"Kelp" is a loose designation that encompasses roughly 100 species of brown seaweeds that grow in the cool waters along nearly one-third of the world's coastlines. The thick algae form underwater forests, providing food and refuge for numerous animals, as well as numerous environmental benefits.
Kelp forests are one of the "most widespread and valuable marine ecosystems on the planet," according to a United Nations Environment Programme report released in April.
New initiatives aim to tap these resources. But before we can reap the benefits, we need to ensure kelp forests aren't destroyed.
The Benefits
Kelp has been applied as fertilizer, eaten as food, and used medicinally by coastal peoples for thousands of years. Now researchers are beginning to tally more of its environmental benefits.
Kelp provides habitat and food for ocean dwellers like abalone, lobsters, crabs, octopuses, fish, sea otters, sea lions and whales. It also helps reduce damage from storms, stores carbon, produces oxygen and reduces nutrient pollution in the ocean.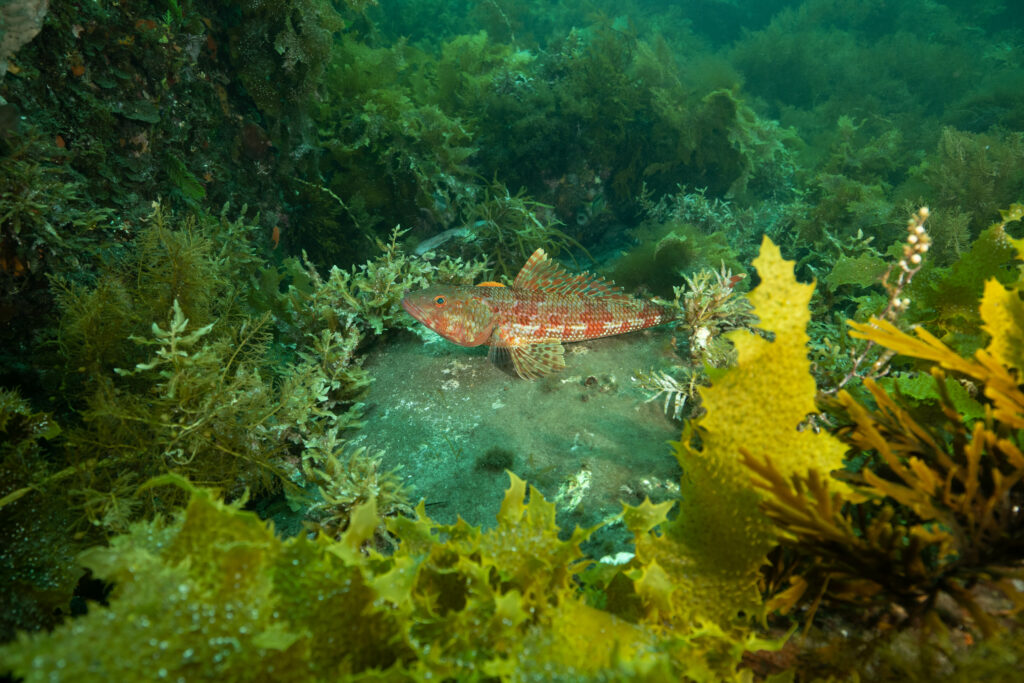 A new study in Nature Communications found that kelp forests contribute about $500 billion globally to fisheries production, carbon capture, and nutrient-pollution reduction, which can help limit toxic algal blooms and improve water quality. When it comes to mitigating climate change, the researchers estimated that kelp forests sequester nearly 5 megatons of carbon from the atmosphere annually. That's roughly the emissions from burning 2 billion gallons of gasoline.
This is probably news to most people.
"While kelp forests are valued to some degree by ocean users, they are not perceived to be high-value ecosystems to the public, which can limit public support for kelp conservation and restoration," the study's researchers wrote. "We found that kelp forests are on average over 3 times more valuable than previously acknowledged and expect these evaluations to increase as more market and non-market services are assessed."
Tallying economic contributions, they say, isn't meant to commodify kelp forests but to help spur conservation efforts and draw attention from policymakers who have overlooked these important ecosystems.
"To date, no global legal or policy instruments have focused explicitly on kelp," the U.N. report found. "There are, however, many international frameworks and national laws and policies in place that could, in principle, support the conservation and effective management of kelp."
If we are to draw on those, it will need to happen quickly.
The Threats
Kelp forests across the world are in decline. Around half have been degraded in the past 50 years by a combination of local pressures and climate change. Nutrients, pollutants and sediments that wash into coastal waters from urban developments and agriculture can harm kelp forests.
Climate change also poses big challenges.
Kelp thrive in cool waters and are stressed by marine heat waves and ocean warming. More extensive losses of kelp forests are being found at the warm ends of its ranges. Climate change is also causing kelp species that like warmer water to replace those that prefer colder temperatures, causing a shift in the composition and diversity of kelp forests. In some cases, kelp forests are losing out altogether to mats of turf algae, which don't provide the same nutrients and habitat complexity.
Warming ocean temperatures are also changing the distribution and abundance of animals that eat kelp. So has hunting or overfishing of their predators. Sea urchins, for example, have been blamed for overgrazing kelp forests in Alaskan waters after their predators — sea otters — were hunted extensively.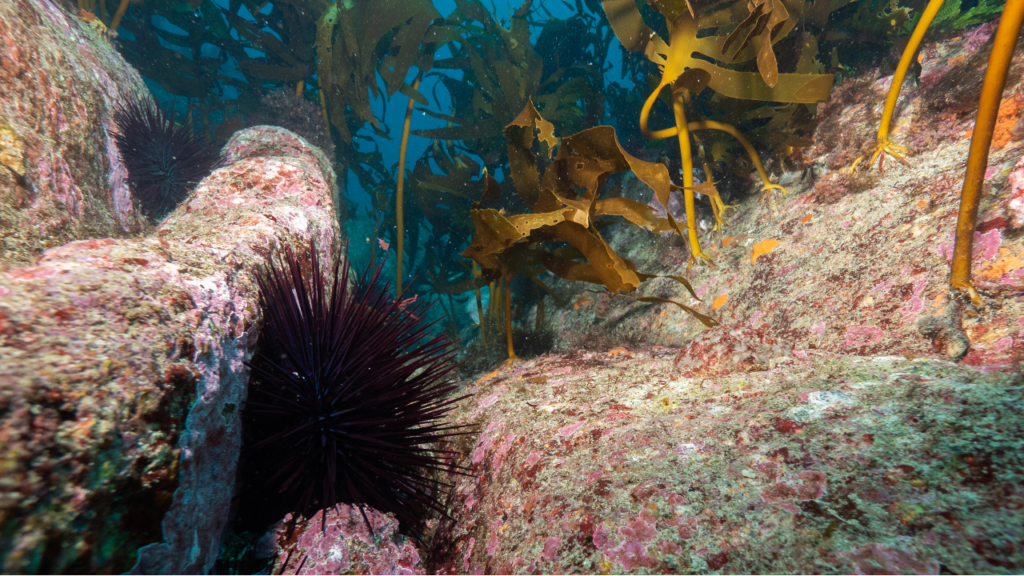 One imbalance in the ocean can create another.
"Destructive grazing of kelp has been recorded among many different kinds of herbivores including sea urchins, fish, crustaceans and snails," the U.N. report found.
The Opportunity
Indigenous peoples have harvested kelp for thousands of years, and many continue to do so. It's also become the fastest-growing segment of the aquaculture industry.
That's because a kelp extract called alginic acid, also referred to as algin or alginate, can be used as a thickening and emulsifying agent. It's found in animal feed, pharmaceuticals, toothpastes, shampoos, salad dressings, frozen foods, dairy products, paper, charcoal and more.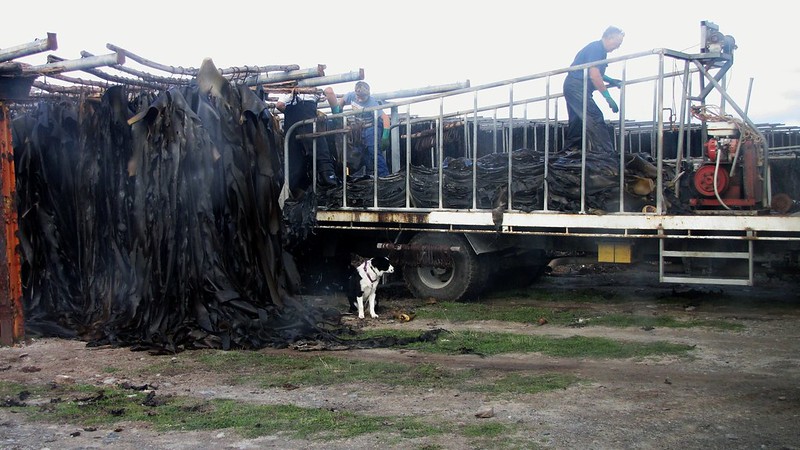 But ensuring kelp forests continue to provide important environmental functions means that harvesting wild and cultivated kelp needs to be done sustainably, which isn't always the case. The U.N. report called attention to unsustainable methods, including industrial harvesting in Norway where trawlers tear kelp from the seafloor, leaving 10-foot-wide gouges. This not only destroys kelp but can harm invertebrates and fish who depend on it, as well as the birds who eat them.
As kelp industries grow, policymakers in the United States hope to provide some ground rules. In March Rep. Jared Huffman of California and Rep. Mary Peltola of Alaska introduced the Coastal Seaweed Farm Act of 2023, which calls on the National Oceanic and Atmospheric Administration and the Department of Agriculture to "carry out a study on coastal seaweed farming, issue regulation relating to such farming, and establish an Indigenous seaweed farming fund."
The latter would help reduce the cost barriers for Indigenous communities to participate in coastal seaweed farming and use the methods to help restore ecological functions.
"We also want to ensure equity in this field so that Indigenous people can continue benefiting from the industry — so our bill creates a grant program to reduce cost barriers for native communities, many of whom have farmed seaweed for thousands of years," Huffman said in a statement.
Globally, other efforts are underway as well. The Kelp Forest Alliance aims to protect and restore nearly 10 million acres of kelp forests by 2040. "This is a call for governments to meet their commitments to the Kunming-Montreal Global Biodiversity Framework and act now to save these ecosystems," Aaron Eger, lead author of the Nature Communications study and founder of the alliance, wrote in The Conversation.
Kelp needs much more.
The U.N. report provides a list of recommendations, including: taking action to address climate change; investing in mapping and long-term monitoring of kelp forests; better quantifying the ecosystem functions kelp forests provide and how they're affected by climate change and other human pressures; incentivizing kelp protection and restoration through a monetary value on carbon; assessing practices used for harvesting and making necessary changes; using existing international frameworks to recognize kelp forest values and threats; and ensuring broad partnerships and stakeholder involvement, including with women, local communities, and Indigenous communities.
"The battle to save our kelp forests is just getting started," wrote Eger. "And we need greater action to protect these intrinsically and economically valuable marine ecosystems."

Previously in The Revelator: