Visitors walk slowly through a room of dimmed lights and glowing tanks that bring the mysteries of the sea into plain view. The Steinhart Aquarium at the California Academy of Sciences in San Francisco is home to 900 different species — everything from brightly colored reef fish to prickly sea urchins, even an albino alligator named Claude.
But some of the most exciting things to see are out of the public's view.
In a specially constructed darkroom in one of the labs, scientists are coaxing corals to spawn and studying how to increase the chances of survivorship for baby corals. It's all part of a larger effort to give threatened reefs — and all the species that depend on them — a fighting chance.
Reefs at Risk
Shallow tropical reefs face a long list of threats including overfishing, disease and pollution, but one of the biggest dangers is climate change, which is contributing to rising sea surface temperatures and increasing ocean acidification. It's estimated that in the past 30 years half the world's coral reefs have died and by the end of the century we could lose 90 percent.
That's bad news for millions of people and marine life.
Coral reefs have important biodiversity and economic values. Reefs are like rainforests, providing food and shelter to thousands of other species. Coral reefs cover just 0.1 percent of the ocean floor, but they host more than 25 percent of the ocean's biodiversity. "So if we lose them, then we lose a disproportionate amount of biodiversity," says Rebecca Albright, a coral reef biologist who co-leads the California Academy of Science's Hope for Reefs initiative that works on researching and restoring coral reefs.
Reefs also provide key ecosystem services, valued at an estimated at $375 billion a year. Coastal communities rely on subsistence and commercial fishing supported by reefs, and their beauty and biodiversity bring in big tourism dollars. Reefs also provide a buffer for shorelines, helping to protect against storms and erosion — increasingly expensive threats with climate change.
Albright spent years studying what was going wrong with reefs. "I've done a lot of work looking at impacts of ocean acidification on reproduction and coral settlement and there's not a lot of good news there," she says.
So she shifted her focus.
"If we're losing corals at an unprecedented rate, then the only way we're going to get them back is if they can reproduce or grow more quickly."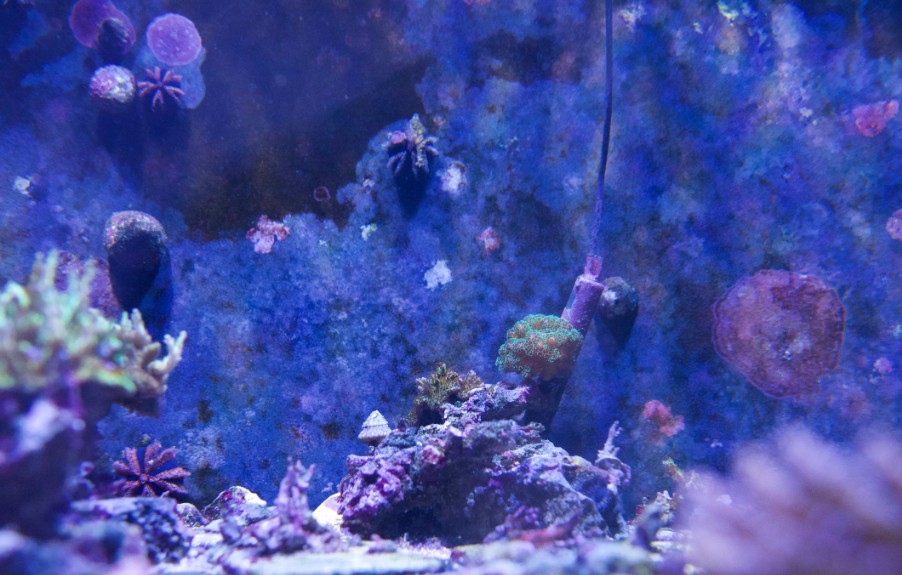 Coral Reproduction
To understand how scientists are hoping to help save corals, you need a quick primer in coral reproduction.
Most corals can reproduce in two ways. There's asexual reproduction — like a starfish, you can break off a piece of coral and the fragment will regenerate. Many conservation efforts have (and continue to) focus on fragmenting corals and then planting them back out onto reefs. These kinds of efforts work well at the hectare scale, says Albright, but they're not effective for ecosystem-wide restoration. At this rate we're a long way from being able to keep pace with the rate of environmental loss.
"You can imagine it's very laborious and time consuming," she says. "And when you look at the fact that we've lost 50 percent of the Great Barrier Reef, which is 2,300 kilometers long, individual divers going out and physically planting onto the reef is just not scalable."
Corals, however, can also reproduce sexually. Synchronized reproductive events happen in a rather dramatic fashion — usually just once a year for most corals, and for many it's at the end of the summer, after sunset and following a full moon, says Albright. Eggs and sperm are "broadcast" into the water column, where they combine and fertilize to produce larvae that eventually fix themselves to the ocean floor or other hard surfaces where they begin to grow from individual polyps into a colony. It will be a few months before the growing coral is even visible to the naked eye.
Understanding these reproductive processes could help solve another natural problem: Some reefs are currently dominated by a single clone and that low genetic variation can lead to disaster in times of environmental change. It's of special concern now as corals try to adapt to warming waters.
Sexual reproduction is "the only avenue for genetic diversity and so that's the one that we're focused on right now," says Albright.
"So what we're trying to do is just focus on helping corals sexually reproduce, get as much genetic diversity out there as possible and then let nature pick which ones win and which ones lose, because that's how it's supposed to happen," she says.
Spawning in Captivity
At the California Academy of Sciences darkroom, Albright and her team have built a special environment filled with tanks programmed to simulate the seasonal temperature and light changes of the Palau archipelago, home to the staghorn corals (Acropora cervicornis) they're growing.
This complex process, which took a year and a half to develop, provides a unique opportunity to observe not just the reproduction but what happens to the resulting larvae, helping the researchers to better understand what may help more larvae make it to maturity out on the reef.
In nature, that's not an easy task. Life is tough for a microscopic coral on the ocean floor — there are endless things that could eat or outcompete it. Only about one in a million survive.
"The goal here is just to figure out how to get these corals to produce more offspring that are more viable and then use that knowledge to help field efforts," says Albright. "If we can increase survivorship by 10- or 100-fold, then that would be hugely helpful." This is especially true for reefs that are already depleted.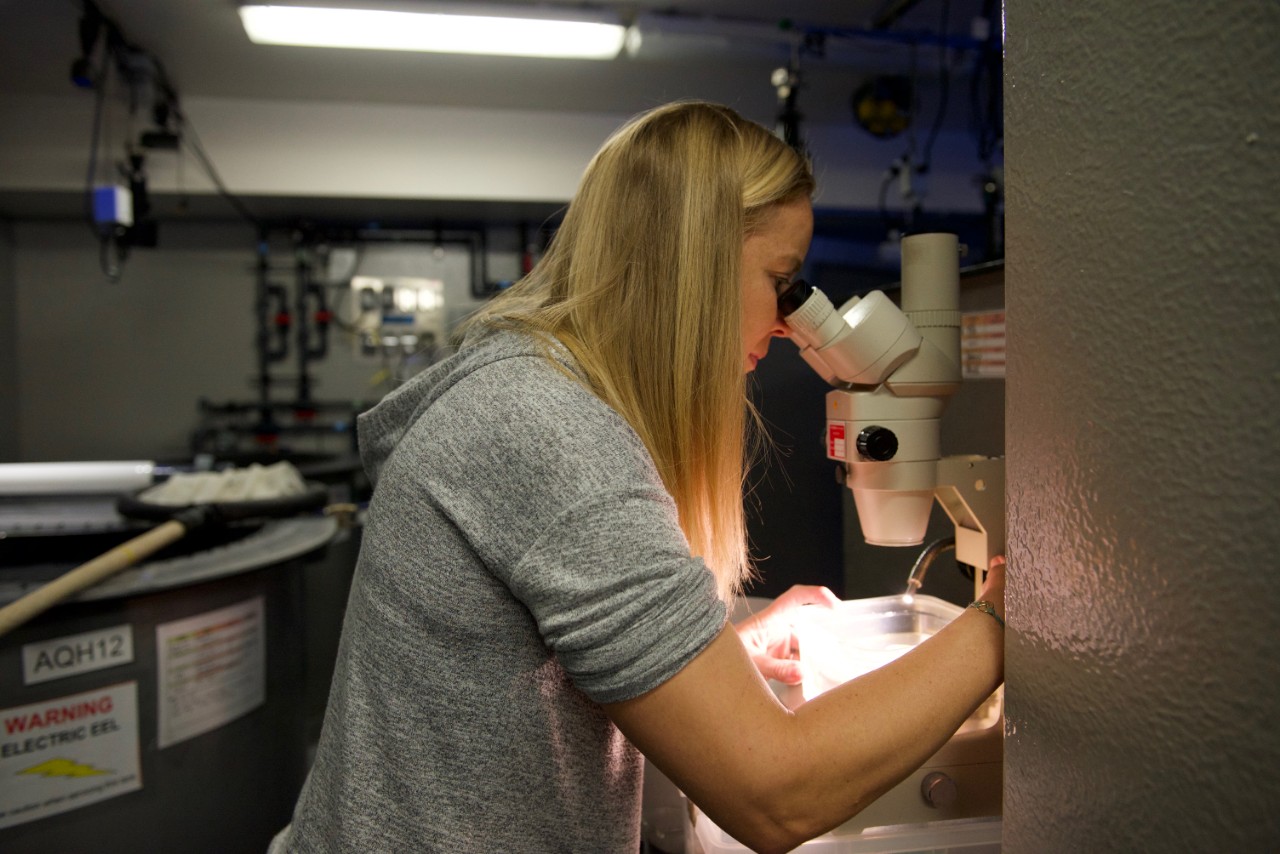 One of the things her lab will study over the next several years is whether energetic enhancements, like better nutrition, can help corals like they do in early life stage for humans.
"If you could add things that would make the larvae more energetically replete, would that translate into better post-settlement survivorship?" she asks. "We'll be looking at that, along with how different [water] flows may make them grow faster and other ways to enhance their survivorship."
Hope for Corals isn't the only project out there trying to save corals. Other scientific efforts are studying how to get corals to be more robust against stress or to selectively breed "super corals" that are more resistant to heat or other pressures. Albright says she's heartened by this broad array of scientific efforts. "I think the solutions that are being explored by working at the intersection of disciplines like biology, engineering and technology are the most exciting as they have high capacity to help us scale results to meaningful levels," she says. "Most of that work is in early days but is exciting in terms of potential."
But she admits, there's still a long way to go, much to learn and no magic bullet for reefs.
Also, the clock is ticking.
"We're losing things so quickly right now, most conversations are switching towards talking about saving certain things and where we focus our efforts — because we can't save everything," she says.