Read, then act. That's the message from the best of this year's new books on climate change.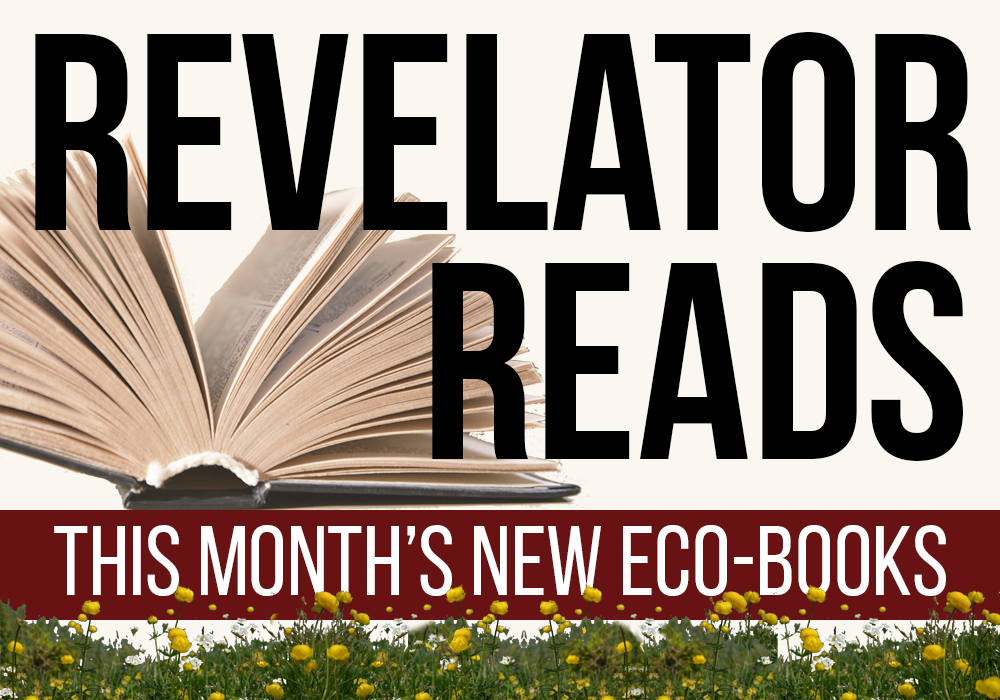 Written by an impressive array of scientists, journalist and activists, these 10 hot-off-the-presses books offer insight into why we're in a crisis — greenhouse emissions, obviously, but also corporate malfeasance and social inequity — while providing essential tools, strategies and recommendations for getting us out of this mess.
A few of the books are written specifically for activists, while one is for active kids. All offer hope for the future in an era when that commodity is rarer than ever.
You'll find the list below, along with each book's official description and some extra insight from us. Links go to publishers' sites, but you can also order most of these titles from your local bookseller or library.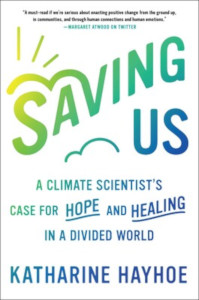 Saving Us: A Climate Scientist's Case for Hope and Healing in a Divided World by Katharine Hayhoe
Science, meet society. Available Sept. 21, this gets our pick for book of the month.
"Called 'one of the nation's most effective communicators on climate change,' Katharine Hayhoe knows how to navigate all sides of the conversation on our changing planet. A Canadian climate scientist living in Texas, she negotiates distrust of data, indifference to imminent threats, and resistance to proposed solutions with ease. Over the past 15 years Hayhoe has found that the most important thing we can do to address climate change is talk about it — and she wants to teach you how."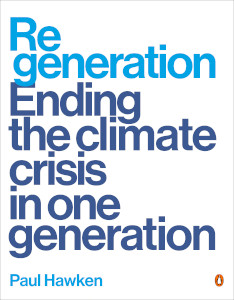 Regeneration: Ending the Climate Crisis in One Generation by Paul Hawken
An indispensable follow-up to Hawkin's previous book Drawdown.
"Regeneration describes how an inclusive movement can engage the majority of humanity to save the world from the threat of global warming, with climate solutions that directly serve our children, the poor, and the excluded. This means we must address current human needs, not future existential threats, real as they are, with initiatives that include but go well beyond solar, electric vehicles, and tree planting to include such solutions as the fifteen-minute city, bioregions, azolla fern, food localization, fire ecology, decommodification, forests as farms, and the number one solution for the world: electrifying everything."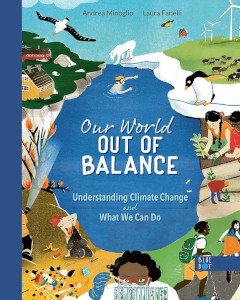 Our World Out of Balance: Understanding Climate Change and What We Can Do by Andrea Minoglio
A great book for the next generation.
"Encouraging and easily digestible, this illustrated nonfiction guide introduces children ages eight to twelve to the important topic of climate change with tips on 'How You Can Help' and citizen scientist activities."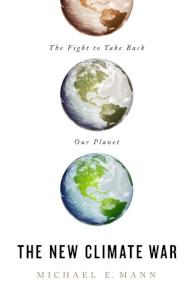 The New Climate War: The Fight to Take Back Our Planet by Michael E. Mann
An essential battle cry from the climate scientist behind the famous "hockey-stick graph."
"Mann argues that all is not lost. He draws the battle lines between the people and the polluters-fossil fuel companies, right-wing plutocrats and petrostates. And he outlines a plan for forcing our governments and corporations to wake up and make real change."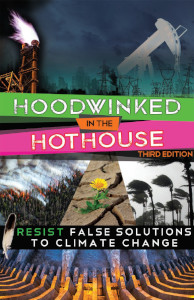 Hoodwinked in the Hothouse, third edition
Available as a free download (and worth a lot more than that).
"Authored by grassroots, veteran organizers, movement strategists and thought leaders from across our climate and environmental justice movements,​ the third edition of Hoodwinked in the Hothouse is an easy-to-read, concise-yet-comprehensive compendium of the false corporate promises that continue to hoodwink elected officials and the public… As a pop-ed toolbox, Hoodwinked promises to be instructive for activists, impacted communities and organizers, while providing elected officials with critical lenses to examine a complex, technocratic field of climate change policy strategies, from local to national and international arenas."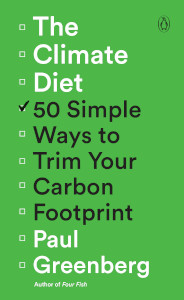 The Climate Diet: 50 Simple Ways to Trim Your Carbon Footprint by Paul Greenberg
Provides more than enough food for thought.
"Award-winning food and environmental writer Paul Greenberg offers us the practical, accessible guide we all need. It contains fifty achievable steps we can take to live our daily lives in a way that's friendlier to the planet — from what we eat, how we live at home, how we travel, and how we lobby businesses and elected officials to do the right thing. Chock-full of simple yet revelatory guidance, The Climate Diet empowers us to cast aside feelings of helplessness and start making positive changes for the good of our planet."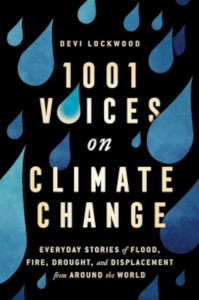 1,001 Voices on Climate Change: Everyday Stories of Flood, Fire, Drought and Displacement From Around the World by Devi Lockwood
If we're going to solve climate change, we need to know how it's affecting people and communities.
"Over five years, covering 20 countries across six continents, Lockwood hears from Indigenous elders and youth in Fiji and Tuvalu about drought and disappearing coastlines, attends the UN climate conference in Morocco, and bikes the length of New Zealand and Australia, interviewing the people she meets about retreating glaciers, contaminated rivers and wildfires. This book is a hopeful global listening tour for climate change, channeling the urgency of those who have already glimpsed the future to help us avoid the worst."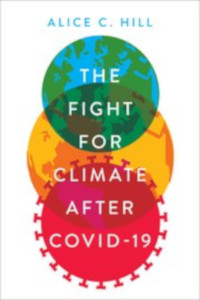 The Fight for Climate After COVID-19 by Alice C. Hill
We live in a world of increasingly overlapping problems, and that often requires addressing more than one at once.
"The COVID-19 pandemic has hit our world on a scale beyond living memory, taking millions of lives and leading to a lockdown of communities worldwide. A pandemic, much like climate change, acts as a threat multiplier, increasing vulnerability to harm, economic impoverishment, and the breakdown of social systems. Even more concerning, communities severely impacted by the coronavirus remain vulnerable to other types of hazards, such as those brought by accelerating climate change. The catastrophic risks of pandemics and climate change carry deep uncertainty as to when they will occur, how they will unfold, and how much damage they will do. The most important question is how we can face these risks to minimize them most."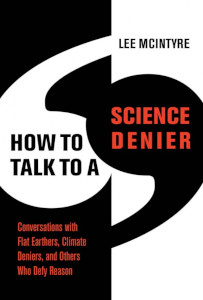 How to Talk to a Science Denier by Lee McIntyre
In this time of both Covid and climate, breaking through the bubbles we create around ourselves and our cultural identities becomes even more essential.
"These days, many of our fellow citizens reject scientific expertise and prefer ideology to facts. They are not merely uninformed — they are misinformed. They cite cherry-picked evidence, rely on fake experts, and believe conspiracy theories. How can we convince such people otherwise? How can we get them to change their minds and accept the facts when they don't believe in facts? In this book, Lee McIntyre shows that anyone can fight back against science deniers and argues that it's important to do so. Science denial can kill."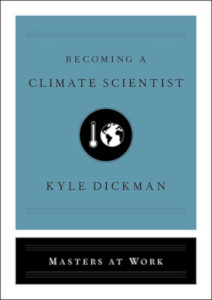 Becoming a Climate Scientist by Kyle Dickman
A great primer for people interested in looking to develop new solutions and understanding — we need you more than ever.
"A hands-on, revealing guide to a career as a climate scientist written by acclaimed Outside magazine writer Kyle Dickman and based on the experiences of a preeminent researcher studying permafrost in the Arctic — essential reading for anyone considering a path to this timely profession."