In the Greater Yellowstone ecosystem of the northern Rocky Mountains, a century-old struggle for control of wildlife continues unabated. At its core are Yellowstone National Park itself, an untouchable icon of American conservation, and its younger sibling to the south, Grand Teton National Park.
For much of the past 50 years, state views and state politics played no part in conservation conversation about the importance of Yellowstone and its surrounding regions. Under federal conservation mandates, the recovery of the West's most charismatic animals within the park's borders flourished.
Yet now that wolves, grizzlies, and elk among others, have rebounded from their 20th century lows, Wyoming hopes to gain exclusive control of wildlife management — for the first time since protections were enacted.
Wyoming, the state in which 97% of Yellowstone lies, is the front line of an ongoing struggle to define what conservation looks like without federal oversight. It has recently petitioned the federal government to remove grizzlies' endangered species protections, giving management of the bears back to the state.
There has long been a tug-of-war between federal and state wildlife managers over how to handle both predators and prey. Predators, like the wolves, were hunted to extinction in the 19th century; grizzlies nearly went extinct except for the population in the park. In times of crisis, the federal government took control of these species to avoid extinction, and imported Canadian wolves, creating new American packs.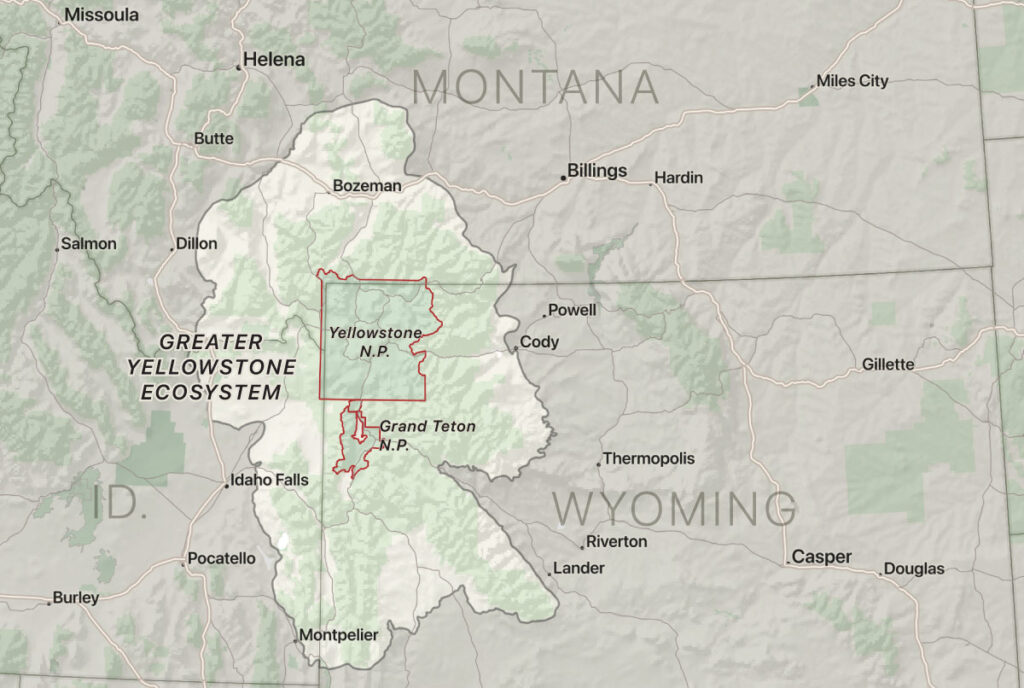 When Wildlife Protections Create Unforeseen Problems
But the history of federal conservation in the region is often a story of what happens when strategies work too well.
When settlers moved into Jackson Hole, in the southern region of the Yellowstone ecosystem, they built the town and ranching operations in the wintering grounds of the Jackson Elk Herd. In the winter of 1908-1909, the mass starvation of the local herd led Congress to create the National Elk Refuge on a plot of land on the north side of town. Elk — a favorite prey of the state's hunters — could be fed there throughout the winter to prevent die-offs.
In the 1940s, the Wyoming Game & Fish (WGF) recognized the refuge's success in not only boosting elk populations for hunting, but keeping elk from damaging stored crops or spreading diseases to livestock. It added a system of 22 nearby winter feedlots offering supplemental food for many western Wyoming herds when snowfall makes natural forage more difficult.
In recent years, however, the feedlot system has been called into question as Chronic Wasting Disease, a deadly sibling of Mad Cow Disease, threatens to devastate local elk populations and limit the number of elk that hunters can harvest. By some models, the disease could eliminate all of the  Greater Yellowstone elk population by the end of the century. The very system that saved elk 100 years ago may lead to their extinction in a matter of decades.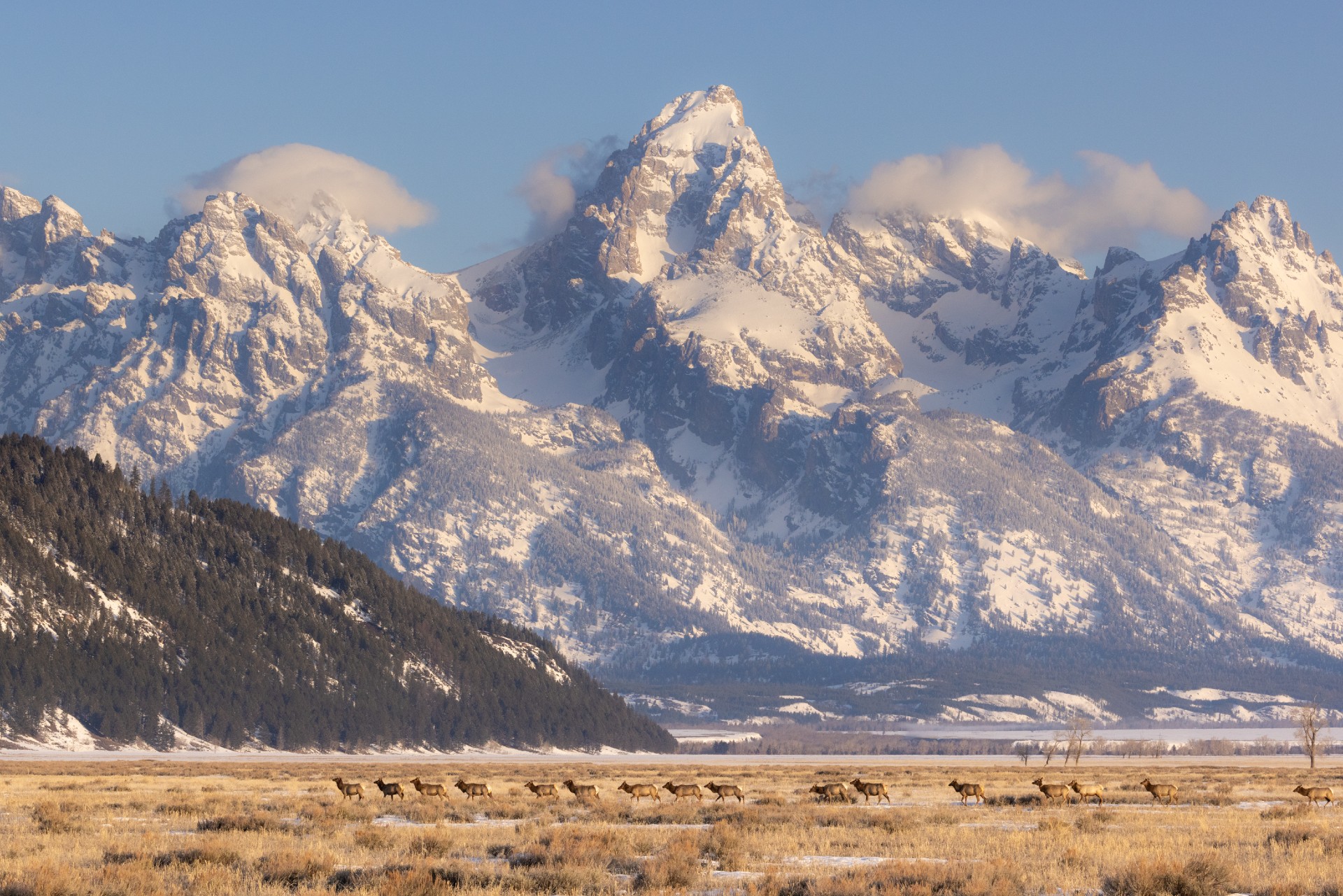 State Wildlife Managers Balance Population Control With Ensuring Enough Elk for Hunters Who Pay the Bills
Wyoming officials have twin goals in wildlife management. They need to maintain an appropriate number of wolves, grizzlies and elk — and their definition of "appropriate" is very different from that of their federal colleagues.
They also need to generate the revenue to pay for wildlife management.
Sustaining current populations and harvest numbers is essential to funding the Game and Fish Department. "Seventy to 80% comes from hunting and fishing licenses," said Peter Dube, the president of the commission. Those revenues amounted to $83 million in 2021. Elk were the biggest money-makers, bringing in $25.8 million and making up about a third of hunting revenues in 2021. They were followed by deer and pronghorn, which are also susceptible to chronic wasting disease.
When it comes to management of ecosystems, differing state policies can result in an inconsistent  system, making it extremely hard to achieve  a common conservation objective. In 2017 wildlife commissioners in Montana, worried that migrating elk would bring the disease to their state, asked Wyoming to stop feeding the elk. The National Elk Refuge, under federal management, began to phase out the feeding program as the disease appeared.
But Wyoming wildlife officials wanted to keep it going. They launched an effort  to determine how ending elk feeding would affect hunters and ranchers. Dube said the results of the initiative won't come until later this year; any decisions on policy changes are still "down the line." As decisions remain on hold, the disease continues to spread.
Elk remain central to Wyoming's wildlife management. So do predators like wolves and grizzlies, but for different reasons. The attitude towards predators always focused on ruthless removal. Efforts to eliminate wolves and grizzlies in the 19th and 20th centuries were so successful that the pockets of the remaining animals were quickly put under the protection of the Endangered Species Act after it became law in 1973. Protections were strongest on federal lands, like national parks.
Grizzlies were fed and cared for until 1970; having lost the ability to forage on their own, they began to die out. In 1975, Yellowstone grizzlies were put on the endangered species list.
The Endangered Species Act Has Held Hunters — and State Governments — at Bay
In the ensuing decades, both grizzlies and wolves have bounced on and off the endangered species list. Successful resuscitation of some wolf packs and grizzly populations led to increasing conflicts with ranchers and outdoor recreationalists outside park borders. Most recently, a Feb. 10 court decision relisted wolves as an endangered species, though not in Montana, Idaho, or Wyoming. In 2012 Congress had preempted the courts, giving these states final say over wolf management.
Similarly, in 2017 grizzlies retained endangered species protection, but only after federal judge Dana Christensen blocked the federal Fish & Wildlife Service's effort to delist them. Before it could be delisted, he ruled, the Yellowstone grizzly needed to connect with the Northern Continental Divide Ecosystem — the area in and around Glacier National Park — to ensure the species' genetic viability and its climate resilience.
The decision marked the third failed delisting attempt since 2007. Dube's explanation: conservation groups feared state regulators' decisions would "annihilate" the grizzlies. Meanwhile WGFD and Wyoming Gov. Mark Gordon are pushing to eliminate endangered-species protections for grizzlies. "It's abundantly clear that we have to have some management authority over these grizzlies in areas that we don't want them," Dube said.
"I think it's our increase in damage claims. We're concerned about not only personal safety, but … people's livelihoods and … when [bears] get into beehives and all kinds of different things, you know, we start seeing bears out in corn mazes… We don't need that," he added.
As federal conservation controls restored grizzly and wolf populations within the borders of Yellowstone National Park, state officials continued to fight to keep the two species from repopulating areas from which they had been eradicated.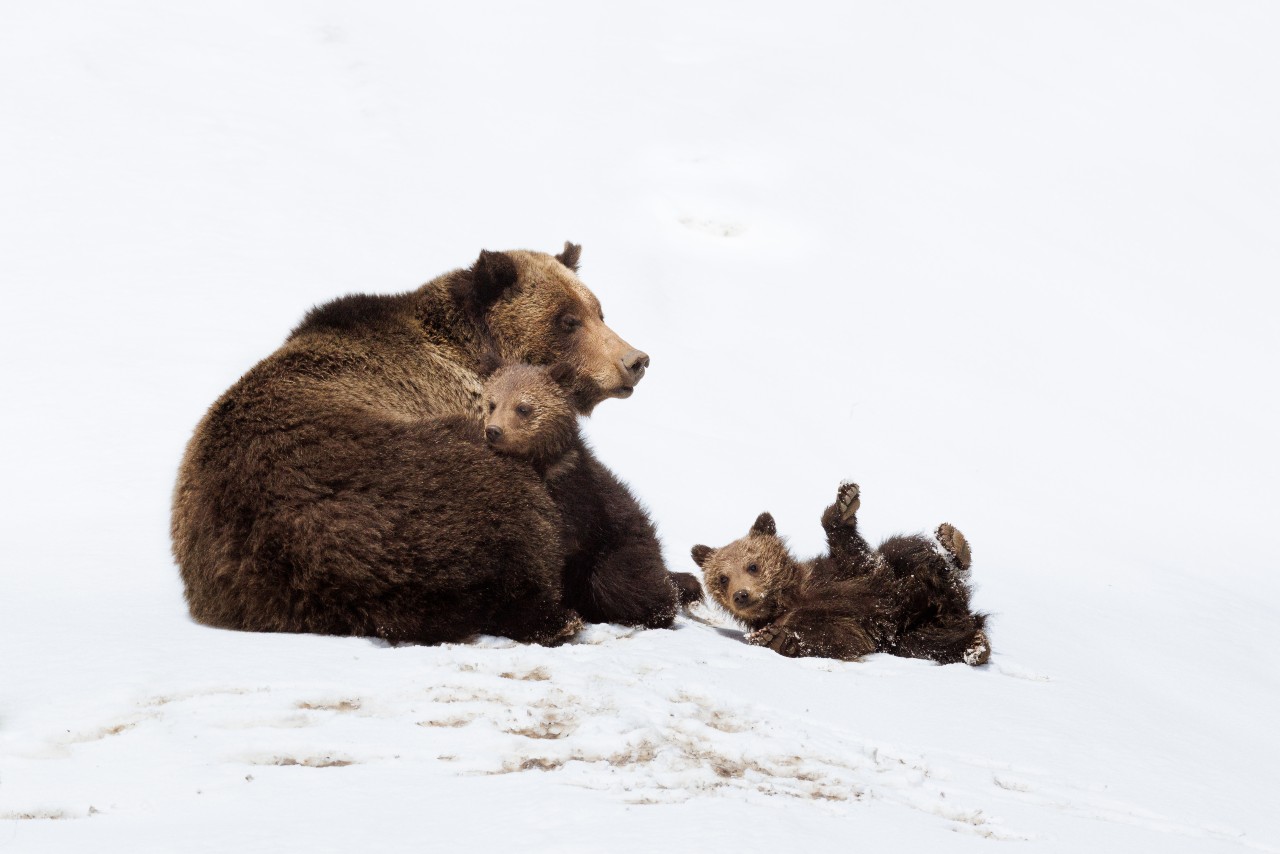 Where Wolves Lost Protection, Extermination Efforts Followed
Like grizzlies, wolves are unwelcome outside of park borders. In a circle around Yellowstone, state wildlife officials allow trophy-hunting of wolves that venture outside of park boundaries. Beyond that region — in roughly 85 percent of the state — the Wyoming Department of Agriculture controls predators; they can be exterminated as agricultural pests.
This approach has fostered controversial wildlife-killing contests, often focused on coyotes and other species that prey on livestock. Management in these zones largely resembles the campaigns that eradicated large predators from much of the West 100 years ago.
Actions of state legislatures in Montana and Idaho recently led to the largest mass extermination of wolves since the early 20th century. More than 500 were exterminated in those two states this winter. Wyoming, whose wolf population is at the federally mandated minimum, could not follow suit — if they had, they would have triggered emergency federal controls. Nonetheless, inside Yellowstone, the Phantom Lake pack has now likely been eliminated by hunts that drew its members out by baiting with meat just beyond the park's borders.
Yellowstone Park officials told the AP that this hunting season was, "a significant setback for the species' long-term viability and for wolf research."
Interior Secretary Deb Haaland recently condemned the escalating war on wolves. "We have communicated to state officials that these kinds of actions jeopardize the decades of federal and state partnerships that successfully recovered gray wolves in the northern Rockies," she wrote in an opinion column in USA Today.
Haaland threatened to invoke an emergency endangered species listing, pending federal regulators' formal findings that would support a request to Congress to reverse the judge's 2012 ruling.
Dube takes pride in Wyoming's ability to keep wolves at their mandated minimum population. "Do people think… there should be more [wolves]? Yes. Do people think there should be less? Yes. So I think we've done well within the constraints that we have," he said.
State Controls Often Stand in Opposition to Federal Practices
At the heart of wildlife conflicts in the West is the perennial issue of state's rights. In Wyoming, hunters and ranchers control the state's wildlife and benefit financially from removing predators and providing elk with feedlots.
When it comes to elk, grizzlies, and wolves, the WGF commission is the primary governing body for conservation policy. Dube says his department is, "bar none, probably the best wildlife agency in the world." He sees the funding structure, based on hunting and fishing, as the department's greatest success. "We do not get funding from the state legislature, so I think that helps tremendously. Politics can somewhat stay in the background," he said.
The best wildlife agency? Lisa Robertson, founder of Wyoming Untrapped, has her own view. "To stake a claim as the 'best,' we must move beyond the old status-quo goal of "grow 'em to hunt 'em."
The commission, populated by gubernatorial appointments, remains highly political. Of the seven current commissioners, six are either avid hunters, come from multi-generation ranching families, or both. Dube spent most of his career running a hunter-outfitting business and raising cattle. Commissioners are not required to have any particular qualifications other than aligning with the governor's vision of the state.
Kevin Bixby, a lifelong conservationist from New Mexico, worries about the lack of diverse representation and scientific knowledge on wildlife commissions. He founded the Wildlife For All initiative to push for greater diversity of priorities in wildlife management. He believes ranchers and hunters "should have a voice at the table, but they shouldn't be the only voice."
"Less than 20% of Americans hunt or fish, so they would be a minority," Bixby said. He hopes to make wildlife management more democratic with both diversity of representation  and funding that comes from the public generally. "The reality is hunters pay and they become the primary constituents of the agencies, and the agencies feel they need to serve their primary customers… It's a terrible way to protect biodiversity," he said.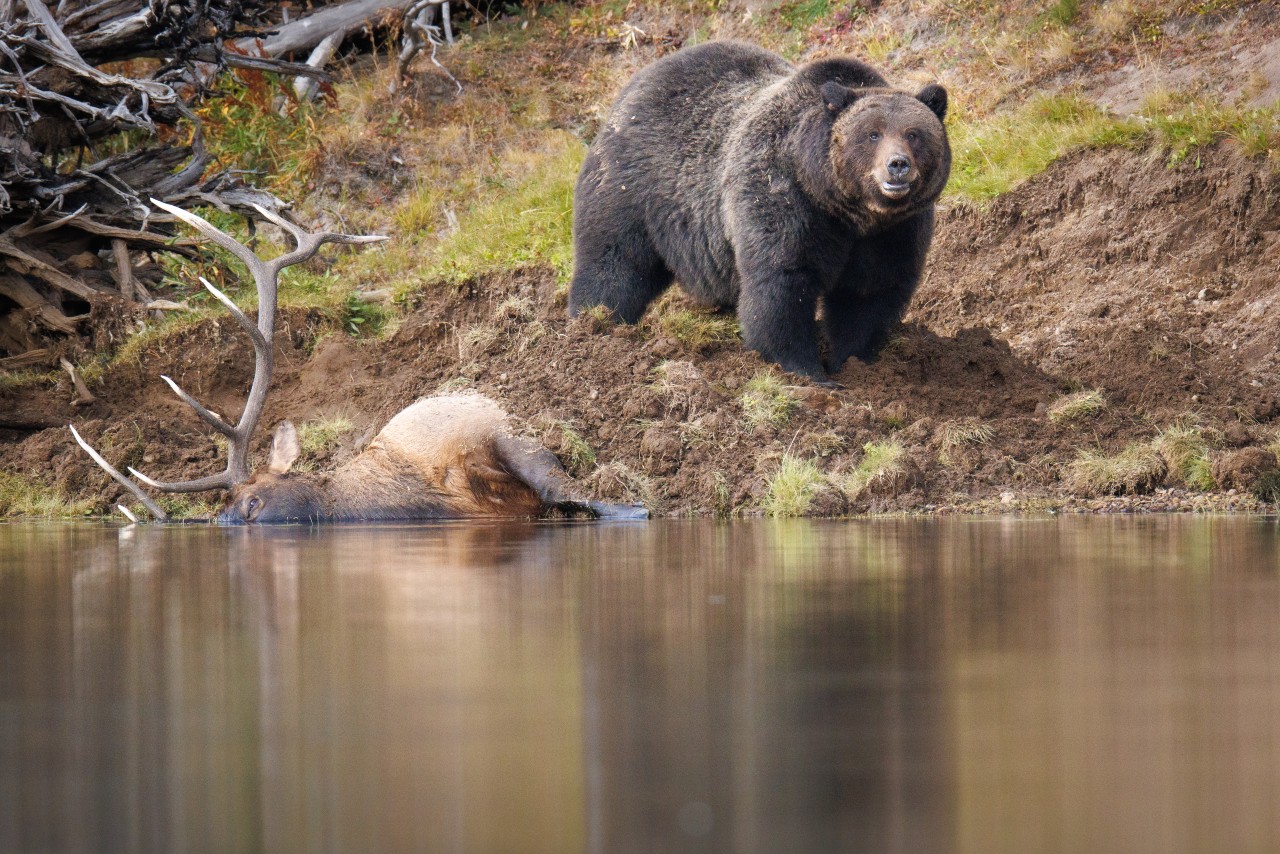 Nonprofit Organizers Seek to Add People of Different Backgrounds to State Wildlife Agencies
Bixby and other nonprofit organizers understand that federal control is unlikely to last over long periods, and want to see a more progressive, ecology-oriented view to take hold with state regulators.
Several wildlife advocacy nonprofits have popped up in the state in response to concerns over the prevailing wildlife management policies. Wyoming is among the worst "in archaic trapping regulations and the lack of animal cruelty protection laws. Non-consumptive voices don't count at all," Robertson said. Among a long list of her goals, keeping grizzlies and wolves on the endangered species list rises to the top. Many conservationists view the act's role today as a stopgap until state wildlife policies change or additional federal policies are enacted.
"The Endangered Species Act can only go so far," Bixby said. A species has to be in bad shape for it to be listed and then you always have efforts in Congress to undermine the act, to change it and to weaken it. Then you're always at the mercy of the courts and their interpretation of what the [U.S.] Fish and Wildlife Service decides to do."
Roberston and Bixby want to nominate representatives from diverse groups to fill three upcoming vacancies on the WGF commission, including Dube's role. Whether their nominees are appointed, however, depends on a Republican governor.
The extreme differences between state and federal approaches make removing a species from the federal endangered species list highly contentious.
Robertson worked for the federal Fish and Wildlife Service for 10 years until 2008, running wolf-tracking flights to study the newly re-introduced animals in Yellowstone. But as she immersed herself in Wyoming's wildlife policies, she became disillusioned by the disconnect between federal and state managers.
"What disappointed me the most at that time was the feds actually turned over wolf management to Wyoming, knowing that the cruelty factor was as bad as it could possibly be for 85% of the state where wolves are predatory animals," she said. "They were tired of it. They were ready to move on and so they did."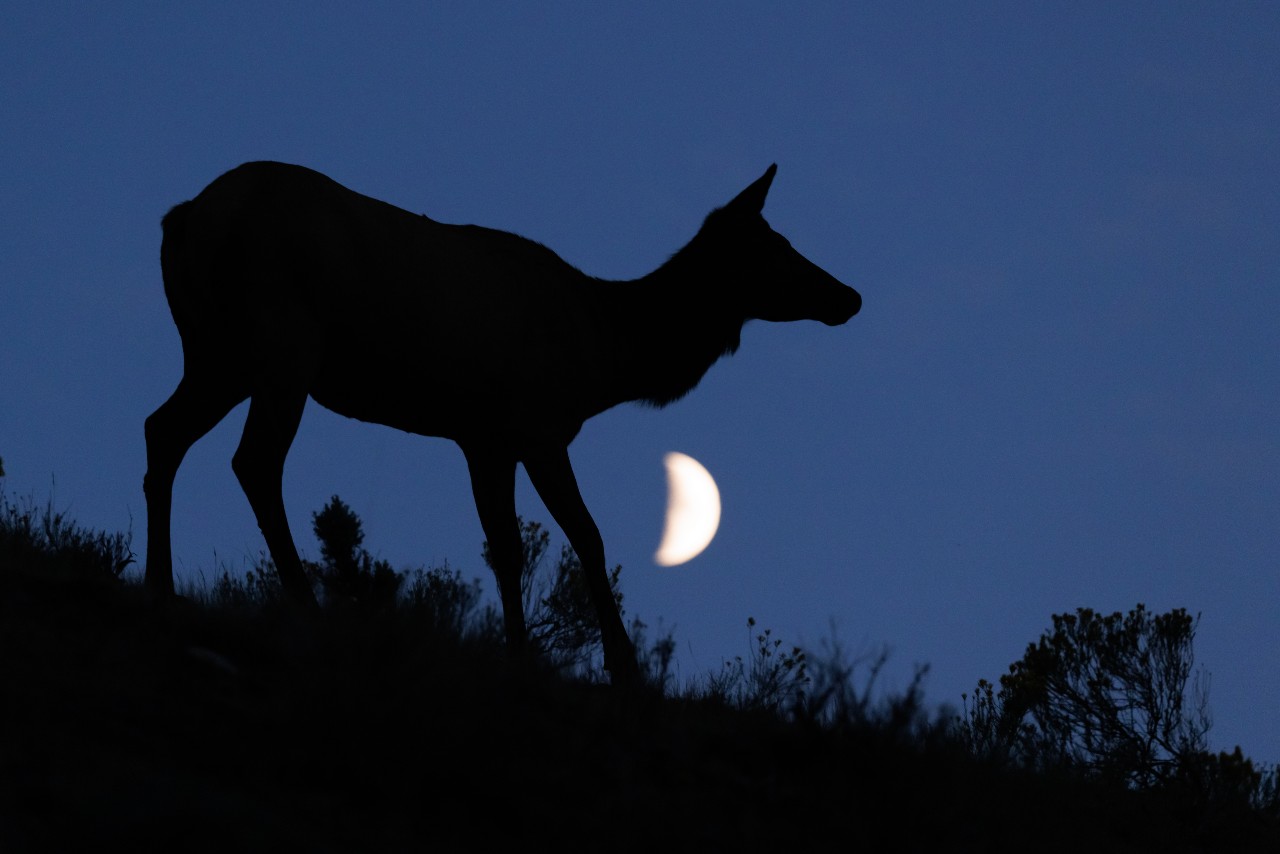 Seeing Wildlife Managers as Trustees of the Future of Wyoming's Lands
Why is changing Wyoming wildlife policy so hard? Kristin Combs, the director of Wyoming Wildlife Advocates, believes that ideas about conquering nature left over from the 19th century western expansion are still prevalent.
As long as permissive state policies take hold each time federal oversight ends, conflicts over endangered species listings will persist. "There's just this very much this feeling of like, we have to be involved. Humans have messed the landscape up so much that we can't just let nature play out right now," Combs said.
Advances in conservation science over the past 50 years led to a whole-ecosystem approach and more hands-off management at the federal level. Wyoming's approach remains unchanged. "Some animals were seen as good, others were seen as bad and that [viewpoint] is very much alive and well here today," Combs explained.
From feeding elk to exterminating predators, Wyoming wildlife management is hardly hands-off. The agricultural sector dominates the state government. State legislators, who set the rules for WGF, work part time in the winter months, which suits farmers and ranchers. "Getting to the point where you can overcome the agricultural community that's so embedded into the legislature is very difficult.…" Combs said.
When Combs works with conservationists in other states, "it's no surprise to anybody that Wyoming is a tough state to work in when you're dealing with wildlife issues and animal rights," she said.  "I just want to see [conservation] … be seen as part of a larger progressive agenda to bring justice to this country," Bixby explained.
Bixby believes that "wildlife is a public trust and the government is a trustee, and [they have] a duty as trustee to manage and protect the public trust for the benefit of all."
"But 'all' is open to interpretation."
Originally published by & the West, a digital magazine of the Bill Lane Center for the America West at Stanford University. 
Previously in The Revelator: