From the first page of his new book, Inheritors of the Earth: How Nature Is Thriving in the Age of Extinction (PublicAffairs Books, $28), conservation biologist Chris D. Thomas makes his conclusion pretty clear: The alarm over species going extinct thousands of times faster than the normal background rate is being blown out of proportion. Biodiversity, Thomas asserts, is not disappearing like biologists and environmentalists warn; it's increasing.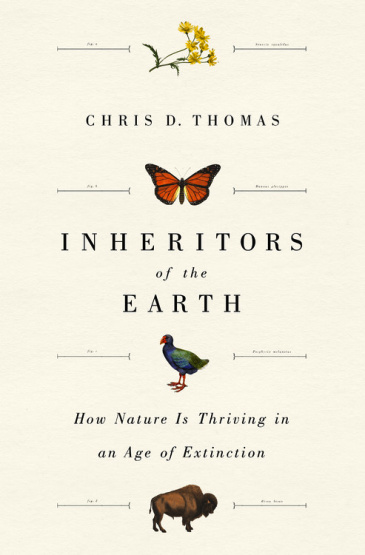 That growth in biodiversity, Thomas writes, hinges on speciation, which is the evolution of new, distinct species. It's happening much more quickly than biologists previously thought — mostly through migration and subsequent diversification and hybridization of existing species into new, distinct species. According to Thomas, this rapid speciation is good news.
In making his argument, Thomas spends page upon page on stories and "evidence" proving species diversity is growing. He cites sparrows frequently, noting that a small bird from the Asian steppe has become ubiquitous around the world. He notes that the Monterey pine, struggling in its native California, is thriving in New Zealand's forestry efforts, while monarch butterflies that used to depend on those pines now over-winter on blue gum trees, a type of eucalyptus native to Tasmania generally considered invasive by environmentalists. Yet, Thomas claims, the blue gum tree is a more suitable tree for the monarch, a species also threatened with extinction. He suggests that the tree is an invasive species that will save America's most iconic butterfly. And, coming off strongly as an English gentleman scientist, Thomas cites his own garden and the change in diversity over the years has grown from just a few species of butterfly, birds and plants to more than a dozen newcomers, with over a third of the species there now only able to thrive because of man-made changes.
But there's a big piece of the equation he fails to mention.
Thomas leaves out the population sizes of all these species, new or old. While diversity is important, the number of individual animals in a population is also essential in determining how likely a species will survive threats such as natural disasters and climate change. Technically we still have northern white rhinos, Yangtze River dolphins and Pinta Island tortoises, but their populations are so small they are functionally extinct. We can't write off the extinction crisis based on species diversity until we do a critter census.
But that wasn't the biggest weakness of Inheritors. It was Thomas's assessment of humans and our role in the equation.
As a part of nature, he argues, everything we have done, all of our colossal, Earth-changing influence, is "natural." Climate change, the introduction and the distribution of invasive species around the planet, extinction, the transformation of land from wild to cultivated — the whole shebang — is what Thomas calls "natural." He claims humans shouldn't be blamed for our part in creating this new "natural" system. Rather we should be thanked. The extinction of odd, specialized island birds or the occasional photogenic megafauna kicking the bucket is just part of that transformation.
Near the end of the book Thomas almost had me agreeing with him. "The inevitable ups and downs of different species that take place when the environment changes, and as they colonize new locations and evolve new characteristics, dictate that we will ultimately fail if we attempt to keep things exactly, or even roughly, as they are," he argues.
To his credit, Thomas isn't saying that these ups and downs have all been to the betterment of the planet or the species we share it with. He doesn't argue that environmentalists should just all give up and go home, but rather that we need to reevaluate how we're trying to save the world and, more importantly, what we're trying to save.
As someone newer to the environmental movement, I found the argument enticing. I wanted to agree with him. After all, who are we to decide what species come or go? More to the point, do we fight to protect species that are important to an ecosystem, or do we just ensure an ecosystem survives — filling the hole with whatever fits?
But humans don't get a "get out of jail free card" just because we're such a "successful" species. That's why I have to disagree with Thomas's follow-up to the previous statement: "We need a conservation philosophy that is based on natural change, with humans centre stage: partly because we have already brought about so many changes to the world that cannot be ignored, and partly because humans evolved naturally and we are part of the natural system."
Species are worth protecting not just because they serve important functions in their ecosystems. They're worth protecting because they have unique intrinsic value.
No bacterium thought about how creating oxygen might affect its fellow early earthlings; nor could it do anything to change that. Cataclysmic seismology or a stray asteroid are even less likely to have thought about the literal impact of their actions. And no matter how ubiquitous the little bird from the Asian steppe has become, no sparrow thinks about its place in the natural order.
People do.
That's exactly Thomas's logical flaw. Calling human-caused change "natural" is dangerously reductive. Both in scope and speed, people are altering the planet in ways no other species does. We have changed the very chemistry of the Earth. We're driving the extinction crisis.
We can't go back to some perfect Earth, unaffected by our kind. There isn't evidence that that would be ideal anyway. But we have to fight to preserve species the way they are, not just because they serve their ecosystems but because they have value, as they are, altered or unaltered, but not purposefully tinkered with for our selfish purposes.
Despite Thomas's arguments otherwise, it's clear that the real inheritors of the Earth — and therefore the ones who have to step up to save it — are humans.