Millions of acres of relatively untouched national forest protected through a Clinton-era regulation could be opened up to road building and logging in two western states.
The forests are currently shielded from new road building, road reconstruction and timber harvesting by a policy known as the 2001 Roadless Area Conservation Rule, which protects nearly 60 million acres of inventoried roadless areas in national forests across the country in order to safeguard wildlife, water supply and recreation opportunities.
Some of that protection could soon be at risk. This year Alaska and Utah have begun the process of creating state-specific roadless policies in place of the federal rule, which could mean new roads, logging operations and other possible development.
Many experts fear this could have devastating environmental consequences and inspire additional states to ask the Trump administration for similar changes.
The Importance of Roadless Areas
The federal roadless rule may not be well known to most Americans, but it's vitally important. "It protects some of the wildest places left in the United States," says Travis Belote, a research ecologist with the Wilderness Society.
The original Forest Service rule identified roadless areas as having several important ecological values, key among them the ability to provide Americans with clean drinking water. In this case, a little goes a long way: Inventoried roadless areas account for just 2 percent of the country's land base but are located within 661 of the country's 2,000 major watersheds.
"A lot of the best quality drinking water is coming from roadless areas and wilderness areas," says Mike Anderson, a senior resource analyst with the Wilderness Society. "I see the roadless rule first and foremost as being a key environmental safeguard to protect our nation's purest water."
Roadless areas also protect threatened and endangered species, provide recreation opportunities and scenic values, and safeguard traditional cultural areas and sacred sites.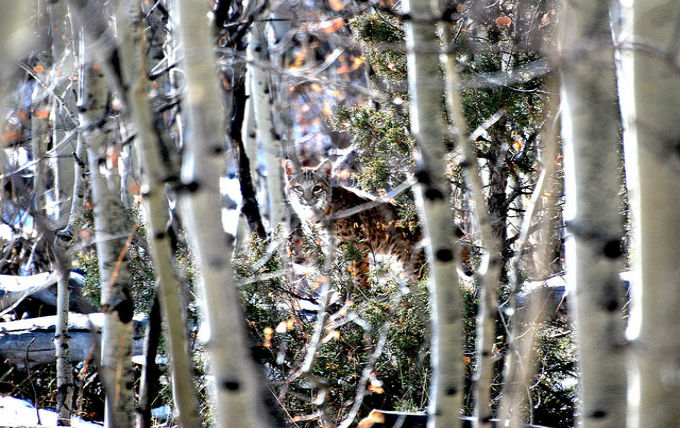 Additionally, as the country's population grows, we continue to encroach on once-remote places. "In an increasingly developed landscape, large unfragmented tracts of land become more important," the Forest Services explained in its 2001 rulemaking.
Roadless areas have an additional value — they act as a crucial protective zone around other public lands and help to connect wildlife habitat. Just over 60 percent of roadless areas are within about 6 miles of a national park or wilderness area, says Belote. "They have this really critical role of buffering iconic protected areas."
As important as the ecological considerations are, they weren't the only impetus for the roadless rule. Economics played a big part, too.
Maintaining and building roads in national forests, it turns out, is expensive. When the roadless rule was written, the U.S. Department of Agriculture had a backlog of $8.4 billion in deferred maintenance on forest roads, and the agency only received 20 percent of the annual funds it needed annually to meet the costs of maintaining its existing roads. At the time the Forest Service itself admitted "it makes little fiscal or environmental sense to build additional roads" in roadless areas when the agency couldn't even afford to maintain the roads already under its purview.
State Pushback
The 2001 Roadless Area Conservation Rule sought to resolve decades of controversy over subsidized logging and road building on national forests. The fight to establish the rule took years of hard work.
"It all came to a head in the late 1990s when Michael Dombeck was the chief of the Forest Service," says Anderson. "He felt very deeply that the Forest Service roadless areas were just too important for water quality and fish habitat to allow them to be roaded and logged as the agency had been doing for many years."
The rule was finalized in the waning days of the Clinton administration after significant public input — including hundreds of public meetings and 1.6 million comments — but the incoming George W. Bush administration put the brakes on it and attempted to replace the rule, an effort that ultimately failed. Some states issued legal challenges, which also took years to resolve.
In the decade after the roadless rule was enacted, two states, Idaho and Colorado, worked with the Department of Agriculture to develop state-specific plans, which both build upon and supersede the federal regulations.
Idaho's rule, enacted in 2008, added stronger protections to a third of its 9 million roadless acres but permitted logging to reduce wildfire risks in half the roadless acreage. It also removed 400,000 acres entirely from roadless designation, opening the door to mining and other development there.
Similarly Colorado's roadless rule, finalized in 2012, increased the number of acres covered under the rule, but bolstered development interests, too. It permitted the possibility of future of ski-area expansion on 8,000 acres and allowed for the construction of temporary roads for coal-mining-related activities in certain areas.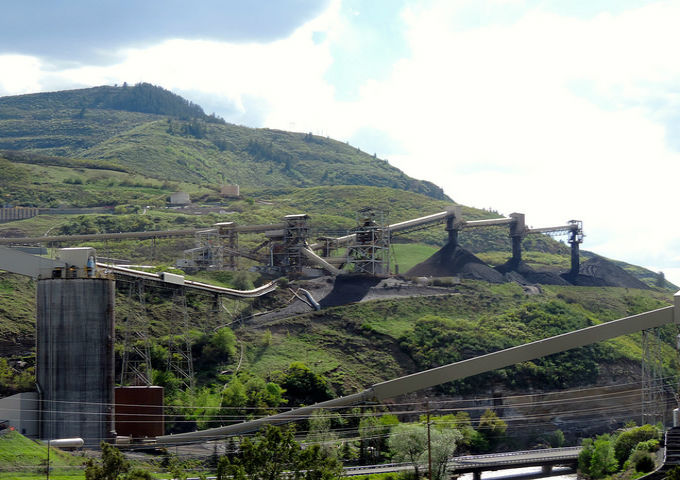 In January 2018 Alaska, following the same regulatory process as Colorado and Idaho, petitioned the Department of Agriculture to permanently exempt the 17-million-acre Tongass National Forest from the federal roadless rule.
Alaska's elected officials have lobbied to exempt the Tongass since the roadless rule was written on the grounds that it limits economic development, including efforts by mining, energy and logging companies. In June Sonny Perdue, President Trump's secretary of agriculture, responded to this petition by tasking the Forest Service with beginning the process of creating a state-specific roadless rule for Alaska, which means the state must work with the Forest Service to come up with a new rule for the Tongass. The agency is expected to finalize the new rule by June 2020 after environmental analysis and public comment.
It's expected to include "appropriate exceptions to address essential infrastructure, timber, energy, mining, access and transportation systems necessary to further Alaska's economic development interests," the Forest Service explained on its website.
With Alaska paving the way forward, Utah has now jumped on the bandwagon. This October Gov. Gary Herbert put into motion plans to petition the federal government for a state-specific plan in early 2019. The rule currently covers 4 million acres of national forest in the state.
The move surprised Utah environmental groups. "We've seen a lot of reversals of protective policies across the state in this administration," says Carl Fisher, executive director of the Utah-based nonprofit Save Our Canyons. "But we thought we had a good collaborative relationship as it pertains to taking care of our watersheds and national forests in the state."
Battle Over the Tongass
Despite all of the Roadless Rule's proven benefits, officials in Alaska are intent on removing all or part of the roadless protections for the Tongass. There's a lot at stake.
The Tongass National Forest is regarded as some of the country's most beautiful wild landscape. It's the largest national forest in the United States and the world's largest expanse of intact temperate rainforest. In today's climate change age, its old-growth forests are also widely recognized as an important for sequestering carbon.
Just over half of the Tongass' 17 million acres is protected by the current federal roadless rule.
The region is home to fjords, forested islands, glaciers, undammed rivers and rich biodiversity, including five species of Pacific salmon, humpback and orca whales, brown bears, bald eagles and Alexander Archipelago wolves.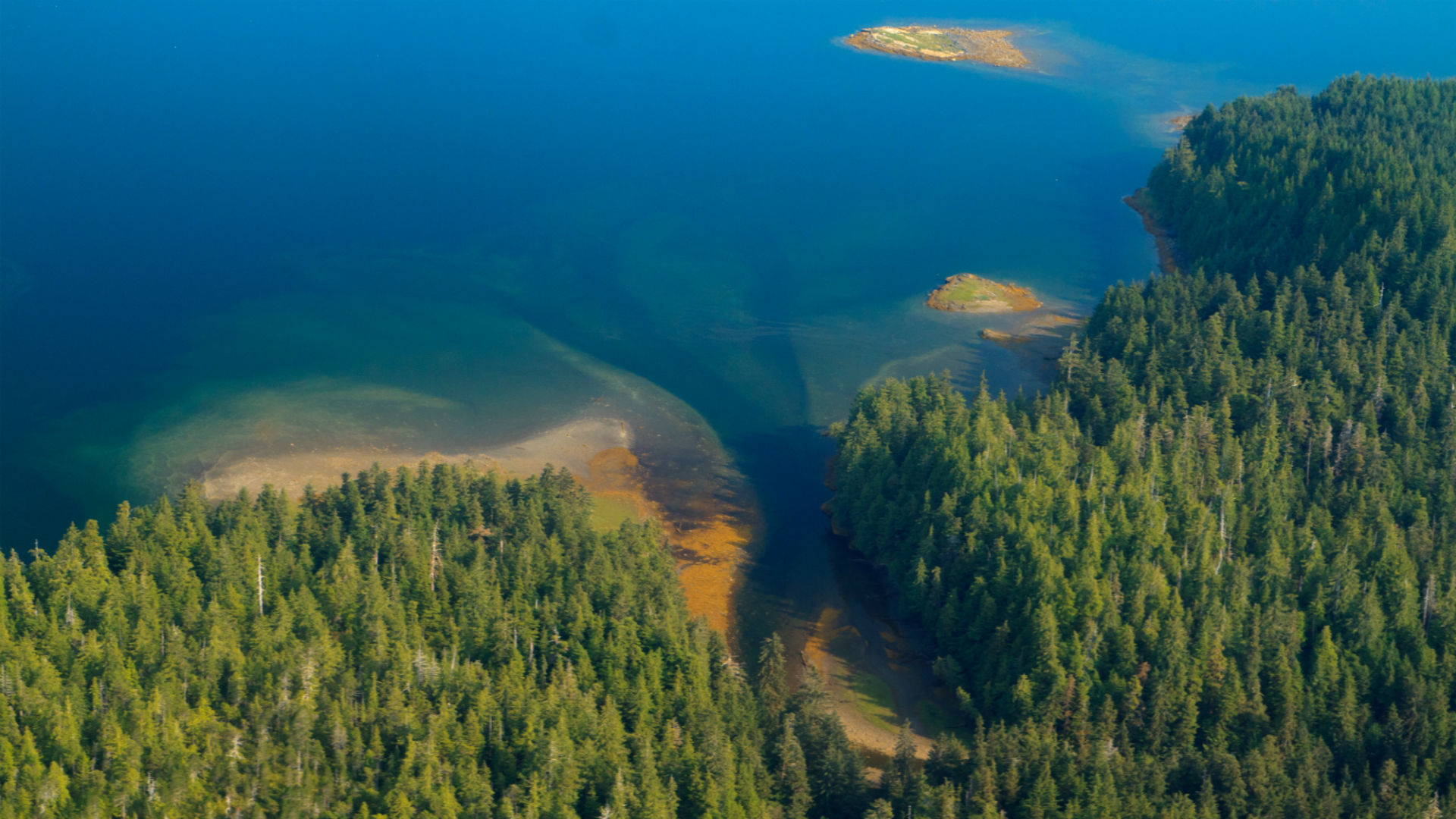 But it's not all pristine habitat anymore.
The Tongass' old-growth forests have long been heavily logged. Timber sales that began in the early 1900s ramped up in the 1950s and continued at a record pace for decades. At its peak in the 1970s, the logging industry was pulling nearly 500 million board feet a year from the Tongass. That had fallen to around 33 million board feet by 2014.
"The sad story on the Tongass is that there's been 60-plus years of pretty intensive logging of these huge old-growth forests that are globally rare and there's not much timber that's left," says Andrew Thoms, executive director of the local environmental group Sitka Conservation Society.
He's part of a 12-member Alaska Roadless Rule Citizen Advisory Committee, composed of representatives from different stakeholder groups, which recently submitted recommendations to the governor to help shape Alaska's new regulation.
"The timber industry wants to continue what they've been doing, but they've just run out," he says. "The timber that's left is in really ecologically sensitive areas that are important for salmon production and areas that are important for the people who live here." That's why Thoms says he doesn't want to see more logging in what's left of the Tongass' most sensitive roadless areas.
Timber sales have been a losing bet economically for the federal government and taxpayers, too.
A 2016 Government Accountability Office report found that from 2005 to 2014 the Forest Service was spending about $12.5 million a year to "prepare, manage, and oversee timber sales and to conduct required environmental analyses" in the Tongass. But it was making, on average, just $1.1 million a year in revenue from timber sales there. That's an annual loss of $11.4 million, and it doesn't include millions more spent each year in building and maintaining roads.
It's also taken an ecological toll on the forest.
For decades, Thoms says, the timber industry displayed little environmental awareness. "They drove their tractors right up the salmon streams, they pulled the wood out of the streams that create the spawning habitat for the fish and there were no buffers on the streams whatsoever," he explains. "After those past generations did so much damage to the ecosystem here, it really reduces our ability to do any sustainable logging now, and especially with old-growth timber."
The forest still supports the economy of the region, but these days most of the money comes from tourism, recreation and fisheries industries, which make up a quarter of the region's employment. Timber, by contrast, is now less than 1 percent of employment. And these new leading industries require a healthy ecosystem.
But proponents of changing the roadless rule think that new roads through the forest can help drive other kinds of industries including mining, renewable energy projects and economic opportunities driven by broadband internet, Heidi Hansen, deputy commissioner of the Alaska Department of Natural Resources, explained in an op-ed in the Anchorage Daily News.
There are other considerations for southeast Alaskans, too.
"Subsistence salmon harvest for rural residents and Alaska natives is a huge part of life up here," says Thoms. "And all of those salmon are born and start their life and end their life on the Tongass National Forest. So we want to see the watersheds that are the biggest producers of salmon kept intact and kept roadless."
Thoms isn't alone in his views. Local media reported that most residents speaking up at community meetings support keeping the federal rule in place.
"Even in Ketchikan, which was traditionally the heart of the timber industry, over half the audience came out and said to keep the roadless rule," says Thoms. People come up to Alaska from the lower 48 and "they want to see a pristine Alaska with all of the ecosystem parts functioning where there's fish and bears and deer and eagles and not rows of development and clear cuts," he says. "That message came from all the communities that the meetings were held in."
A New Fight in Utah
The primary driver for a rule change in Alaska is for more economic opportunities associated with resource extraction and road building. In Utah, which has 4 million acres of inventoried roadless areas, the state has said it's motivated by wanting to address wildfire concerns, but Fisher thinks economic interests are playing a role, too. At a recent public event Gov. Herbert said the state experienced more than 871 wildfires this year and blames much of the destruction on the roadless rule.
"The idea behind a petition for a new state-specific roadless rule would be to give local forest service professionals a few more tools to do active forest management and restoration in certain roadless areas," says Jake Garfield, general counsel of Utah's Public Lands Policy Coordinating Office, who claims the roadless rule leaves the Forest Service "a little bit hamstrung" on some forest-restoration work.
One of the changes the state is seeking, he says, is the right to build a "temporary administrative road in roadless areas to address the threat of wildfire." Although the current rule allows for road construction to protect public health and safety, including for threats of wildfire, Garfield says it's limited to immediate threats and doesn't allow for more proactive measures.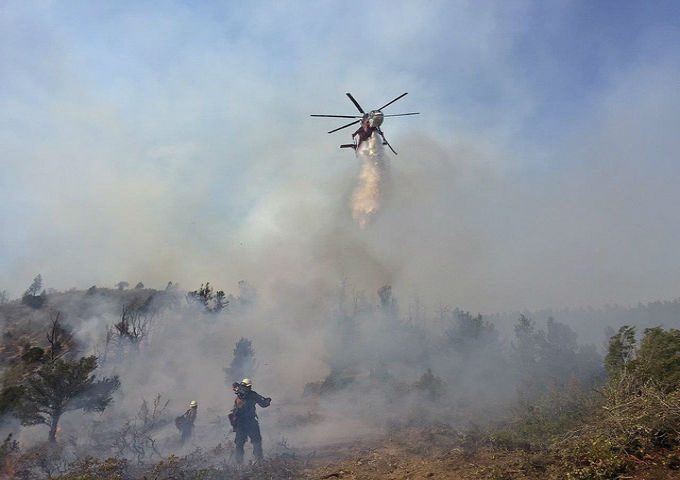 But roadbuilding to protect against wildfires in remote areas seems contrary to the Forest Service's own analysis from the 2001 rule which found that, "Building roads into inventoried roadless areas would likely increase the chance of human-caused fires due to the increased presence of people."
Wilderness Society's Anderson contests Utah's reasoning, saying the issue was "pretty well analyzed back when the roadless rule was initially adopted and the conclusion at that time was to allow for fuel-reduction thinning off existing roads but not to invite more human-caused ignitions of wildfires by putting new roads into places."
Also, the Forest Service typically uses its limited resources to fight wildfires that are closer to more populated areas and not in remote wilderness areas.
Salt Lake City Mayor Jacqueline M. Biskupski was also not convinced of the state's argument and said she thought the Forest Service already had the tools it needed to address wildfire concerns, including prescribed fires to help manage vegetation and reduce the buildup of fuels in the forest.
"The current roadless rule puts no limits on the use of prescribed fires," she wrote in a letter that recommended the state leave the federal roadless rule intact. "Also, it already contains an exemption to its prohibition on road construction and reconstruction where needed to protect public health and safety."
Garfield denies that increasing logging is the main purpose of the rule change, but adds that there may be times when the Forest Service doesn't have the budget to do large-scale restoration work and a private timber company would be needed. In some cases it may also be necessary to "cut down larger diameter timber to restore forest health and reduce wildfire risks," he says.
But Fisher thinks the roadless rule change is waste of state and federal resources. He says a recent presentation to the state by the forest supervisor of Utah's Uinta-Wasatch-Cache National Forest showed there was 1.3 million acres of shovel-ready forest treatment projects ready to go, but the agency was short around $340 million in funds. That wouldn't change if the roadless rule were amended in Utah.
"So we don't think we have a policy hurdle, we think we have a funding hurdle," he says. "That's why we don't think the efforts should be focused on some blanket rollback on a policy that is actually doing its job."
The efforts to change the roadless rule in Alaska and Utah will still take months to resolve and will involve both state and public input.
Meanwhile Anderson says he's worried that other states could follow them in seeking state-specific rules. "We've been hearing rumors of maybe Wyoming, maybe Nevada, maybe Arizona," he says.
But even just Alaska and Utah's departure from the federal roadless rule is significant. "If we were to lose the protection in those two states alone, we're talking almost a quarter of all the national forest roadless areas in the whole country," he adds.