February may be the shortest month, but this year it also brings a huge number of new environmentally themed books. Titles to be published this month cover everything from climate change to wildlife to important environmental history. The list also includes books for everyone — from dedicated environmentalists to nature-friendly kids. Check 'em all out below (links are to publishers' or authors' websites) and then warm up your library card or plan a trip to your local bookstore.
Wildlife:
Our Native Bees: America's Endangered Pollinators and the Fight to Save Them by Paige Embry — an in-depth look at North America's pollinator crisis.
A Forest in the Clouds: My Year Among the Mountain Gorillas in the Remote Enclave of Dr. Dian Fossey by John Fowler — the shocking true story and "the only first-person account from inside Dian Fossey's beleaguered camp."
Leatherback Blues: The Wild Place Adventure Series by Karen Hood-Caddy — a YA novel about a young girl trying to rescue sea turtles in Central America who goes head-to-head with vicious poachers.
Conservation Optimism:
The Future of Conservation in America: A Chart for Rough Water by Gary E. Machlis and Jonathan B. Jarvis — a "clear and compelling guide" and "a unified vision of conservation that binds nature protection, historical preservation, sustainability, public health, civil rights and social justice, and science into common cause — and offer real-world strategies for progress."
Thank You, Earth: A Love Letter to Our Planet by April Pulley Sayre — science, nature, geography, biology, poetry and community, all wrapped up together in this beautifully illustrated children's book.
Climate Change:
Unprecedented Crime: Climate Science Denial and Game Changers for Survival by Dr. Peter D. Carter and Elizabeth Woodworth — an indemnification of the world's governments, corporations, religious bodies and the media. Foreword by climate scientist James Hansen.
Rising Seas: Flooding, Climate Change and Our New World by Keltie Thomas — an eye-popping kids' book showing us what the world might look like when climate change puts some of our most famous landmarks underwater.
Climate Garden 2085: Handbook for a Public Experiment by Manuela Dahinden and Juanita Schläpfer-Miller — learn how climate change will affect your neighborhood by creating a garden that mimics what will happen in the future. An interesting thought experiment turned real.
Climate Church, Climate World: How People of Faith Must Work for Change by Jim Antal — a look at the moral challenges of global warming and how churches can address them. Bill McKibben provides the foreword.
Last Diamonds by Francesco Bosso — a beautiful photography book capturing the Arctic's icebergs before they disappear.
Climate Leviathan: A Political Theory of Our Planetary Future by Geoff Mann and Joel Wainwright — a challenge to avoid a future of "capitalist planetary sovereignty" brought about by climate change. Yikes.
Pollution:
Fractured Communities: Risk, Impacts, and Protest Against Hydraulic Fracking in U.S. Shale Regions, edited by Anthony E. Ladd — an interesting look at this hotly contested form of energy development and the sociology of protest.
Environmental History:
The City That Ate Itself: Butte, Montana and Its Expanding Berkeley Pit by Brian James Leech — the long and troublesome history of an infamous open-pit mine that has now become a toxic lake.
The Left Behind: Decline and Rage in Rural America by Robert Wuthnow — a window into how Trump, Cliven Bundy and their like rose to power.
Pushing Our Limits: Insights From Biosphere 2 by Mark Nelson — one of the crew members locked into this infamously failed experiment recounts the experience. You know Steve Bannon was in charge of this, right?
The Girl Who Drew Butterflies: How Maria Merian's Art Changed Science by Joyce Sidman — a kids' book about a pioneering woman scientist in a time before women were allowed to be scientists.
The New Deal's Forest Army: How the Civilian Conservation Corps Worked by Benjamin F. Alexander — a look at how America's parks, national forests, scenic roadways and even picnic shelters came to exist, and how they gave birth to the modern environmental movement.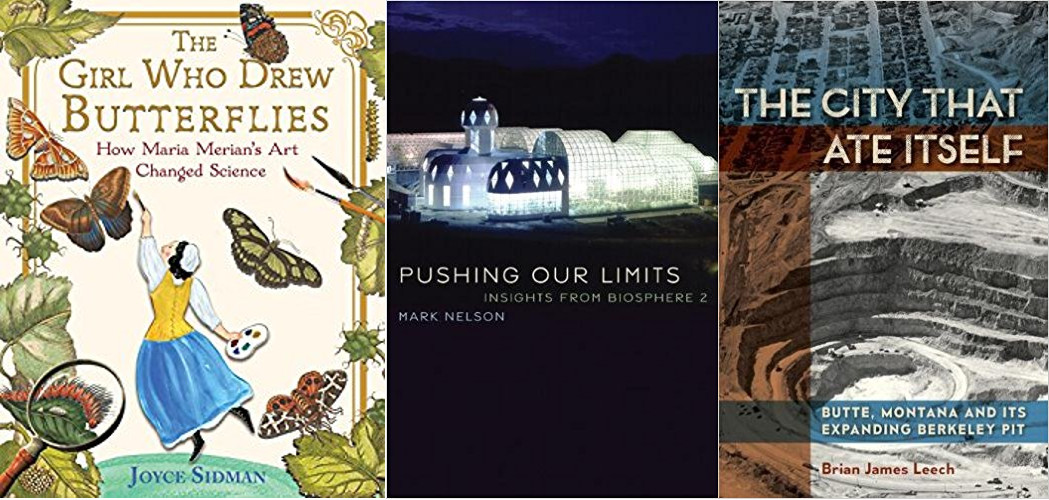 Looking for even more new eco-books? Check out our previous "Revelator Reads" columns for dozens of additional recent recommendations.