Three years into the Trump administration, its anti-climate and anti-science agenda is well established. Despite dire warnings from the world's leading scientists about the threats from rising greenhouse gas emissions, the administration has stubbornly continued to deny climate change, obstructed and undermined efforts to curb it, and moved again and again to roll back existing regulations that help reduce emissions.
Under Trump there's only one government agency whose top officials continue to take the threat of climate change seriously, albeit out of the public spotlight: the Department of Defense.
As international threat expert Michael T. Klare recounts in his new book, All Hell Breaking Loose: The Pentagon's Perspective on Climate Change, U.S. military leaders view climate change as a threat to the country's security — as well as global stability. Klare explores what they're doing about it, mostly behind the scenes.
With long experience studying national security issues, Klare is currently director of the Five College Program in Peace and World Security Studies at Hampshire College in Amherst, Mass. He's written extensively about the military and global resources, including The Race for What's Left and Blood and Oil.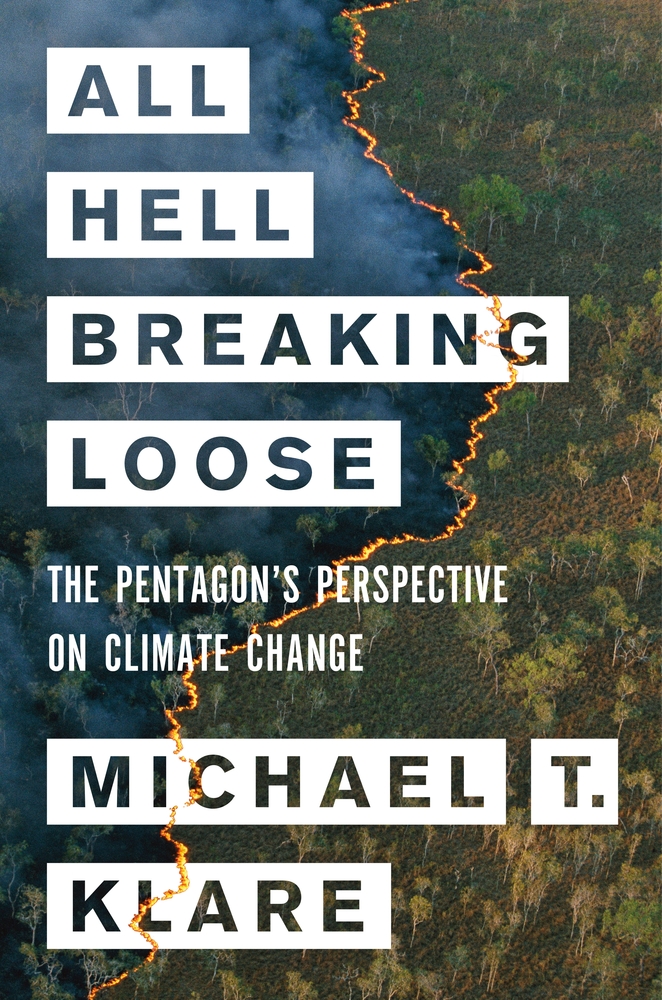 "While discussion of climate change has indeed largely disappeared from the Pentagon's public statements, its internal efforts to address the effects of global warming have not stopped," Klare writes.
Klare begins by tracing the evolution of the Pentagon's understanding of the potential dangers of climate change, which goes back more than a decade. The Department of Defense has published numerous reports and briefs since and is currently conducting an assessment of the climate-related threats to the hundreds of U.S. military bases at home and abroad. While the study isn't complete, results so far have shown that half of all bases face at least one climate-related threat. Many face several.
What Pentagon analysts are most concerned about is not endangered species, like some other government agencies, but other humans.
"They see climate change as ratcheting up global chaos, which in turn means a greater likelihood of U.S involvement in ugly foreign wars," writes Klare.
In some places climate-related disasters such as droughts, heat waves and hurricanes may trigger mass migrations and failed states; in others climate change may not be the sole threat or even the greatest, but it could make a bad situation catastrophic. It's considered a "threat multiplier" — one that, in the age of globalization, can lead to far-reaching failures of energy, food and health systems.
"Try to picture a food-price crisis occurring at more or less the same time as a major pandemic and a mass migration event: the resulting chaos, distress and contention are almost unimaginable," he writes.
As climate change worsens, the U.S. military will face more humanitarian crises. Typhoon Haiyan in the Philippines in 2013 and the quick succession of Hurricanes Harvey, Irma and Maria in 2017 gave a preview of what's to come — and the extensive resources needed.
Climate-related threats to food and water can also trigger what Klare calls "failed-state syndrome," like in Mali where resource scarcity, social unrest and natural disaster helped create political upheaval. Countries like Nigeria and Saudi Arabia could face similar threats.
There's also the potential for clashes among the world's heavyweights. A melting Arctic will open up access to shipping, drilling and other kinds of economic exploitation, which could prompt conflict between Arctic neighbors like the United States, Russia, Norway and Canada. Not coincidentally, the United States recently restocked its Cold War stash of military equipment and weapons housed in caves in Norway, presumably in the case of conflict with Russia, writes Klare.
And across the world, China could go head-to-head with India over vital flows in the Brahmaputra and other rivers as melting Himalayan glaciers curtail water resources. A similar situation over water conflict could emerge between India and Pakistan, too, writes Klare.
And then there are the threats emerging at home. The military is already dealing with rising seas, increased inland flooding, and more severe hurricanes and wildfires. These aren't small problems: The Department of Defense mobilized more than 30,000 personnel in the aftermath of Hurricanes Harvey, Irma and Maria.
Klare's review of both foreign and domestic threats from climate change is exhaustive and alarming, especially on top of what we already know about how climate change threatens vital ecosystems and species across the globe.
He makes a convincing case that there's ample reason for military leaders to be concerned — not to mention the rest of us: "It follows that if the armed services are worried about the safety and survival of their vital systems, we should be equally worried about our own."
Of course, many of us already are worried, which is why the last part of the book — what the Pentagon is actually doing about all of this — is so important… and also a bit disappointing. Klare reveals that many of the military's efforts to "go green" — for example, by using fewer fossil fuels — have been less about environmental concerns than strategy. Convoys to carry gasoline to remote military outposts are vulnerable to attack; using solar or other technologies to power barracks or vehicles reduces that risk.
And some programs were, well, less than they first appeared. For example, in 2006 the USS Stockdale set off as a part of the "Great Green Fleet," so named because the boat was using some "alternative fuels" to reduce its dependence on oil. But Klare reveals that the boat was actually running on a mix of 90% oil and 10% liquefied beef fat. It's hard to imagine that's either a green or scalable replacement for the petroleum used to power a destroyer across an ocean.
Other efforts have yielded better results, though. Today the different service branches use more solar and other renewables. And efforts are underway to vastly increase fuel efficiency of planes and ground vehicles.
And along the way they've achieved some measurable results: From 2011 to 2016, the DoD's consumption of petroleum for operating forces declined 20%. The energy supplied by renewables at home has also climbed 12% over 2003 levels.
Klare lists a few other statistics, but it's hard to put all of it into context as the book fails to mention the overall climate footprint of the U.S. military — which other sources point out is more than in most other countries. There's also no mention of the sweeping environmental, social and related implications of U.S. imperialism, a significant omission.
Indeed the idea of the U.S. military being a big green savior is a tough pill to swallow. Sen. Elizabeth Warren found that out earlier this year, when she introduced the Department of Defense Climate Resiliency and Readiness Act, which seeks to ramp up the military's potential when it comes to renewables and energy efficiency.
She received some swift backlash from progressives, including author and activist Naomi Klein who tweeted that, "The most powerful war machine on the planet is never going to be 'green.'"
Still, Klare claims that "given the immense size of the U.S. military establishment and its proven ability to embrace technological innovation, the Department of Defense is one of the few institutions in American society with the capacity to make a real difference in slowing the pace of warming."
But will that be enough? If climate change worsens the threats the military has identified, and makes military action more likely, the chances of reducing our armed forces' carbon footprint will get even slimmer. As Klare's own reporting shows, the vast, worldwide social and political upheaval that we'll likely experience due to climate change means we badly need civilian, as well as military, arms of government to get on board.