By Veronica Herrera, University of Connecticut
When Cape Town acknowledged in February that it would run out of water within months, South Africa suddenly became the global poster child for bad water management. Newspapers revealed that the federal government had been slow to respond to the city's three-year drought because the mayor belongs to an opposition party.
Cape Town is not alone. While both rich and poor countries are drying out, the fast-growing cities of the developing world are projected to suffer the most acute shortages in coming years.
Scarcity turns water into a powerful political bargaining chip. From Delhi to Nairobi, its oversight is fraught with inequality, corruption and conflict.
Mexico, too, has seen its water fall prey to cronyism in too many cities. I interviewed 180 engineers, politicians, business leaders and residents in eight Mexican cities for my book on politics and water. I was startled to discover that Mexican officials frequently treat water distribution and treatment not as public services but as political favors.
When thunderstorms are cause for panic
Nezahualcoyotl is a city in Mexico State near the nation's sprawling capital. Just after lunch one Friday afternoon in 2008, Pablo, an engineer, was showing me around town when news of an unexpected thunderstorm began lighting up his team's cell phones and pagers.
The engineers shouted back and forth, looking increasingly frantic. Having just begun my book research, I did not yet understand why an everyday event like a thunderstorm would elicit such panic.
Pablo explained that Nezahualcoyotl's aged electric grid often failed during big storms and that the city lacked backup generators. If a power outage shut down the local sanitation treatment plant, raw sewage would flood the streets.
These "aguas negras" carry nasty bacteria, viruses and parasitic organisms and can cause cholera, dysentery, hepatitis and severe gastroenteritis. If raw sewage also contains industrial wastewater – which is common in rapidly industrializing countries like Mexico – it may also expose residents to chemicals and heavy metals that can lead to everything from lead poisoning to cancer.
Pablo and his colleagues avoided a flood that day. But I later read news articles confirming how relatively common sewage overflows are there. Nezahualcoyotl residents have been dealing with this multisystem failure for 30 years, complaining of gastrointestinal illness and skin lesions all the while.
So why hasn't this public health emergency been fixed? The answer is a primer on the tricky politics of urban water delivery in Mexico.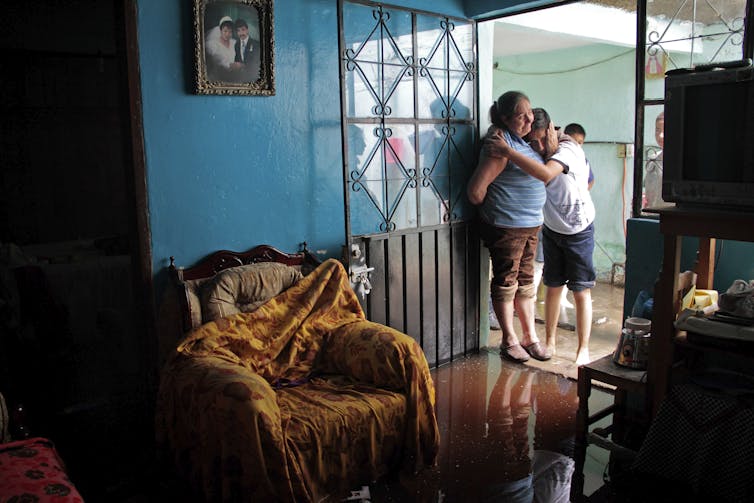 Profit from dysfunction
Public malfeasance in Mexico is widespread. Nearly 90 percent of citizens see the state and federal government as corrupt, according to the Mexican National Institute of Statistics and Geography.
The country's water situation, too, is pretty dire. The capital, Mexico City, is "parched and sinking," according to a powerful 2017 New York Times report, and 81 percent of residents say they don't drink from the tap, either because they lack running water or they don't trust its quality.
Officially, nearly all Mexicans have access to running water. But in practice, many – particularly poorer people – have intermittent service and very low pressure.
Workers in one city asked me to keep their identity anonymous before explaining why the water infrastructure there was so decrepit. It wasn't a lack of technology, they said. The mayor's team actually profits from refusing to upgrade the city's perpetually defunct hardware. That's because whenever a generator or valve breaks, they send it to their buddies' refurbishing shops.
Numerous engineers across Mexico similarly expressed frustration that they were sometimes forbidden from making technical fixes to improve local water service because of a mayor's "political commitments."
In Nezahualcoyotl, I met a water director who openly boasted of using public water service for his political and personal gain. In the same breath, he told me that he fought to keep water bills low in this mostly poor city because water was a "human right" but also that he had once turned off supplies to an entire neighborhood for weeks because of a feud with another city employee.
No voter ID, no water
Public officials also use water to influence politics.
My sources also alleged that the powerful Revolutionary Institutional Party, or PRI – which has long run Mexico State, and thus controlled its water supply – has turned off the water in towns whose mayors belonged to opposition parties. These tactics are not reported in the Mexican press, but according to my research the cuts tend to occur just before municipal elections – a bid to make the PRI's political competition look bad.
Water corruption isn't limited to Mexico State, or to the center-right PRI party.
The millions of Mexicans who lack reliable access to piped water are served by municipal water trucks, called "pipas," which drive around filling buildings' cisterns. This system seems prone to political exploitation.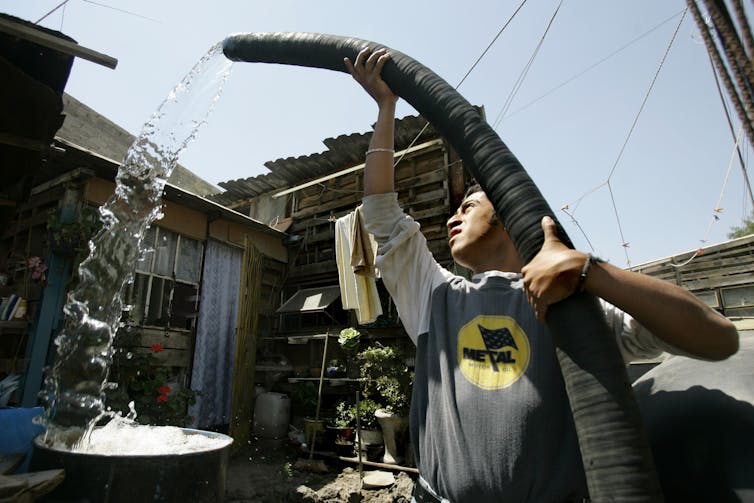 Interviewees told me that city workers sometimes make people show their voter ID cards, demonstrating their affiliation to the governing party, before receiving their water. Across the country, mayoral candidates chase votes by promising to give residents free or subsidized water service, rather than to charge based on consumption.
The phenomenon of trading water as a political favor is probably more common in lower income communities, which rely almost exclusively on the pipas.
Water is a state secret
In Xalapa, the capital of Veracruz state, I saw how water can hold a different kind of political power.
There, I found, the location of underground pipes and other critical water infrastructure was guarded like a state secret, known by just a handful of public workers. It made them irreplaceable.
So when customers complained that some municipal employees were asking for bribes to provide water, management hesitated to fire them. The workers controlled valuable information about the city's water system.
Water may be a human right. But when politicians manipulate it for their personal or political benefit, some cities flood while others go dry.
Veronica Herrera, Assistant Professor of Political Science, University of Connecticut
This article was originally published on The Conversation. Read the original article.