The Place:
The Jellico Mountains are on the southern edge of the Daniel Boone National Forest along the Kentucky-Tennessee state line. Here the Appalachian foothills turn into the steep slopes of the Appalachian Mountains, giving rise to remote forests hosting some of the highest tree and aquatic species diversity in the United States.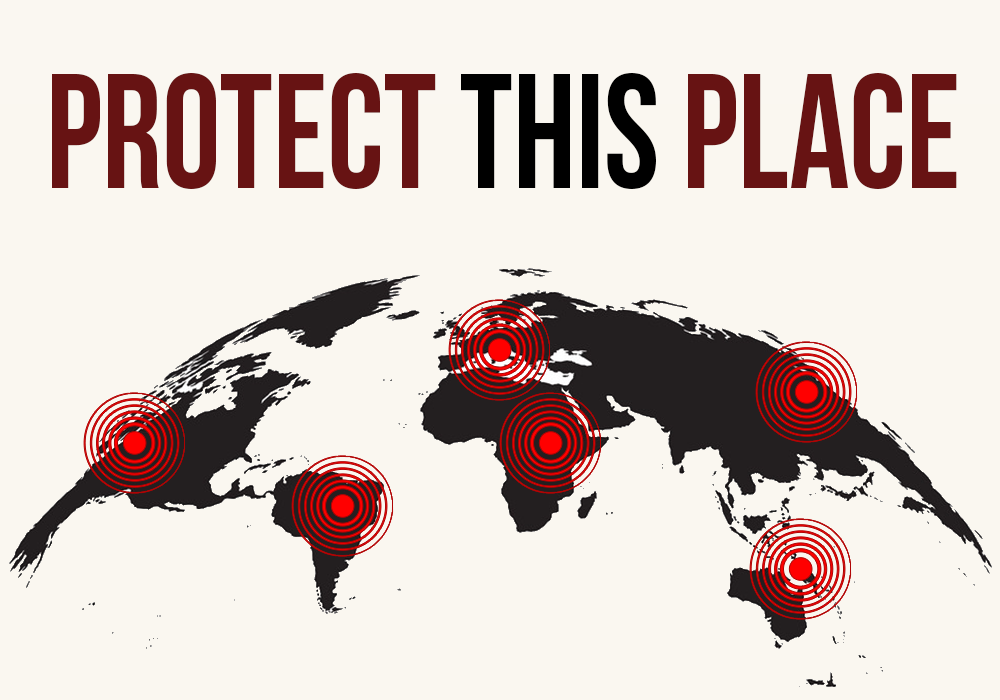 Why it matters:
The geology and geography of the area create a rich diversity of both flora and fauna. Eroded sandstone has formed gorges, cliffs, waterfalls, rock shelters, natural arches, bridges and caves that provide critical habitat for many endangered, threatened, and rare plant and animal species. Opportunities for outdoor recreation are plentiful here and provide solitude and adventure to those seeking a relationship with the natural world. This area is also home to nearly 1,300 acres of secondary old-growth forest, much of which is proposed to be clearcut.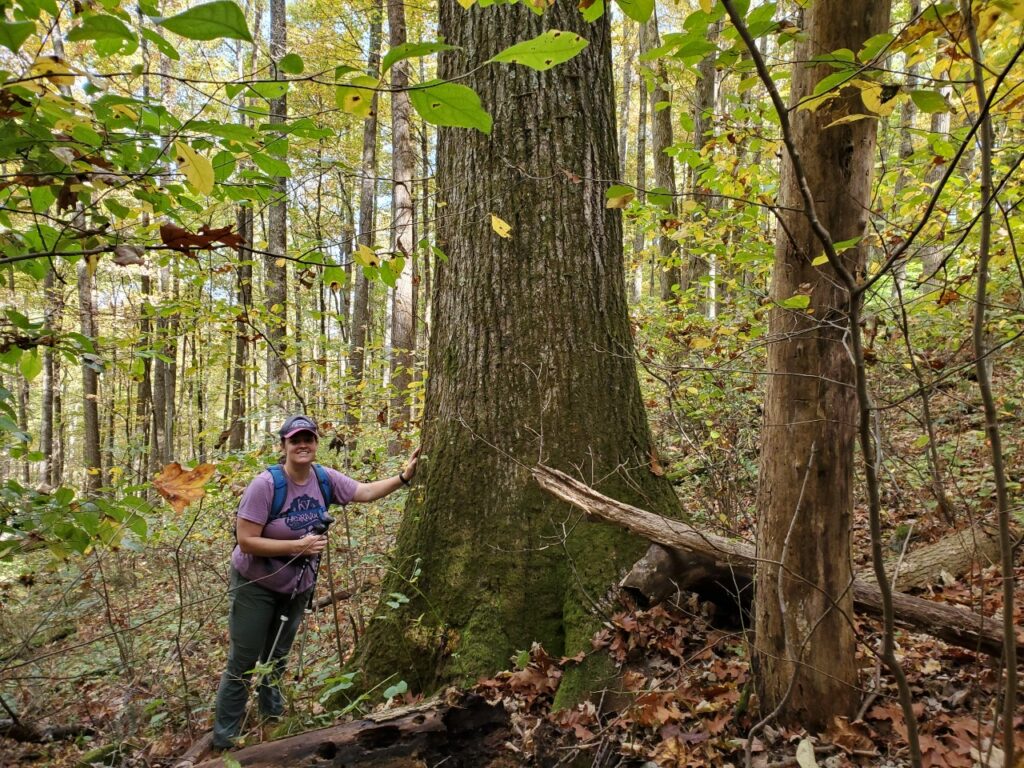 The threat:
A proposed U.S. Forest Service project includes nearly 5,000 acres of clearcutting and 5,000 acres of selective logging and thinning. When forested areas are clearcut, they become vulnerable to landslides and erosion. The steep Jellico Mountains are not suitable for this type of logging. Clearcutting, coupled with record breaking and catastrophic storms, has caused landslides on other recently logged Forest Service land in eastern Kentucky.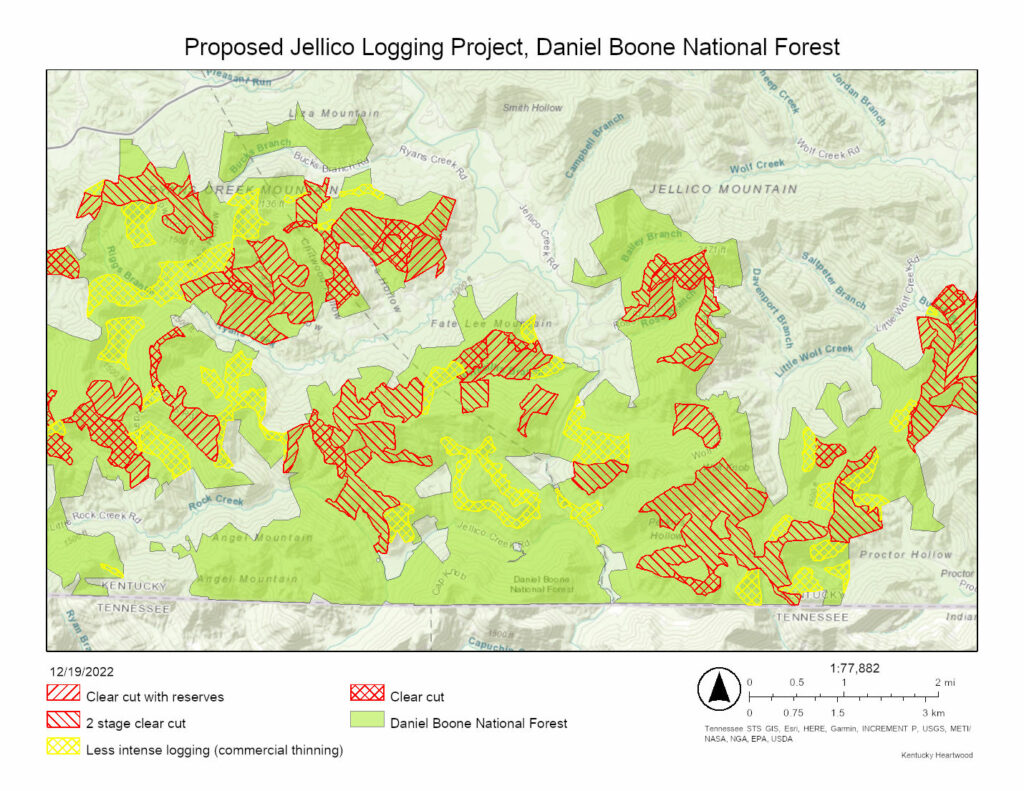 Legacy impacts from coal mining, along with significant problems with invasive plant species, add to the challenges of protecting and restoring this unique area. The threat of flash flooding in the valleys is amplified under these compounding conditions. We have seen firsthand the devastation extreme weather events have caused across eastern Kentucky in the past few years. Protecting this forest also means protecting the people who live there.
Landslides not only erode the soil and damage the mycelial networks that the forest depends on to regrow, but they also have the potential to push endangered aquatic species to extinction through sedimentation of waterways.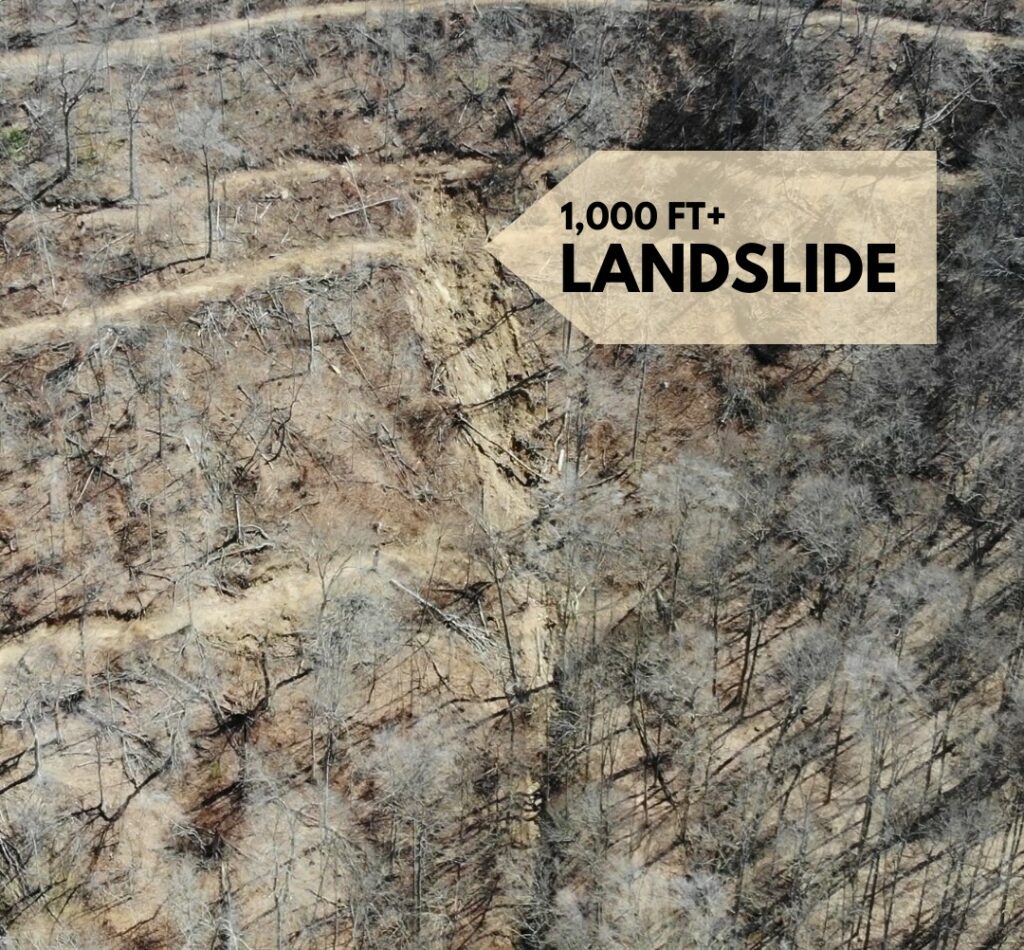 Jellico Creek is one of the main waterways that curves through the bottom of these mountains. Along with its gorgeous blue-green color, it holds some of the last remaining critical habitat for the Cumberland darter (Etheostoma susanae), a fish only found in isolated populations in the upper Cumberland River system of Kentucky and Tennessee. Other endangered species like the Cumberland elktoe and blackside dace could also be imperiled by the project.
Our place in this place:
Kentucky Heartwood, where we work, has been exploring the Jellico Mountains for several years to locate rare plants and old trees, scope landslides from prior logging projects, and enjoy the beauty and scenery of the area. While there are no established hiking trails, there are old logging roads and gravel Forest Service roads that offer miles of enjoyable recreation by foot or mountain bike along with beautiful winter views into Kentucky and Tennessee.
Jellico Creek, with large boulders that make for perfect lunch spots and several pretty waterfalls, is a gem that should be preserved for all species in our ecosystem to enjoy.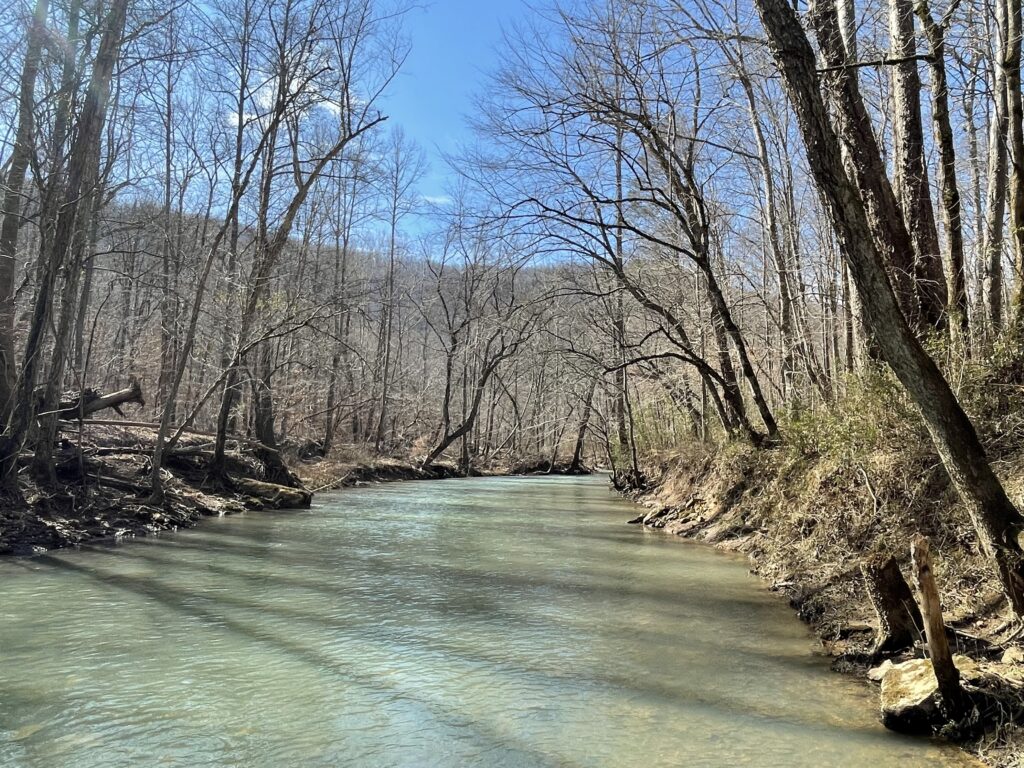 The lack of designated trails is one of our favorite features of this area. As you walk into the woods with no set path, it becomes a choose-your-own-adventure game. The things to discover open up to you when you explore off the beaten path.
The area's forests rival some of the largest and most diverse we see in the region. Towering basswood, hickories and oaks are accented by yellowwood trees, among the rarest endemic trees in the eastern United States. North-facing slopes are filled with medicinal herbs like black cohosh. One fall day we discovered a rare Appalachian gentian flower tucked into the sandstone cliff line. Both the Appalachian gentian and black cohosh are on United Plant Savers' "species at risk" list from overharvesting and habitat loss, reminding us of the richness that still exists here in Kentucky as well as the sensitivity of these populations.
Who's protecting it now:
Kentucky Heartwood closely monitors Forest Service activity in the Daniel Boone and advocates for protecting and defending Kentucky's public wildlands. Since 1992 we have proudly called ourselves "forest defenders," but we aren't alone.
The community at the base of the Jellico Mountains initiated an incredible public campaign to "stop the chop" in response to the Forest Service's scoping analysis. The highlight of this public involvement was a town meeting that community members held with the agency. With over 100 people in attendance, the room was packed with local residents who oppose the project, from property owners who will be directly affected to career loggers who acknowledged the risks involved with logging on such steep slopes.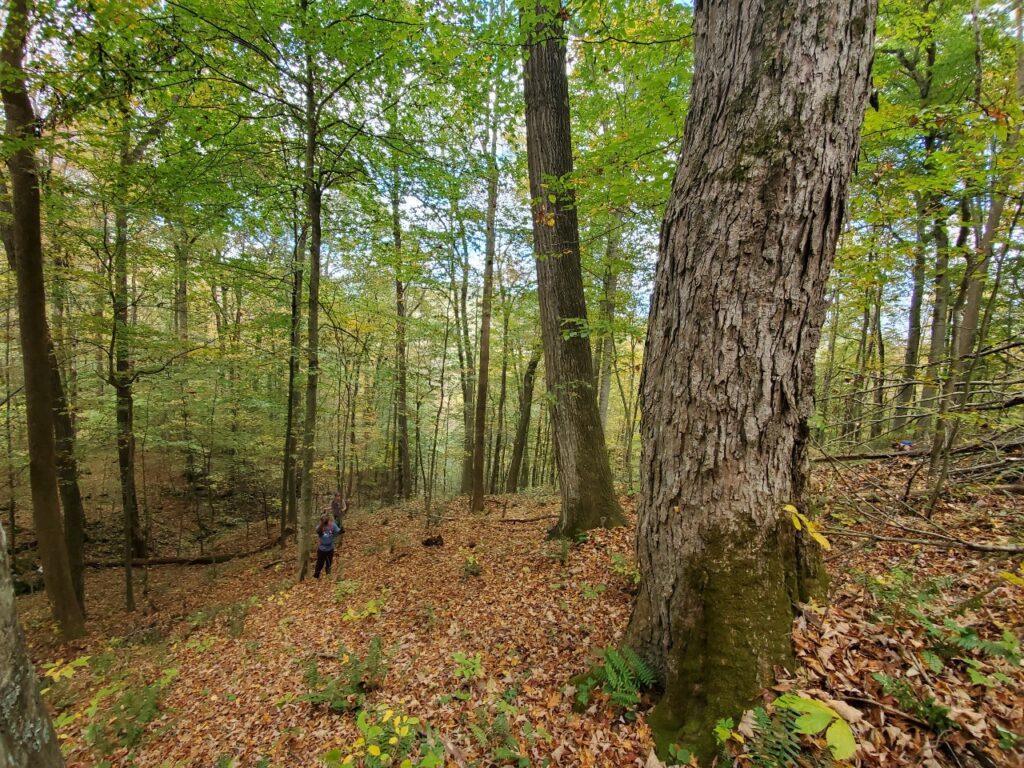 As a result, more than 300 comments were formally submitted to the Forest Service in opposition to the project, including several highly respected environmental legal nonprofits (the Center for Biological Diversity, Southern Environmental Law Center and Kentucky Resource Council). This coalition is regrouping to prepare for the next phase of the project, the Environmental Analysis public comment period, which is expected in June 2023.
What this place needs:
A groundswell of well-organized community opposition has stopped logging projects on national forests in the past. The Jellico community will continue to rally opposition to halt this project as the Forest Service moves onto the next phase.
In order to get this project withdrawn we have to continue to engage local residents, news outlets, environmental law firms and politicians to take a stand.
The Daniel Boone National Forest is a place of refuge, beauty, abundance and adventure. We would like to see a focus on creating more recreation opportunities in this area instead of extractive projects like this one.
Every decision we make today will leave generations of people growing into adulthood with questions about why we chose profit and extraction over protection. We are running out of time to blame it on ignorance. The old-growth forests that used to dominate the landscape of eastern Kentucky are a thing of the past. With what little secondary old growth we have left, every measure to ensure its protection should be our utmost priority.
The climate crisis is nipping at our heels, and these forests are one of our greatest assets in combating climate change through the drawdown of greenhouse gases. The forest is our solution, and it is worth more standing. 
Lessons from the fight:
While we may think that environmentalists gravitate toward a certain political orientation in reality, love for nature spans all political divides. The community-led effort to stop the Jellico logging project reflects a diverse coalition of people with common goals, which makes a "David vs. Goliath" effort more achievable.
Join the fight!
We know public participation in opposing projects like the Jellico Mountain logging project can stop them in their tracks.
There will be a second opportunity — tentatively June 2023 — for the public, regardless of where one lives, to make a comment on this project.
Visit Forest Watch to stay up to date. Or follow us on Facebook or Instagram.
---
Get more from The Revelator. Subscribe to our newsletter, or follow us on Facebook and Twitter.