Poop is fertile ground for research.
Scientists have found that analyzing the DNA of a predator's scat, for example, can reveal the kind of prey they're eating. And that's not all. "Fecal samples are commonly used for disease and hormone studies, which reveal information on animal health, reproductive status, stress levels, and other physiological processes," says Claudia Wultsch, a wildlife biologist at the American Museum of Natural History.
Wultsch has used these methods for years to better understand jaguars (Panthera onca) in Belize, which is an important stronghold for the wild cats in Central America. But a recent collaboration with Brooke Crowley, a professor of geosciences at the University of Cincinnati who specializes in stable isotope biogeochemistry, has provided even more insight.
What they learned was important — but even more important was how they did it.
Hands-Off Methods
Jaguars have suffered from a depletion of prey, habitat loss and fragmentation, and conflict with people. The cats are now listed as near threatened by the IUCN and have disappeared from parts of their historic range, which stretched from South America to the United States, where they have been largely extirpated.
Belize may play a key role in restoring those populations. "Belize is part of the Mesoamerican Corridor Initiative, which aims to conserve jaguars and maintain connectivity between different jaguar populations," says Wultsch.
But studying the elusive animals there isn't exactly easy. Some scientists have turned to radio or GPS collars to track jaguar movement, but capturing and tranquilizing wild animals to attach a collar can stress them severely.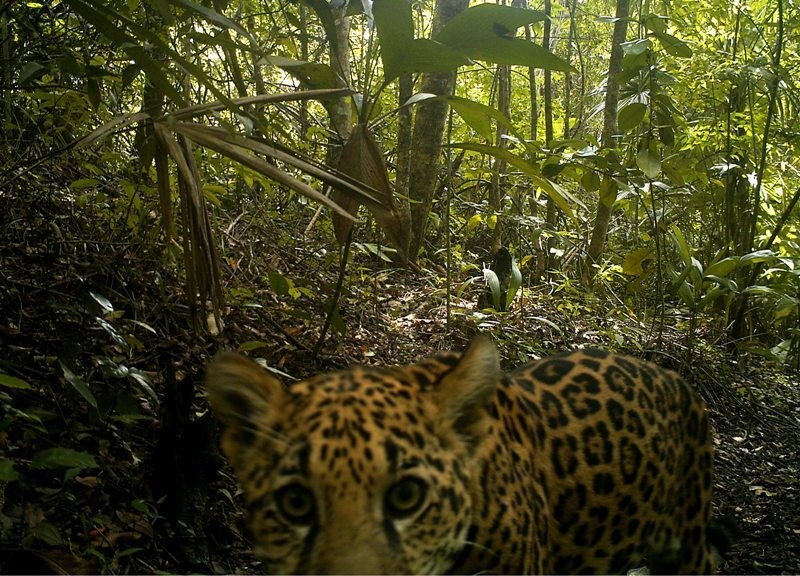 Wultsch's work there, which began more than a decade ago, took a different tack. With the aid of a conservation detector dog, she gathered fecal samples across several protected areas to learn more about the genetic diversity and connectivity of the country's jaguars.
"Our research methods provide insights into their space use, and also provide information on how much and if they use anthropogenic resources in some areas," she says.
A few years ago she teamed up with Crowley to include isotope analysis. Examining the values of carbon, nitrogen and strontium in scat samples, they hoped, could help reveal where an animal's prey spent their time and therefore where the predators had foraged. That information could guide conservation initiatives.
In a recent study, published in July in the European Journal of Wildlife Research, they collected 80 jaguar scats, most of which belonged to four males, to help determine where the animals ranged. Unlike radio or GPS collars, all of their methods were noninvasive.
"We used fecal samples combined with genetic and isotope analysis to learn more about the spatial ecology of several free-ranging jaguars without ever disturbing, capturing or handling the animals," explains Wultsch. "Spatial ecology studies based on noninvasive data such as fecal samples are rare, and we hope that our study will encourage more researchers to apply these techniques together."
The research focused on the Mountain Pine Ridge Reserve in the Maya Mountains. "I wanted to see if the jaguars regularly utilized adjacent protected areas in Central Belize, and I also wanted to determine if they regularly hunt in agricultural areas to the west of the reserve," says Crowley.
Analyzing the DNA of poop, also known as molecular scatology, doesn't provide as much spatial detail as GPS collars, but it does provide genetic and health information. Adding isotopic analysis is also a key complement.
"It can extend the spatial information provided by the location and genetic composition of a specific scat by clarifying where the individual that produced the scat consumed its meal — for example, [whether it was] within or beyond the bounds of a particular geographic area with a specific set of habitats or geologies," she says.
Looking at carbon, nitrogen and strontium values can help researchers know what an animal's diet consists of and even the environment where it's foraging. The methods help the researchers "learn more about the complex feeding ecology of elusive wildlife species such as the jaguar," says Wultsch.
Far-Ranging Findings
Their findings revealed the four male jaguars had some overlapping ranges, varying in size from about 50 to 60 miles — about three times larger than estimates from home ranges of other males in a neighboring wildlife sanctuary. But they also used areas distinct from each other. None appeared to have spent time in the western or southwestern parts of the reserve, which are areas disturbed by wildfire and military activities.
"This could mean that the effective size of Mountain Pine Ridge may be smaller than its demarcated boundaries," says Crowley. "Data like these should help inform decisions about how to manage protected areas. I am hopeful that [it] will be useful for park managers in Belize and elsewhere in Central and South America."
She also hopes the research contributes to broader conservation goals and efforts to better understand how people have affected rare and elusive animals like jaguars.
"Humans have done an excellent job of colonizing and modifying even the remotest regions of our planet," says Crowley. "I think it's our responsibility to determine if animals are able to cope with these modifications or if they're in trouble. If they are in trouble, we need to act quickly to ensure they have a future."
Previously in The Revelator:
7 Exciting Ways Researchers Study Elusive and Endangered Wildlife