Earlier this month a team of scientists announced they've developed a high-tech way to help save rhinos from poachers: They propose fabricating fake horns out of horse hair (which is also composed of inert keratin, like human fingernails) and then flooding the illegal market with their products, thereby lowering the price of powdered rhino horns so much that no one will ever want to kill another rhino again.
Sigh.
This isn't the first time someone's come up with the well-intentioned (yet illogical) idea of creating fake rhino horn, and it probably won't be the last. But it should be the last, because there are several reasons why this concept, no matter how it's executed, is doomed to fail.
Let's explore them.
Perhaps most obviously, selling fake rhino horn doesn't do anything to address the end-user demand for these illegal products, which are driven by either fortunes or phony medicinal claims. These are ultimately the reasons rhinos and many other species are poached in the first place. As a result the best way to eliminate the financial incentive to sell these wildlife products is to get consumers to understand why they shouldn't be buying them in the first place. We've already seen this work; conservationists have finally started to make headway on curbing the shark-fin trade in China after extensive public-awareness campaigns called attention to the dangers the practice poses to people and marine ecosystems. Similar initiatives have started to help chip away at consumer demand for rhino horns there as well (thanks, Jackie Chan).
Progress still needs to be made on reducing the market for products from those species, as well as with other heavily trafficked animals such as pangolins, but that's another reason why purposefully selling fake rhino horns is wrong: The more you say that any aspect of the market for rhino horn is okay, which is what happens when you put these fake products (or limited real products) up for sale, the more it will expand the market. We've seen this before in the surge of elephant poaching after a one-off sale of ivory tusks in 2008, which was meant to flood the market and reduce the profitability of poaching but horrifically backfired. Elephants had begun to recover before that, and now they're in crisis. Rhinos are already in crisis — do we want to make things even worse?
On a broader and similar note, creating fake substitutes ignores a major aspect of what drives sales of many of these wildlife products. In traditional Asian medicine, "wild" products are considered more potent — and therefore more valuable — than anything that comes out of a lab or from a farm. That's why China still has trouble commercializing its vast network of tiger farms (yes, you read that right). Consumers want wild products, so even if you do succeed in commercializing "fake" or farmed products, it will tend to normalize demand for all these biological byproducts and further drive desire for "prestige" animals poached from their native habitats.
Meanwhile some well-healed people are actually investing in the possibility of extinction. Rich consumers in China and other countries have been known to buy rhino horns, tiger bones, live tortoises and other species in anticipation that a species will become rarer or even go extinct in the wild, therefore making their assets even more valuable. That threat will never evaporate through the addition of fake products on the marketplace — because, yes, extinction is profitable.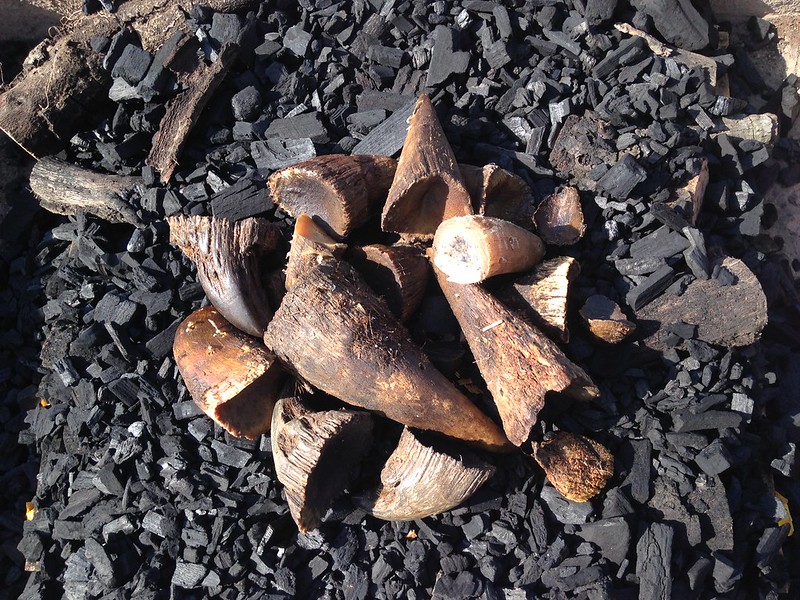 Let's get to the ethical aspects of this trade in fakes. For one thing many consumers — those who actually use powdered rhino horn as "medicine" instead of holding on to it for eventual sale — are already being exploited. They're buying into false claims that rhino horn has curative qualities, including the recent and spurious assertion that it can treat cancer. By selling fake rhino horns, you become complicit in that lie and directly harm people who could, and should, seek more appropriate and effective medical care.
Another ethical quandary: How are you going to get these products into the black market without putting your undercover operatives in direct harm from the violent criminals who run wildlife trafficking networks? And do we really think anyone's going to be able to squeeze these products into the same illegal market that professional law-enforcement operations haven't been able to shut down? The chances of success there seem slim — and potentially dangerous.
Finally let's address the invisible gorilla in the room: Selling fake rhino horn doesn't do anything to resolve the inequality that inspires poaching. More often than not, people hunt illegally to support their families. The monies they get from poaching may mean the difference between comfortable living and going hungry. Sure, their pay comes from the people higher up the clandestine ladder — and sure, some poachers are more criminally minded themselves — but if we want to solve the problem of poaching, we always have to factor in the fate of people on the ground.
Having said all this, I have to point out that the current idea to sell fake rhino horns is just lab science. The researchers fully acknowledge that they don't have an actual initiative to get these products into the market. They say it's up to someone else to actually figure out how to make their idea a reality — so for now it's basically a thought exercise, not a concrete plan.
I have a better idea: Let's leave this fake horn concept in the lab where it belongs and commit to more practical initiatives to help rhinos — and people — in threatened habitats, where real assistance is desperately needed. With poaching and illegal trafficking still running rampant, rhinos don't have time left for anything less.
Previously in The Revelator: