Winter is settling in, so warm up your brains — and the next generation of Earth activism — with these new books for eco-curious kids and their families.
We've picked 10 amazing titles — all published in 2022 — offering important lessons, cutting-edge STEM knowledge, and practical advice for saving the planet and everything that lives here.
---
by Jason Bittel, illustrated by Jonathan Woodward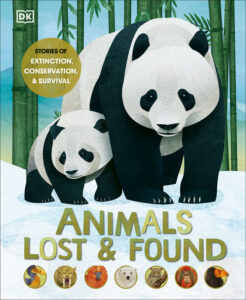 Our take: Bittel has long been one of the world's wittiest wildlife journalists, and his work for kids brings that home.
From the publisher: "Shine a spotlight on animal species throughout history and the ones alive today in Animals Lost and Found, through beautiful illustrations and interesting facts. Children will learn about animals lost to extinction, animals we thought we'd lost but have found, and animals that are the focus of conservation efforts all over the world."
---
by Dany Sigwalt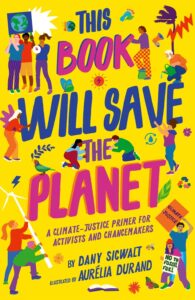 Our take: There are a lot of climate books for kids, but few place such direct and powerful focus on issues of justice and equity.
From the publisher: "Our planet is in crisis. The ice caps are melting, sea levels are rising, wildfires are raging … and those most affected by global warming are marginalized communities across the globe. But all is not lost — there's still time for each and every one of us to make a difference. Through the lens of intersectionality, author Dany Sigwalt lays out the framework for how we can come together to fight climate change, and how we can work to put people over profit."
---
by Steven Rinella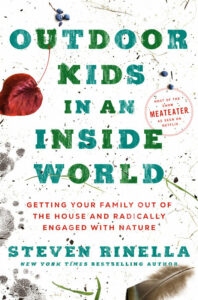 Our take: Every time I see a kid walking down the street with their face shoved into a phone, I want to hand their parents — or them — a copy of this book.
From the publisher: "Living an outdoor lifestyle fosters in kids an insatiable curiosity about the world around them, confidence and self-sufficiency, and, most important, a lifelong sense of stewardship of the natural world. This book helps families connect with nature — and one another — as a joyful part of everyday life."
---
by Falynn Koch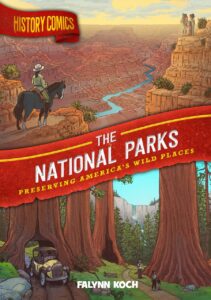 Our take: This gorgeously illustrated graphic novel — one of School Library Journal's best books of 2022 — celebrates "America's wild places" but doesn't shy away from tough topics like colonialism and Indigenous land theft.
From the publisher: "…turn back the clock to 1872, when Congress established Yellowstone National Park as an area of unspoiled beauty for the 'benefit and enjoyment of the people.' Meet the visionaries, artists and lovers of the American wilderness who fought against corruption and self-interest to carve out and protect these spaces for future generations. See for yourself how the idea of National Parks began, how they've changed and how they continue to define America."
---
by Stacy McAnulty, illustrated by Nicole Miles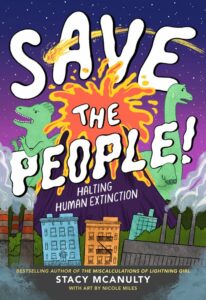 Our take: A provocative title, sure, but I bet it already got you to sit up and take notice. That's good, because even this jaded reviewer found inspiration in this inventive new book.
From the publisher: "Scientists estimate that 99% of all species that have ever existed are now extinct. Whoa. So, it's not unreasonable to predict humans are doomed to become fossil records as well. But what could lead to our demise? Supervolcanos? Asteroids? The sun going dark? Climate change? All the above?! Humans — with our big brains, opposable thumbs and speedy Wi-Fi — may be capable of avoiding most of these nightmares. (The T. rex would be super jealous of our satellites.) But we're also capable of triggering world-ending events. Learning from past catastrophes may be the best way to avoid future disasters."
---
by Joe Flood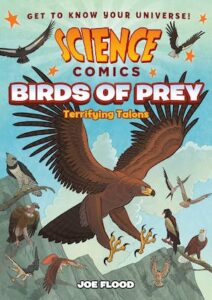 Our take: Subtitled "Terrifying Talons," this fun graphic novel is packed with awe-inspiring details about eagles, hawks, and other skyborne predators.
From the publisher: "…get up-close and personal with some of the world's most skilled hunters, from the majestic eagle to the oft-maligned scavenger vulture! Armed with razor-sharp claws, keen eyesight, powerful wings and killer instincts, these stealthy predators can make a meal of rodents, fish, snakes, lizards, monkeys and even kangaroos! Discover how these amazing birds, who are often at the top of the food chain, play an integral role in many different ecosystems around the world."
---
edited by Amara Geffen, Ann Rosenthal, Chris Fremantle and Aviva Rahmani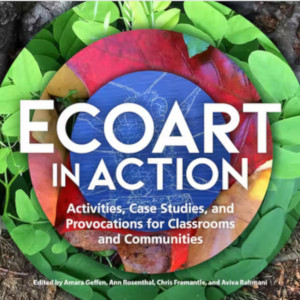 Our take: Break out your pens, markers and paint (or graphics software if you're digitally inclined) and get ready to make a difference.
From the publisher: "How do we educate those who feel an urgency to address our environmental and social challenges? What ethical concerns do art-makers face who are committed to a deep green agenda? How can we refocus education to emphasize integrative thinking and inspire hope? What role might art play in actualizing environmental resilience? Compiled from 67 members of the Ecoart Network, a group of more than 200 internationally established practitioners, Ecoart in Action stands as a field guide that offers practical solutions to critical environmental challenges."
---
by Patricia Newman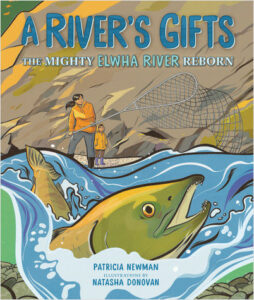 Our take: We've covered the science of the Elwha River restoration here at The Revelator. This kids' book looks at it from a different lens and brings the river to life.
From the publisher: "For thousands of years, the Elwha River flowed north to the sea. The river churned with salmon, which helped feed bears, otters and eagles. The Lower Elwha Klallam Tribe, known as the Strong People in the Pacific Northwest, were grateful for the river's abundance. All that changed in the 1790s when strangers came who did not understand the river's gifts. The strangers built dams, and the environmental consequences were disastrous. Sibert honoree Patricia Newman and award-winning illustrator Natasha Donovan join forces to tell the story of the Elwha, chronicling how the Strong People successfully fought to restore the river and their way of life."
---
by Sharon Guynup and Steve Winter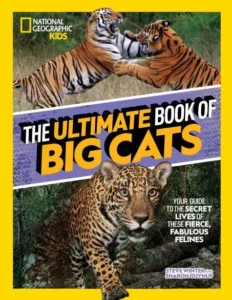 Our take: Few people have done more to bring awareness to the plight of tigers and other big cats than the journalistic power couple of Guynup and Winter. Their latest book comes at a critical time for many of these endangered species and offers a bounty of reasons to celebrate them.
From the publisher: "Get ready to sink your teeth into the hidden worlds of the seven spectacular big cats — and meet some of their smaller cousins… From rarely seen snow leopards high up in the Himalaya to tigers silently stalking prey through thick jungle to lions going in for the kill, you'll get the inside scoop on the fascinating worlds of wild felines and what it's like to live alongside them."
---
by Anita Sanchez, illustrated by Lily Padula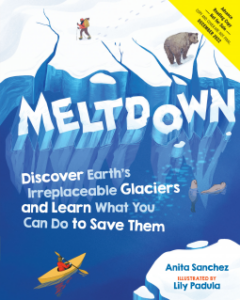 Our take: Science-oriented kids will love this. It's crammed full of amazing detail, vividly visualized, and unflinchingly (if realistically) hopeful.
From the publisher: "Packed with information, grounded in the latest science, with lively writing and illustrations throughout (including graphs, charts, infographics, photographs and full-page art), Meltdown gives readers an eye-opening overview of glaciers and how important they are… We learn the secrets of earth's climate history hidden deep in a glacier's core — and discover how climate change is causing glaciers to melt at unprecedented rates, putting the health of the planet in jeopardy. But we are not left without hope. The final chapter offers positive steps readers can take to become climate activists, reduce their carbon footprint, and save the glaciers."
---
That's it for this month, but you can find hundreds of additional environmental books — for both children and adults — in the "Revelator Reads" archive.