What are you reading this summer? We've got the word on several great new environmental books — all published so far this year — to boost your activism, enhance your compassion, and supercharge your passion for the planet.
---
By Christian Cooper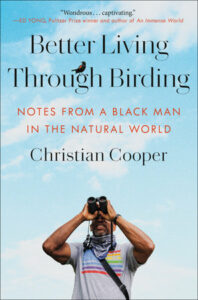 Remember that awful case back in 2020 when a white woman called the police on a Black birder in Central Park? Christian Cooper sure does — it happened to him — but it's just one piece of a much bigger story and an entertaining, thought-provoking book that celebrates nature, both wild and human, and offers life lessons we should all embrace.
From the publisher: "Cooper tells the story of his extraordinary life leading up to the now-infamous incident in Central Park and shows how a life spent looking up at the birds prepared him, in the most uncanny of ways, to be a gay, Black man in America today. From sharpened senses that work just as well at a protest as in a park to what a bird like the common grackle can teach us about self-acceptance, Better Living Through Birding exults in the pleasures of a life lived in pursuit of the natural world and invites you to discover them yourself. Equal parts memoir, travelogue, and primer on the art of birding, this is Cooper's story of learning to claim and defend space for himself and others like him, from his days at Marvel Comics introducing the first gay storylines to vivid and life-changing birding expeditions through Africa, Australia, the Americas and the Himalayas."
Can't get enough birding memoirs? Check out the delightful Birdgirl: Looking to the Skies in Search of a Better Future by Mya-Rose Craig.
---
By Sam Machado, Cynthia Sousa Machado and Steven M. Wise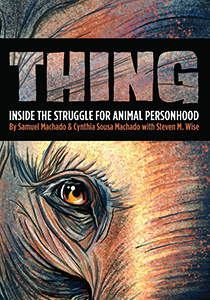 This exquisitely illustrated graphic novel uses the story of Happy, an elephant living in isolation at the Bronx Zoo, as a lens to explore why nonhuman animals deserve the same legal and ethical rights as Homo sapiens. Although the book lacks the storytelling drive of a TV courtroom drama, it digs deep into the history of humanity and the beings that surround us, mostly by exploring the legal efforts of the Nonhuman Rights Project (led by Wise). The result is a must-read that combines science, legal history and compassion — and may just change a few minds.
From the publisher: "In Thing, comic artists Sam Machado and Cynthia Sousa Machado bring together Wise's groundbreaking work and their powerful illustrations in the first graphic nonfiction book about the animal personhood movement. Beginning with Happy's story and the central ideas behind animal rights, Thing then turns to the scientists that are revolutionizing our understanding of the minds of nonhuman animals such as great apes, elephants, dolphins and whales. As we learn more about these creatures' inner lives and autonomy, the need for the greater protections provided by legal rights becomes ever more urgent."
For more on this, pick up the just-updated version of Peter Singer's 1975 classic Animal Liberation Now: The Definitive Classic Renewed.
---
By Kristina Marusic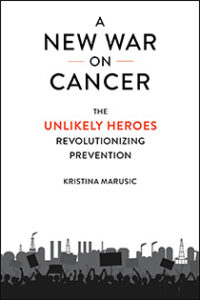 You wouldn't guess that this is an environmental book by the title alone, and that's the book's only flaw. This is a quest to find the doctors who are not just treating people with cancer but looking to identify and tackle its causes, often linked to environmental pollution and chemical exposure. If you or anyone you know has ever suffered the indignity of cancer or chemo, this book offers a healthy dose of heroism and — dare I say it — hope.
From the publisher: "The astonishing news is that up to two-thirds of all cancer cases are linked to preventable environmental causes. If we can stop cancer before it begins, why don't we? That was the question that motivated Kristina Marusic's revelatory inquiry into cancer prevention. In searching for answers, she met remarkable doctors, scientists and advocates who are upending our understanding of cancer and how to fight it. They recognize that we will never reduce cancer rates without ridding our lives of the chemicals that increasingly trigger this deadly disease."
For more on this subject, pair this with Allergic: Our Irritated Bodies in a Changing World by Theresa MacPhail. Bring tissues.
---
By Judith L. Herman, M.D.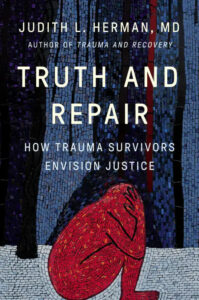 This isn't a strictly environmental book, but it takes on a topic every environmentalist should understand. Trauma — both individual and collective — is something we all need to deal with at some point, whether it stems from the pain of extinction or the disruption and death caused by climate change and extreme weather. This essential, long-awaited follow-up to Herman's groundbreaking Trauma and Recovery focuses on survivors of sexual trauma, but the techniques of justice it embodies are appropriate to all manners of trauma and all survivors — including, she notes, climate refugees.
From the publisher: "The conventional retributive process fails to serve most survivors; it was never designed for them. Renowned trauma expert Judith L. Herman argues that the first step toward a better form of justice is simply to ask survivors what would make things as right as possible for them. In Truth and Repair, she commits the radical act of listening to survivors. Recounting their stories, she offers an alternative vision of justice as healing for survivors and their communities."
For more on how climate change can cause PTSD, read The Great Displacement: Climate Change and the Next American Migration by Jake Bittle (or any book on environmental justice).
---
By Will McLean Greeley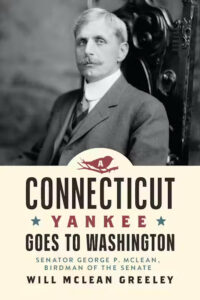 A confession: I believe in the power of government to change lives for the better. I know, I know, that's a strange thing for a watchdog journalist to say, especially after the past few years, but a book like this helps cement my faith, even if it's recounting events that took place more than a century ago. More like this, please?
From the publisher: "Senator George P. McLean's crowning achievement was overseeing passage of one of the country's first and most important wildlife conservation laws, the Migratory Bird Treaty Act of 1918. The MBTA, which is still in effect today, has saved billions of birds from senseless killing and likely prevented the extinction of entire bird species. A Connecticut Yankee Goes to Washington puts McLean's victory for birds in the context of his distinguished forty-five-year career marked by many acts of reform during a time of widespread corruption and political instability."
---
By Matthew Richardson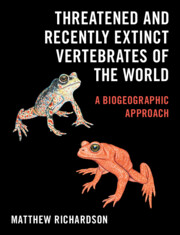 The "problem" with a book like this is that it's out of date almost the second it's published. But that doesn't change the fact that this compilation is a remarkable achievement that could help to guide conservation efforts around the planet.
From the publisher: "This unique volume provides, for the very first time, a comprehensive overview of all threatened and recently extinct mammals, birds, reptiles, amphibians and fishes within the context of their locations and habitats. The approach takes a systematic examination of each biogeographic realm and region of the world, both terrestrial and marine, but with a particular emphasis on geographic features such as mountains, islands and coral reefs. It reveals patterns useful in biodiversity conservation, helps to put it all into perspective, and ultimately serves as both a baseline from which to compare subsequent developments as well as a standardization of the way threatened species are studied."
---
By Susan Crawford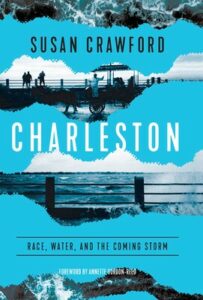 Crawford, a former Obama appointee, teaches courses on climate adaptation at Harvard Law School, but don't let that fool you into thinking this is a textbook. It's a powerful look at a threat that's not just coming — it's already arrived, and the centuries of rot at the heart of American society have already weakened the foundation that should keep us all safe.
From the publisher: "At least thirteen million Americans will have to move away from American coasts in the coming decades, as rising sea levels and increasingly severe storms put lives at risk and cause billions of dollars in damages. In Charleston, South Carolina, denial, boosterism, widespread development, and public complacency about racial issues compound; the city, like our country, has no plan to protect its most vulnerable. In these pages, Susan Crawford tells the story of a city that has played a central role in America's painful racial history for centuries and now, as the waters rise, stands at the intersection of climate and race."
For a more hopeful vision of water, check out The Three Ages of Water by Peter Gleick (and our interview with the author).
---
That's it for this month, but you can find hundreds of additional book recommendations in the "Revelator Reads" archives.