Rivers should not die in the dark.
On Aug. 31 FirstLight Power Resources is expected to file its final license applications with the Federal Energy Regulatory Commission to continue operating three hydro facilities profiting off massive water diversions from the Connecticut River in Massachusetts. The conditions written into FERC licenses can last up to 50 years.
These applications signal the beginning of the final chapter in determining the future of the four-state river at the heart of the Silvio O. Conte National Fish and Wildlife Refuge, founded to protect a 7.2-million-acre watershed. Their rendering will decide the future of migratory fish, river flows and a host of embattled ecosystem conditions on New England's longest river, some running counter to laws in place since 1872.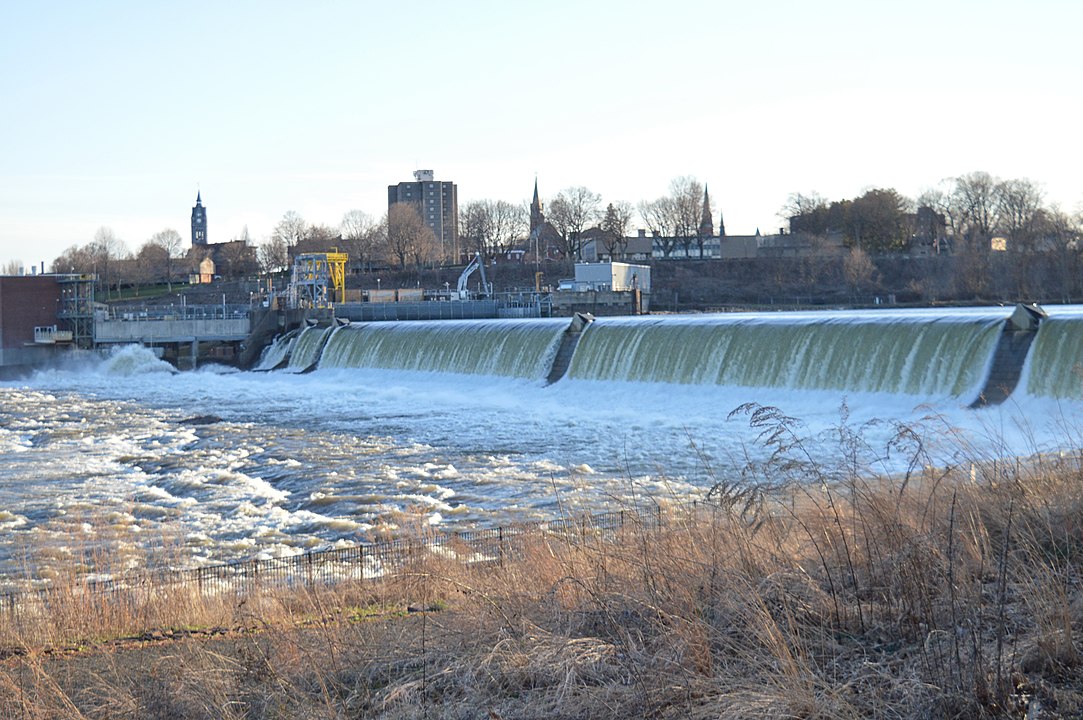 When decisions affecting a river for decades are being made, the public has a right to know of the stakes, the players and the key decisionmakers. In this case the public knows little of issues potentially affecting 2.4 million people in a sprawling watershed. The U.S. Fish and Wildlife Service, National Marine Fisheries Service and Massachusetts Division of Fisheries and Wildlife have been at the table in this FERC license-determining process since 2012. But three years back, all parties signed nondisclosure agreements with FirstLight — ostensibly to facilitate settlement discussions on flows, habitat, dismal fish passage and endless mortality cycles at these Massachusetts hydro sites. Those NDAs have kept these issues largely out of the media, even as initial settlement talks broke off a year and a half ago.
Since 2012 I've been a FERC-recognized intervener in the relicensing process. I chose not to sign the company's confidentiality agreement in order to preserve the right to address and highlight the critical, long-term decisions being made about the Connecticut River in a process that remains largely out of public view.
FirstLight is part of the giant Canadian investment outfit PSP Investments, which arrived in Massachusetts four years back to buy up these facilities from GDF Suez. In 2018 it quickly reregistered the facilities as limited liability tax shelters in Delaware. Regardless of their state of incorporation, the licenses they now vie for will each be subject to current federal and state environmental laws, under terms mandated by the fish agencies and FERC.
Of more than 500 U.S. refuges, Conte is one of just three with "fish" in its name. Today hopes for the long-term protections of its fish and the river comprising its central artery rest heavily in the hands of the U.S. Fish and Wildlife Service, National Marine Fisheries Service and Massachusetts Division of Fisheries and Wildlife. They have "conditioning authority" in these relicensings — mandates to protect the life in this river system. FERC, the ultimate relicensing umpire here, is also mandated to ensure compliance with environmental laws. For the fish agencies this is their one chance to redeem some far-reaching mistakes made by their predecessors.
Forty-five years ago these agencies — operating on limited information and pursuing dreams of reprising a salmon not seen on this river since 1809 — signed agreements with different owners of these facilities. That hobbled, for generations, a four-state migratory fisheries restoration for American shad and river herring and a recovery for federally endangered shortnose sturgeon. They sanctioned the daily use of the massive river-reversing pumped storage facility still chewing through generations of migratory and resident fish today. Concurrently they left two miles of the river emptied downstream, its flow diverted into a turbine-lined power canal that all migrants must negotiate in order to access the next 50 miles of open spawning habitat. Just 5 shad in 100 have ever succeeded. Perhaps worse, the river's only documented natural spawning habitat for the endangered shortnose sturgeon was left without life-sustaining flow.
A Tale of Two Salmon, a River Without Fish
The last wild salmon run on the Connecticut River was recorded in 1809.
Science later revealed the salmons' end was likely a combination of warming temperatures following the unusually cold period known as the Little Ice Age coupled with modern dam building.
For 165 years there were no salmon. Then, in 1974, a single fish arrived at Holyoke Dam. Far from being a native of the Connecticut River, this was a new hybrid — a returning fish produced at one of several federal hatcheries completed five years prior. This salmon's genes, like the genes of all the fish that would return in subsequent years, were cobbled together using salmon from several still-surviving runs in northern New England.
This past June 30 marked a different milestone on the river. It ended the first season in 46 years when not a single hatchery-derived Atlantic salmon returned past Massachusetts' Holyoke Dam.
The unnatural history event passed with little fanfare. Its silent-spring absence marks the end of a half-century-old program that consumed hundreds of millions of dollars and ate up far too much room in a badly broken ecosystem. The U.S. Fish and Wildlife Service abandoned its hatchery program at the end of the 2012 migration season, but across its 43 years — which saw the annual release of millions of fry and smolts to tributaries in Connecticut, Massachusetts, Vermont and New Hampshire — so few adults returned that no one was ever allowed to catch one.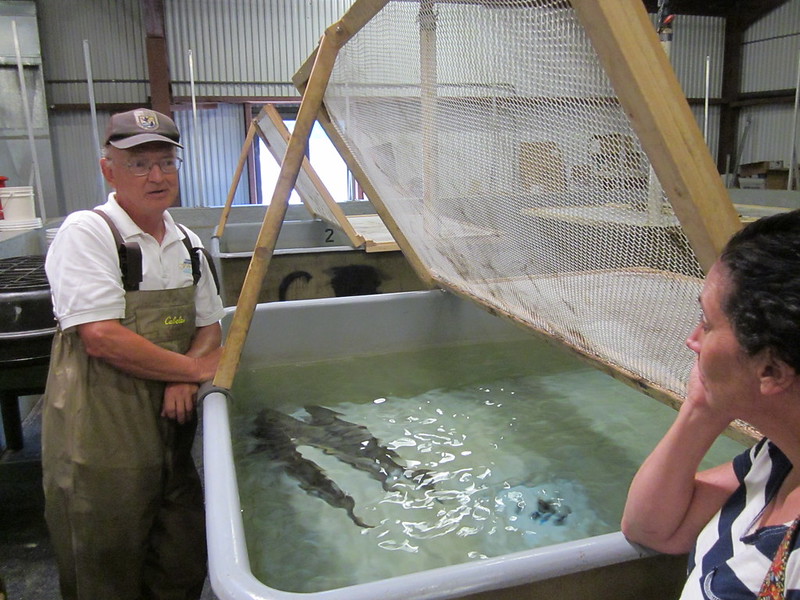 This second salmon ending highlights the fish agencies' last shot at returning ancient ocean connections to the river's still-viable, age-old runs of American shad, blueback herring and federally endangered shortnose sturgeon in three states.
All these species have been guaranteed safe passage on U.S. rivers, going back to the landmark Supreme Court decision in Holyoke Company v. Lyman in 1872. That finding centered on the dam in Holyoke, Massachusetts and held that private dam owners operating on U.S. rivers must provide for the free movement, upstream and down, of migratory fish past their facilities.
Its implementation on New England's river is now 148 years overdue.
A River in Reverse
What's ultimately at issue here is flow.
Having taken a back seat for generations, wild runs of shad, herring and sturgeon remain in desperate need of passage and consistent, exponentially increased river flow in FirstLight's hydro-complex dominated reach.
It's literally the weight of water that matters most to FirstLight. It's money in the bank. And where flow diversion is concerned, it's been a pretty much a free ride for companies here for the past 50 years.
The 20 miles of river backed up into Vermont and New Hampshire behind Turners Falls Dam are massively suctioned for hours at up to 15,000 cubic feet per second to fill the 4-billion-gallon reservoir above the Northfield Mountain Pumped Storage Station.
Northfield's suction is so violent it literally reverses the Connecticut's current for up to a mile downstream at times, erasing the essence of a living river system. The station kills everything it sucks in, from tiny fish eggs to full-size eels. In pumping mode it suctions the equivalent of 3,600 seven-bedroom mansions, each filled with the aquatic life of a river, vaporized every hour, for hours on end. Agency studies on America shad show tens of millions of eggs and larvae extinguished at Northfield annually, plus the deaths of over 2 million juvenile shad sucked in on migrations back to the sea. Five migrant species are subjected to Northfield. In all 24 species live here, most unstudied.
Northfield's operations are nothing like classic hydro, operating to produce virgin electricity via a dam in or adjacent to a river. It's actually an electric appliance, built to take advantage of excess, unused megawatts produced nightly at the nearby Vermont Yankee nuclear station. Northfield burns electricity to pump water from the river a mile uphill to into its reservoir tank, which was created by blasting off the top of a mountain. The company's original owners would buy up Vermont Yankee's cheap electricity to power its giant, reversible turbines. Later, during peak energy times, that now-lifeless river water would get sent back through the turbines to generate hours-long pulses of energy at peak market prices.
It's a buy-low, sell-high operation, still running at the expense of a river system six years after Vermont Yankee shut down.
Northfield is a net-loss energy machine — a giant underground appliance consuming massive amounts of grid electricity, half of it now generated by the climate-scorching natural gas that dominates New England's power grid today. The station consumes 25% to 33% more juice than the secondhand megawatts it sends back by dumping deadened river water back through its turbines. It and a smaller pumped storage station in Connecticut are responsible for gobbling up 1.4% percent of the region's energy in order to reproduce the few hours of secondhand juice they regenerate. According to grid operator ISO-New England, they are the only facilities whose operations flush out as negative input in the regional power mix.
Northfield has never generated a single watt of its own electricity. And though it may be fine as blunt instrument for use during the occasional power grid slump or rare emergency blackout, its endless, river-crippling, pump-and-purge cycle of regenerated megawatts is unnecessary for the daily operation of the New England grid. While its owners brag of being able to power a million homes for a few hours, they never mention having already burned through the energy of 1.25 million homes to do so. After its daily flush, Northfield is virtually dead in the water and must begin pulling from the grid and sucking life from the river all over.
Past mistakes not only allowed for this massive upstream disruption, they sanctioned diversion of nearly all flow, as well as all migrating fish, into a downstream power canal that on average just 5% of shad have ever successfully negotiated. That left another two miles of New England's river dysfunctional, with the company providing just a dribble flow of 400 cubic feet per second in the riverbed in spring, when fish are moving upriver. That riverbed remains emptied of all flow more than half the other days of the year.
The most critical time for sustaining flows and the river's migrants is April through June, when New England's energy consumption is at its low annual ebb. But federal and state studies and in-river findings show that spring flows will need to be increased by a factor of 20, supplying 8,000 cfs rather than the current brook-like drizzle of 400 cfs. That's what it will take to guide shad and blueback herring upstream in the river past Turners Falls Dam. That will also provide this river's only endangered migrant the consistent flows required to successfully allow the shortnose sturgeon to spawn and ensure its larvae can develop in the cobbles at an ancient river pool in that impoverished reach.
Back in 1967, when four New England states and these agencies signed the "Statement of Intent for the Cooperative Fishery Restoration Program for the Connecticut River Basin," they projected some 38,000 salmon would return annually to this four-state ecosystem.
For salmon, a pinnacle of sorts was reached in 1981, when 592 were tallied passing Holyoke. But for a hybrid fish whose wild prototype disappeared 160 years prior, it was downhill from there. Most years fewer than 100 salmon returned to the river.
That 1967 agreement also set annual run targets of one million American shad heading upstream, with 850,000 shad passing Turners Falls and 750,000 entering Vermont and New Hampshire habitats above Vernon Dam. The highest shad return saw 720,000 passing Holyoke in 1992.
Sadly, they've never made it much farther. The run stops in Massachusetts.
Just 36 miles upstream of Holyoke, all semblance of a successful restoration ends when the annual shad run reaches Turners Falls Dam. Of the 537,000 shad that passed Holyoke in 2017, just 48,000 — a mere 9% — squeezed back into the river beyond Turners Falls.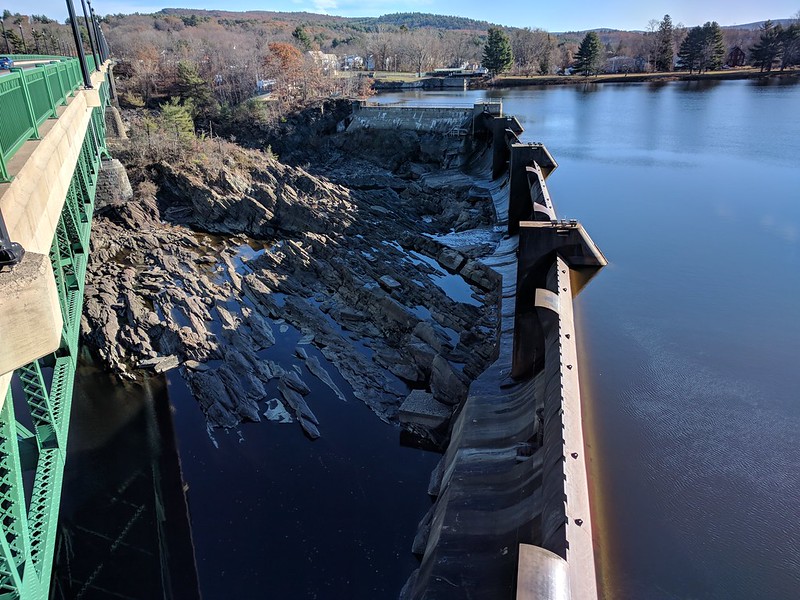 The annual inversion at the next upstream dam in Vermont illustrates the perils on this broken river. In 2017 29,000 or 59% of the shad that survived the miseries of Turners Falls were subsequently counted passing Vernon Dam, 20 miles upriver. That inverted interstate ratio has been the case since 1975, with few shad managing to break out beyond the brutal ecosystem conditions in Massachusetts.
Why the Restoration Failed
The current restoration, congressionally authorized in 1967 and still operating today under the moniker of the Connecticut River Atlantic Salmon Commission, made their biggest blunder in 1975 when they signed off on new license requirements for upstream fish passage. They ultimately chose a design based on hydro project fish ladders on Washington State's giant Columbia River, known for huge Pacific salmon runs. What got built was a three-ladder fish passage that forced all migrants out of their ancient river highway and into the byzantine maze of the company's power canal, while leaving two miles of riverbed all but emptied of flow.
Scaled down and put in place at Turners Falls, it worked fine for the program's few successfully returning hybrid salmon but failed immediately for 95% of the hundreds of thousands of migrating shad. No big run has ever passed that site, leaving three states without their promised bounties. Vermont and New Hampshire remain this river's shad deserts today.
The Prescription
It's now 2020. At this late date, corporate re-registrations can't hide what's legally required and a half-century overdue on New England's river. The last opportunity to undo those festering mistakes for the Connecticut now rest in the hands of the National Marine Fisheries Service, U.S. Fish and Wildlife Service and Massachusetts Division of Fish and Wildlife. They are the people's gatekeepers, mandated to guard the public trust — agencies with the authority to change to the generations-old crippling conditions here in Massachusetts.
Across 45 years of tracking fish runs passing upstream at successive dams on the Connecticut, shad counts have averaged 315,369 at Holyoke, 17,579 at Turners Falls, and just 9,299 at the Vernon Dam in Vermont. But recently long-term federal and state studies on passage and juvenile survival for American shad have led to new minimum benchmarks for fish passage at each dam to ensure the long-term survival of the river's runs.
Using those findings, the Atlantic States Marine Fisheries Commission, National Marine Fisheries Service, U.S. Fish and Wildlife Service and the four states have formally adopted new Connecticut River fish passage goals. They include annual minimums of 687,000 shad passing Holyoke, 297,000 passing Turners Falls, and 227,000 at Vernon Dam annually. Those federal and state targets are now part of the public record in the current FERC relicensings. Their implementation would also ensure the endangered shortnose sturgeon gets the flows needed to begin its recovery here.
The time has come for facilities operating and profiting off the life of New England's river to come into compliance with the laws of the land, including the Supreme Court's 1872 finding in Holyoke Company v. Lyman, the Anadromous Fish Conservation Act of 1965, the Endangered Species Act of 1973 and a host of others. For the fisheries agencies charged with protecting a river's bounty, standing up for their implementation is the sole prescription for success in a four-state restoration undertaken when back Lyndon Johnson was president.
By law, by right and by the public trust, the Connecticut River's time has come.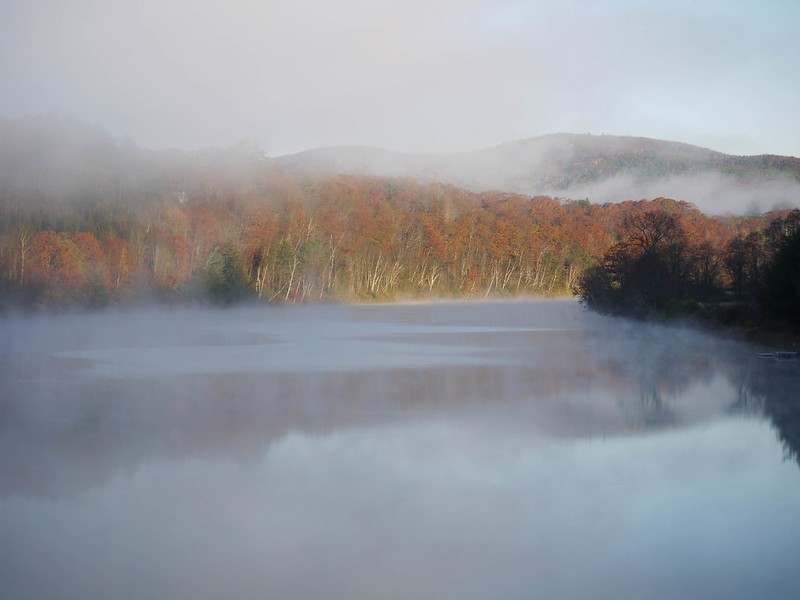 The opinions expressed above are those of the authors and do not necessarily reflect those of The Revelator, the Center for Biological Diversity or their employees.