As California's prized salmon runs teeter toward extinction in another crushing drought, a new study highlights the need to rethink dams — a key part of the state's water management.
For decades, water managers have released water from reservoirs in an attempt to mimic natural stream flows and temperatures, with a special eye on keeping water cold enough for salmon, which can't tolerate temperatures above 72 degrees Fahrenheit. The belief was that California could dam most of its rivers to grow cities and food but continue to support wildlife if enough cold water was released from dams at the right time.
But the study, published in PLOS One, could call some of that management paradigm into question. Researchers from the University of California, Davis analyzed stream temperature data from 77 sites, including 27 dams. They found that only one site — Shasta Dam — created temperature patterns that resemble natural ones.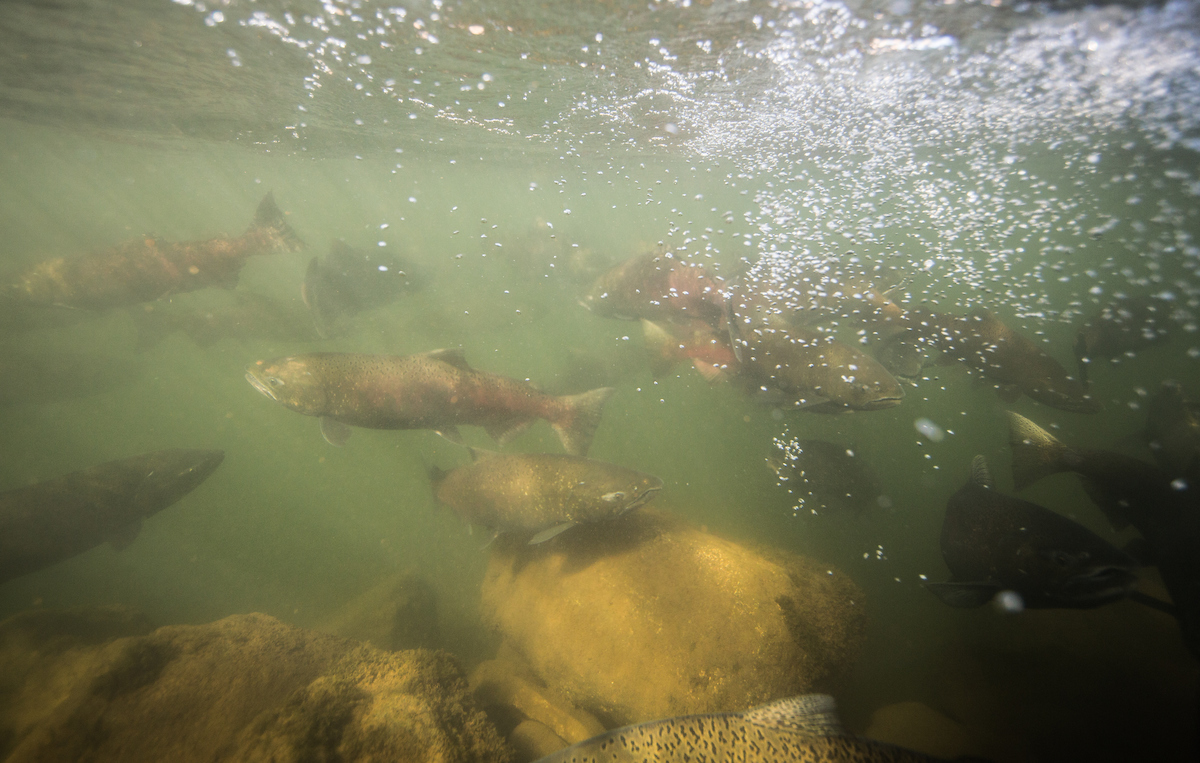 The rest of the dams created artificial temperature patterns, some of which persisted for more than 100 miles downstream. In streams fed by mountain runoff, for example, the natural conditions are usually colder than what dams — which store heat along with water — can produce. These altered temperature patterns can stress or kill fish like salmon and alter cues and processes for a range of other aquatic species.
"The biggest takeaway from this study is the idea that we really can't engineer ourselves into a better natural environment than what nature can produce itself," says Ann Willis, a senior staff researcher at the U.C. Davis Center for Watershed Sciences and co-author of the study.
That may be tough news for water managers to hear in a state that has 1,500 dams. But the realization comes at a critical time.
If dam regulation can't provide enough cold water for salmon and healthy ecosystems today, that's likely to get even worse in the coming years. Climate change is expected to reduce by half the amount of cold-water habitat across the country. And warming temperatures mean California will see less water in its reservoirs from snow melt.
That's bad news for species barely hanging on. Extinction is likely for three quarters of California's native salmonids, the study reports.
"For dams that lack both the capacity to produce a stable or variable cold regimes and lack passage above the dam, these barriers may be insurmountable for species' recovery," the researchers wrote.
It's also far more than salmon that will be affected.
"We know that healthy, functioning streams benefit everything, including people," says Willis. "Temperature is really an indicator of how the whole system is doing. When a stream is not the right temperature, just like when you and I would get a fever or become hypothermic, that's an indication that there's a whole system collapse happening."
Dams also affect the quality of the water — something that's especially apparent with groundwater-fed springs that come to the surface loaded with important nutrients derived from the rocks underground. These nutrients flow downstream and help nourish the ecosystem. Water flowing through a reservoir, however, doesn't have those same properties.
Willis says that while they found the outlet of Shasta Dam can mimic the temperature pattern of a spring-fed stream, it still lacks these nutrients needed for a healthy and resilient river.
The study, however, could help shine a light on that and improve how resources are spent in the state by helping to identify high-quality, cold-water habitats that could be prioritized for conservation.
"Thermal regime classification developed in this study can be used to identify areas where conservation investment will support the recovery and persistence of valued native species," the researchers wrote.
Willis also hopes these findings help spur a change in thinking about California's water portfolio. In the past, the answer to water woes has been to build more infrastructure. During California's last drought the state passed a water bond allocating billions for new water storage projects, including potential new dams.
But if we double down on more dam building, it will come with a big environmental cost.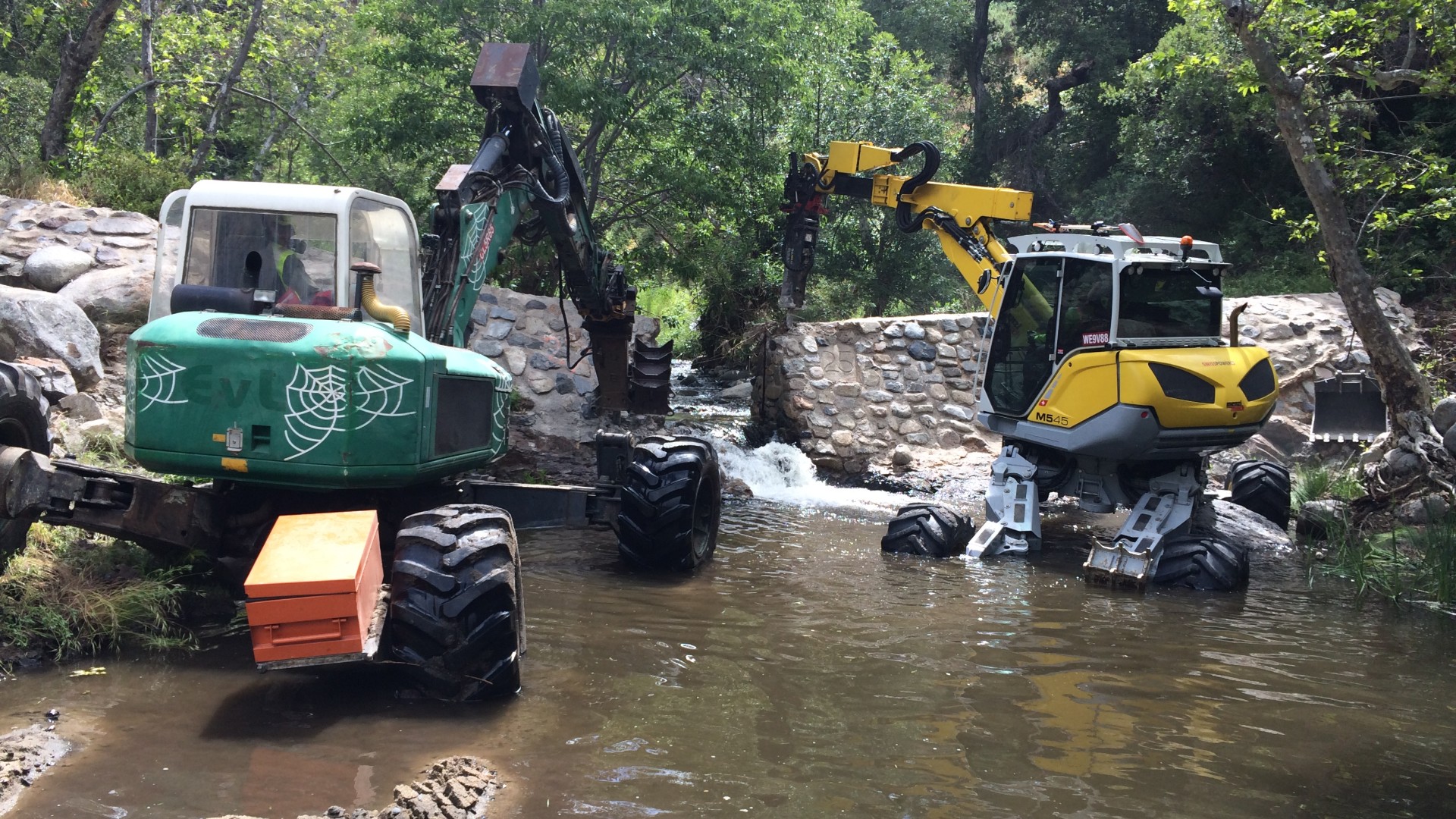 "I think what this study really says is if we go down that path, we are unlikely to achieve any of the other conservation goals we have set for ourselves," says Willis. That includes protecting species like salmon, but also creating resilient ecosystems as buffers against climate change and conserving 30% of our land and water — a target of both the Newsom and Biden administrations.
"I would really urge people to keep in mind that it wasn't because we didn't build enough dams that we're in this mess," she says. "It's that we really underestimated our ability to influence natural processes that we were relying on for water security."
Instead, she suggests, it's time to begin looking at removing dams — like four on the Klamath River — and many others that have outlived their usefulness. There are other options for increasing water security, including recharging aquifers to utilize natural below-ground storage.
"Dams were never meant to be permanent," she says. "And so now we have an opportunity to be very mindful and deliberate about where we start removing some dams to restore the natural processes that we all need to mitigate and adapt to climate change."