Biodiversity conservation needs to be informed by science. The body of scientific knowledge, meanwhile, ought to be accessible to those whose work would benefit from using it (e.g., conservation practitioners) and reflect the perspectives of a diverse global network of researchers.
But that's not always the case. In one recent study, nearly half of surveyed conservationists said it was "not easy" or "not at all easy" to access scientific literature in their work. Too often, the survey found, the publishing practices of academic journals — the primary outlet researchers use to disseminate their work — can provide a major barrier to achieving these aims.
Having experienced this ourselves, we recently published a study that asks: Do conservation and ecology journals use ethical publication models, what does this mean for conservation, and what can researchers do about it?
To answer those questions, we assessed the websites of 426 conservation and ecology journals against the Fair Open Access principles, developed by scholars and librarians to help transition toward more ethical publishing practices.
The five FOA principles are:
The journal has a transparent ownership structure and is controlled by and responsive to the scholarly community;
Authors of articles in the journal retain copyright;
All articles are published open access and an explicit open access license is used;
Submission and publication are not conditional in any way on the payment of a fee from the author(s) or their employing institution, or on membership of an institution or society;
Any fees paid on behalf of the journal to publishers are low, transparent and in proportion to the work carried out.
Most conservation research, we found, is published in journals that do not follow these principles.
According to our analysis two-thirds of journals, publishing almost half of all articles, complied with only one or two FOA principles. Only 20 journals (5%), publishing less than 1% of all articles, complied with all five principles. The majority of assessed journals charge high publishing fees to authors, restrict access to the published research to those that can pay, and take sole copyright ownership of the research produced by the conservation community.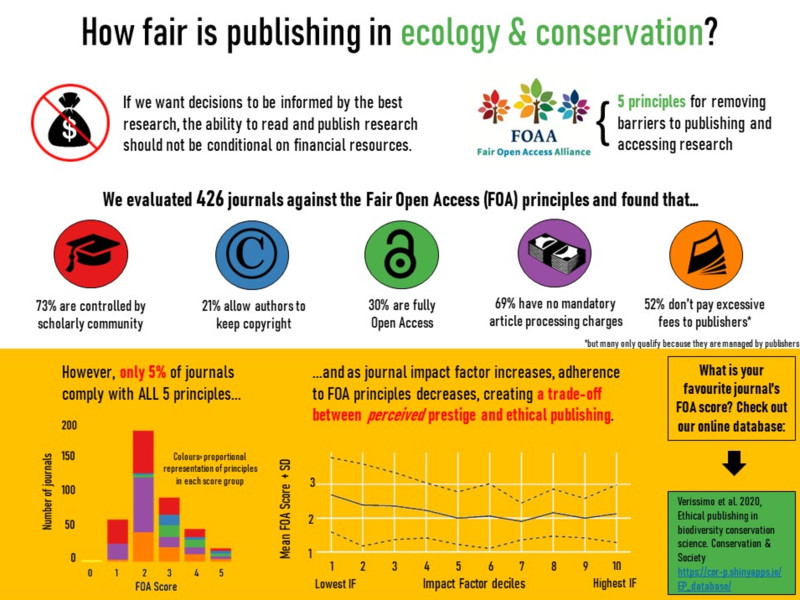 Moreover, four publishers owned 80% of the 25 journals with the highest impact factor — a metric often used as a proxy of journal prestige when researchers decide where to publish. These publishers tended to have lower FOA scores, meaning researchers publishing in many prestigious journals must comply with more restrictive publishing practices — which potentially exclude researchers in lower-income countries from submitting their work to these highly read outlets.
This reveals major ethical problems within the conservation and ecology publishing landscape. Academics from lower-income countries, as well as researchers that are part of NGOs, are often excluded from publishing and reading many conservation journals. This exclusion is likely a barrier to evidence-based conservation in the most biodiverse and threatened parts of the world.
This barrier may partly be a consequence of the limited control by the conservation science community: A third of journals appear to be run entirely for profit, rather than being controlled by scholarly bodies.
What can researchers do about this?
While recognizing that there can be tradeoffs when selecting journals, authors can help address these practices by "voting" with their research papers — in other words, submitting research to publishers with the more ethical publishing models.
To help enable that decision process, our research provides scores for each of the conservation and ecology journals we assessed. Those results can be found here. We encourage researchers to consult this database when deciding where to submit their research.
Together we can start a shift toward a more equitable landscape of research publication and use in conservation — and that can only further enable our goals of protecting species in need around the planet.
The opinions expressed above are those of the author and do not necessarily reflect those of The Revelator, the Center for Biological Diversity or their employees.