Joe Biden's election is a huge positive in a year that has been extremely difficult across the globe. I speak for a vast number of people who watched anxiously from outside the United States when I heartily thank those who mobilized, campaigned and voted to make it happen. Your hard work affects us all.
But we're not at the end of the line. Far from it.
Biden shows promise, but there can be no backsliding and or watering down. In fact, the ambition needs to grow. Now is the time for truly bold vision, leadership and action. For instance, Biden has said repeatedly that he will not ban fracking, a destructive and polluting practice that uses high-pressure injections of water, chemicals and sand to suck yet more fossil fuels from the ground. Instead he turns to carbon capture to offset these emissions, a plan that relies on untested technology and does nothing to deal with fracking's methane release, water pollution and health issues.
He can and must do better. And there are two key areas where he can focus to help push transformative climate action: jobs and justice.
Jobs
The fact that Biden ran and won with a proposal to eliminate greenhouse gas emissions by 2050 highlights one key aspect he got right: A transformation to sustainability means innovation, new livelihoods, revitalization and importantly, jobs.
The green economy in the United States already employs 10 times as many people as the fossil fuel industry, and Biden's plan specifically focuses on the economic opportunities that tackling climate change will bring.
But climate action is not a flail that we must use to flog ourselves in penitence, seeking absolution for past sins. Action for our planet creates untold opportunities for us. It will provide different ways of living that will reimagine and reinvigorate our relationship with the natural world, making us happier and healthier.
It will give us livelihoods that are truly sustainable, not based on the myth of infinite growth on a finite planet.
Biden's plan for net zero in energy production by 2035 is a good example of how a climate-smart jobs boom could work. At present 62% of energy in the United States comes from fossil fuels. Wind, hydroelectric and solar power are all growing industries, and renewable energy is expected to be the biggest global energy source by 2025. Shifting U.S. energy production to net zero will create solid, reliable and well-paid jobs across the nation as renewable energy truly takes off. Funding training to enable workers to shift from fossil fuels will be a key part of that transition.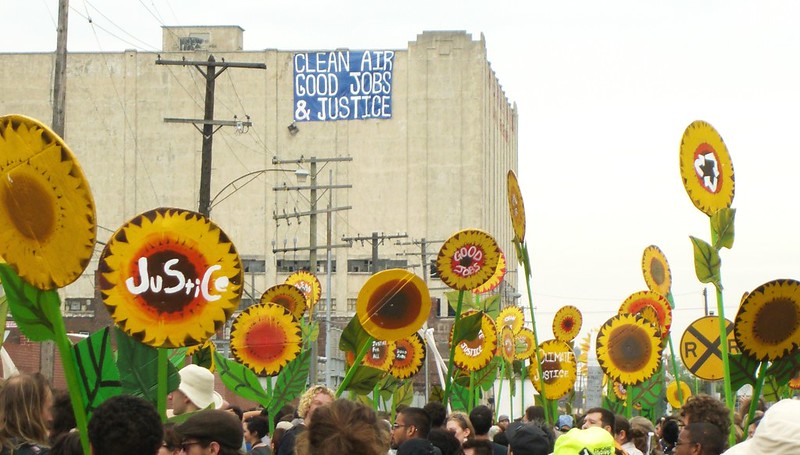 Justice
 Biden has also referenced the need for equality in climate action, setting a goal for disadvantaged communities to receive 40% of all the clean energy and infrastructure benefits his plan would generate.
While this goal is a relatively small step for a big problem, the recognition is important. Ninety-nine percent of all deaths from weather-related disasters occur in the world's 50 least developed countries — countries that have contributed less than 1% of global carbon emissions.
In every nation around the world, including the United States, this is played out again on a smaller scale. We can't continue to allow the poorer, marginalized and more vulnerable communities to bear the brunt of a crisis they did not cause. 
The U.S. government is uniquely placed to drive forward international progress on climate.
Biden's climate plan explicitly includes environmental justice as a key target. Within the United States this encompasses standing up to polluters who disproportionately harm marginalized communities.
The United States must reduce its own emissions and maintain strong diplomacy with its international partners. This leadership will allow the Biden-Harris administration to champion environmental justice around the world.
The swift congratulations on Biden's victory offered by Frank Bainimarama, the Fijian prime minister, show what can now be achieved. The United States being back in a leading role on global climate action means that small island nations, responsible for minimal emissions but suffering outsized, unjust climate impacts, may have a chance of survival. Tens of millions of people have already been displaced by climate breakdown, a grave global environmental injustice. The new administration has a chance to reverse this.
As a major developed economy and one of the worst emitters, action from the United States would put pressure on others — such as China — to do more. Meaningful progress within the United States and European Union, and strong, progressive voices from both parties at the negotiation table could be the change we need.
The votes for this election have been counted, but now the real work begins. We will all be needed — both in and outside the United States — to show again and again that we are watching and we will fight for our future, and our planet, with everything we have.
The opinions expressed above are those of the author and do not necessarily reflect those of The Revelator, the Center for Biological Diversity or their employees.