Artist Zoe Keller specializes in drawing animals and species that may not be around much longer.
"In darker moments, I think of my drawings as a 'mourning' ritual," says Keller. "So many of the species that I have studied will be gone within my lifetime, or that of the next."
From her studio in Portland, Oregon, Keller, age 30, puts her heart — and back — into each of her massive, lifelike artworks. Drawn in graphite on sheets of paper as big as eight or nine feet across, her compositions often feature dozens of species large and small. Many of the images, which can take more than 300 hours to complete, depict their animal subjects positioned around each other in intricate patterns. Others capture the fragile ecosystems in painstaking detail.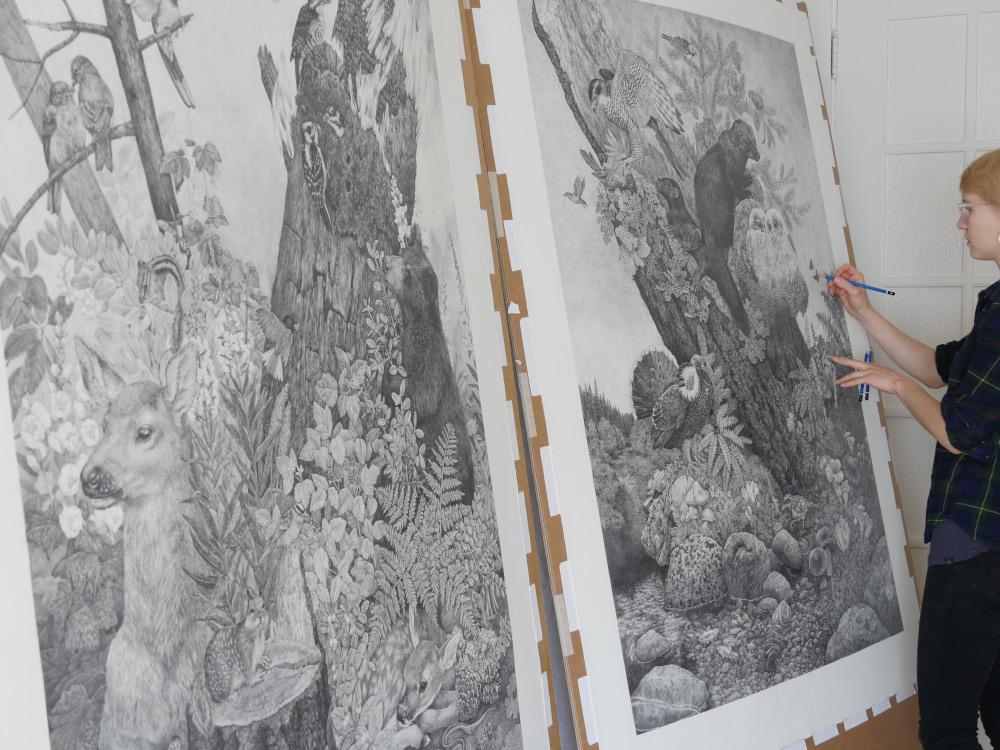 Her latest exhibit series, visible now at her website or through Portland's Antler Gallery, features the birds, mammals, snakes, plants and invertebrates she observed during an artist's residency at Zion National Park. Many of the species depicted are endangered or at risk.
"I lived in Grotto House, the original ranger station in the middle of the park, and spent every day hiking, photographing and sketching," she says of the series. "I also had the opportunity to spend time with park staff learning more about the park's varied ecosystems and wildlife. I even got to participate in a Utah State University snail survey! The residency's immersive quality was perfect for the way that I work."
The Revelator spoke with Keller about her art, the amazing biodiversity it depicts, and the messages her drawings convey about the biodiversity around us.
You tend to work in such a larger-than-life format, and weave together multiple species in each image. Why that choice? And what do you hope viewers will learn or experience through this work?
The decisions of scale and complexity are also in the interest of highlighting organisms at the ecosystem scale. I love charismatic megafauna, but my heart really lies with the smaller species, and with those that are sometimes lost completely in the background: Invertebrates, at-risk plants and fungi, amphibians and reptiles that don't get their due. By including these smaller species in my work, and by rendering them with the same time and reverence that I would put into drawing a large mammal, I hope to inspire viewers to see these species with new eyes — or to see them at all.
View this post on Instagram
Graphite is a very humble, relatable medium, and by working at such a very large scale — by pushing the medium in ways that viewers maybe haven't seen before — I hope to create lots of little toe-holds for consideration and conversation.
If I can capture the audience with initial questions of "How was this made?" "How long did this take to draw?" or with the recognition "I used to draw with pencils when I was a kid," then I hope to have created a small moment in time where an understanding of the species within the pieces can be imparted.
How does the process of learning about these at-risk species and places affect the art — and you?
A wonderful way to learn about an organism is to draw it. Even though my work is two-dimensional, in order to make the drawing look real, I have to understand the organism's anatomy, how it moves (if it moves) and how it interacts with other species within its ecosystem.
My favorite parts of the practice I've developed are the moments when I encounter a species in the wild that I only knew through drawing.
Did you have any challenges in completing your most recent series on Zion National Park?
My greatest challenge with my Zion series, as with all of my work, is time. As a young artist working in the age of social media, there is an incredible pressure for output, a special problem when all aspects of your process are inherently slow.
For the past few years every series that I developed has operated under the pattern of one month research, five or six months drawing, and two to four weeks of packaging the work. ("Packaging" includes writing artist statements, creating the work's page on my website and creating informational zines to accompany the show.)
Because my larger series are entirely speculative — I have no guarantee that the original drawings or reproductions of the work will sell — this timeline is essential to allow me to have the time to complete commissions and commercial work and create merchandise that will pay my bills in a definite way. As my career progresses, I hope to stretch series out over several years, so that my drawings can be enriched by deeper research, more in-person experiences in the wild, closer collaboration with the scientific community, and, of course, more time in the studio.
What comes next for you?
2020 is just starting to take shape. I have a couple of conservation collaborations in the works that I'm excited about, and a couple personal projects that are so far just in the concept stages. I am also excited to have an artist residency at Acadia National Park in Maine. I began making illustrations inspired by the traditions of scientific illustration while living on the coast of Maine in 2013. I'm excited to return to this landscape with a more developed studio practice.
For more of Keller's art, including tutorials and previews of works in process, visit her on Facebook or Instagram.